Stripey, my 4-year-old daughter Kelly's blanket, is more like a rag than a blanket these days. The once-bright blue stripes that gave him his name are almost invisible, his hem is dragging, he's pockmarked with holes, and I'm pretty sure that red stain is Easter egg dye.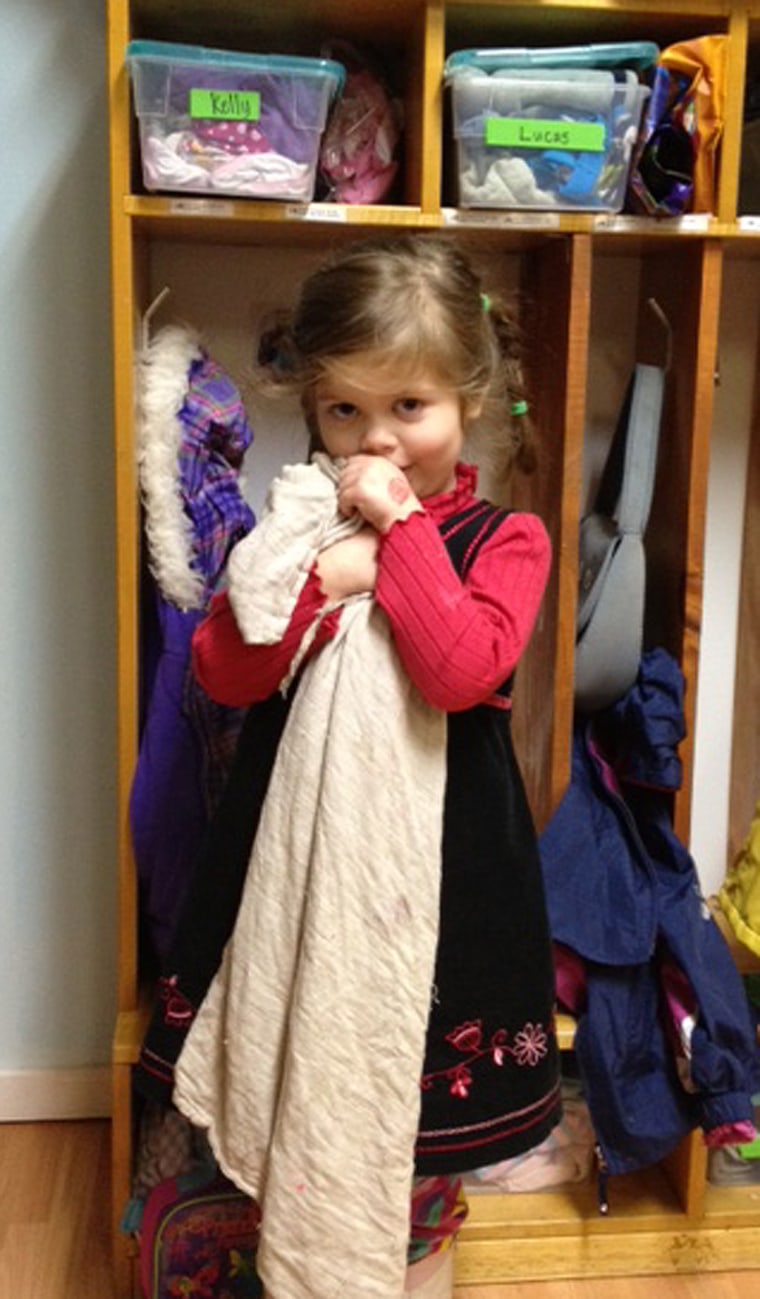 Yesterday at preschool one of her classmates accidentally sat on Stripey, and when she yanked him away, he tore. Again. I'm starting to wonder how much longer he's going to last without some major cosmetic surgery.
Like Linus in "Peanuts," Kelly latched on to Stripey as her security blanket, or what some call a "lovey." It's her comfort object when we're apart, and it goes to preschool with her every day. Even when she bathes, it has to be in sight, and when she's in pain or scared, she wants Stripey as much as she wants Mama.
Sometimes Stripey can be a hassle to haul around -- and the one time I thought we lost him at the park my heart sank -- but as far as I'm concerned, he can be by Kelly's side as long as she wants him there.
Thankfully, Dr. Simone Taylor, a California clinical psychologist specializing in child development, says "loveys" are a perfectly healthy part of growing up.
"Sometimes toddlers may gravitate to a specific 'lovey' as a way of regulating their internal emotional state -- in other words, to calm themselves," Dr. Taylor says. The attachment is "perfectly natural," and kids may use the item for security when mom and dad can't be with them.
School and daycare situations can create worries for parents. How will my child deal with a school that perhaps doesn't allow loveys in the classroom? Kelly understands that Stripey stays in the cubby at preschool except during nap time; Dr. Taylor has a suggestion for other parents. "One mother shared with me that she took a picture of her daughter's blanket and her daughter took (the photo) to preschool with her."
Since loveys go with children everywhere, they often get really dirty, and taking the precious item away for a wash can be traumatic. Dr. Taylor suggests having the child help, maybe allowing him or her to put the lovey into the washer and letting them close the door. She also urges parents to be patient with children if they want to sit and wait while the wash is done.
In my house, we schedule Stripey's weekly wash at the same time as one of Kelly's baths. She can't play with him in the tub anyway, and she knows that when her bath is done, he probably will be close to dry.
Not to worry, though, we're unlikely to be touting Stripey around forever. Dr. Taylor says most kids grow out of such attachments well before they become preteens. Some then transfer their attention to a "lucky object," like a keychain or hat, and keep that item with them in scary situations.
I had a blanket of my own in the 1970s, pink satin on one side, blue satin on the other, and still remember how much I loved it. I suspect a shred of it is still somewhere in my parents' Minnesota home.
Dr. Taylor also had her own lovey as a child. "I did have a raggedy doll named Cindy that went with me everywhere," she says. "I remember at one point we thought Cindy was lost and my mother was able to buy another for me. I then found the original and played with them both. One was always at school and the other always at home."
Realizing Stripey's in poor shape, we're encouraging Kelly to shower some love on a second blanket (this one is dubbed "Other Peopley," since he's one of two blankets with stick people on them). He's not anywhere near as beloved as Stripey, but just in case the worst happens, we want to be prepared. Stripey can't be replaced, but perhaps he can be supplemented.
Check out this related story:
Does your child have a security blanket or other "lovey" that goes everywhere with him or her? Have you ever lost it, or do you have a backup in case you do?
In between her busy schedule as a Stripey-minder, Gael Fashingbauer Cooper is the movies editor for TODAY.com and a pop-culture junkie. Her book, "Whatever Happened to Pudding Pops?", looks at the lost toys, tastes and trends of the 1970s and 1980s.