/ Source: TODAY Contributor
People hailed Martha McClure as a hero when photos of the day care provider's beaten and bloodied face went viral after she stood up to a non-custodial parent who allegedly attacked her when she wouldn't let him take his children.
McClure says the attention has been humbling and a little embarrassing, adding that she feels she was simply doing her job.
"To me, it wasn't heroic. To me, it's what I'm supposed to do," McClure told TODAY Parents. "The children in my care — I am their person. I am their momma bear when their mother isn't there. Did I know he was going to hurt me? Yes. Did I hope he wouldn't? Sure. Would I do it over again? Definitely."
McClure, who lives in Ronan, Montana, says the three children she was protecting that day are in the foster care system and live with a relative. Because she has cared for the kids since the oldest was an infant, she's always been aware of the possibility of custodial issues disrupting her in-home daycare.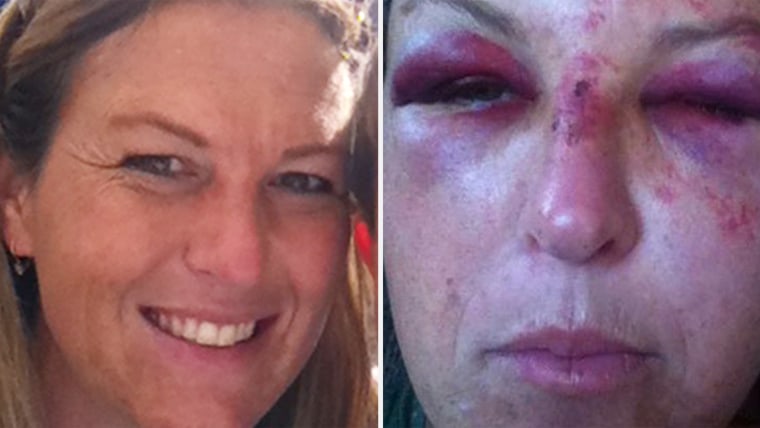 So when the children's father arrived at her daycare on October 7, behaving aggressively and attempting to remove his kids from her home, McClure says her only priority was luring the man out of her house and locking the door behind them.
Once McClure was outside, she says the children's father and his girlfriend attacked her, striking her several times in the face with a shovel and hitting her before fleeing the scene.
According to a report in the Missoulian, Francis Jackson, 31, and Tashiana Schlensker, 21, were arrested and charged in the attack. Schlensker has pleaded not guilty to a felony charge of assault with a weapon. Jackson faces arraignment this week for charges of felony aggravated burglary and custodial interference.
McClure suffered several broken bones in her face as a result of the attack, and had to have surgery. Today, she still struggles with pain and vision problems, but says that she's thankful that she was able to keep the children in her care safe and unaware of the danger outside their door.
"They don't know what all happened. We did the best we could to keep them safe and keep them innocent," said McClure. "I don't want (my home) to be a scary place where something scary happened. For most of these kids, my house is their second home."
"I'm grateful that it wasn't worse," she added. "It's my job, what I did, and I will honestly say that the scars physically are going to heal. Had I given them to him — the emotional scars — I wouldn't have been able to live with myself. Everybody that mattered in that moment was safe."
McClure, who has 5 children of her own ranging in age from 4 to 24, has been a daycare provider for 20 years. Both her local community and supporters around the world have donated to a GoFundMe started by a family friend she considers to be her sixth daughter, with donors leaving messages telling McClure she's just the kind of person they'd want watching their children.
"Thank you for taking care of the children you are responsible for as well as you do. Thank you for putting your life on the line to protect a child in your care. Thank you for letting working mothers everywhere feel ok with their choice to put their children into day care. You are a very special woman. You deserve an award, a medal, hell you deserve a million dollars. What you don't deserve is to be beaten by a man whose children you take such amazing care of. People across the country are thinking about you — you are amazing," one commenter, Heather Wink, wrote on the GoFundMe page.
"I hope your story goes viral," Angela Ekpa wrote on the site, "Too often do we hear of the bad daycares – You are a hero! You did what any mother would do, keep the children safe. God bless you!"
Still, McClure says she is humbled by the generosity and words of support — to date, the page is only hundreds of dollars from meeting its $30,000 fundraising goal — and holds that she did nothing special that day.
"My job is not to warehouse children. My job is to take care of them," said McClure. "Their mothers hand them off to me in the morning, expecting me to meet all of their needs just like they would if they were home with them. My job is to defend, protect, and guard their children with my own life — that's how I feel about it."