/ Source: TODAY Contributor
Just when you think you can find literally anything on Etsy or Pinterest, your 3-year-old asks you to plan him a "Mrs. Doubtfire"-themed birthday party.
That's what happened to Laura Kowalski of Wyandotte, Michigan, when her third and youngest child, Evan, told her that instead of a party featuring some of his other favorite things, like soccer or insects, he really wanted a party focusing on his favorite movie — and she had just two weeks to make that happen.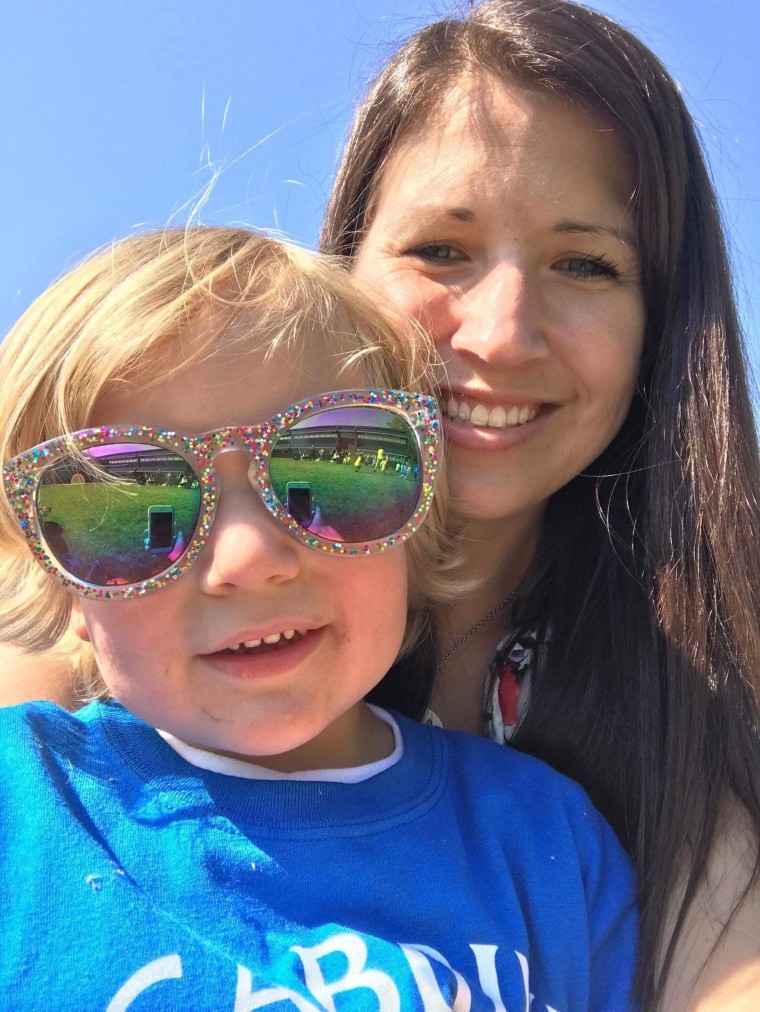 "One of Evan's favorite things to do is watch movies, so we watch a lot of movies in the evening to wind down," his mother explained to TODAY Parents. "He likes classics, like 'Home Alone' or 'Matilda,' so about six months ago, I showed him 'Mrs. Doubtfire.' He loved it. Just loved it."
Kowalski said that, as often happens with third children, Evan's birthday kind of sneaked up on her this year. She knew she wanted to have the party at a local gymnastics studio, but she didn't have a theme. "I said to Evan, 'Oh my gosh, your birthday is in two weeks! What do you want to do?"
Never miss a parenting story from TODAY.com! Sign up for our newsletter here.
Evan was adamant that the theme had to be "Mrs. Doubtfire," the 1993 comedy starring Robin Williams and Sally Field about a divorced dad who dresses up and impersonates a nanny named Mrs. Doubtfire in order to spend more time with his children. "Nothing was going to change his mind," said Kowalski.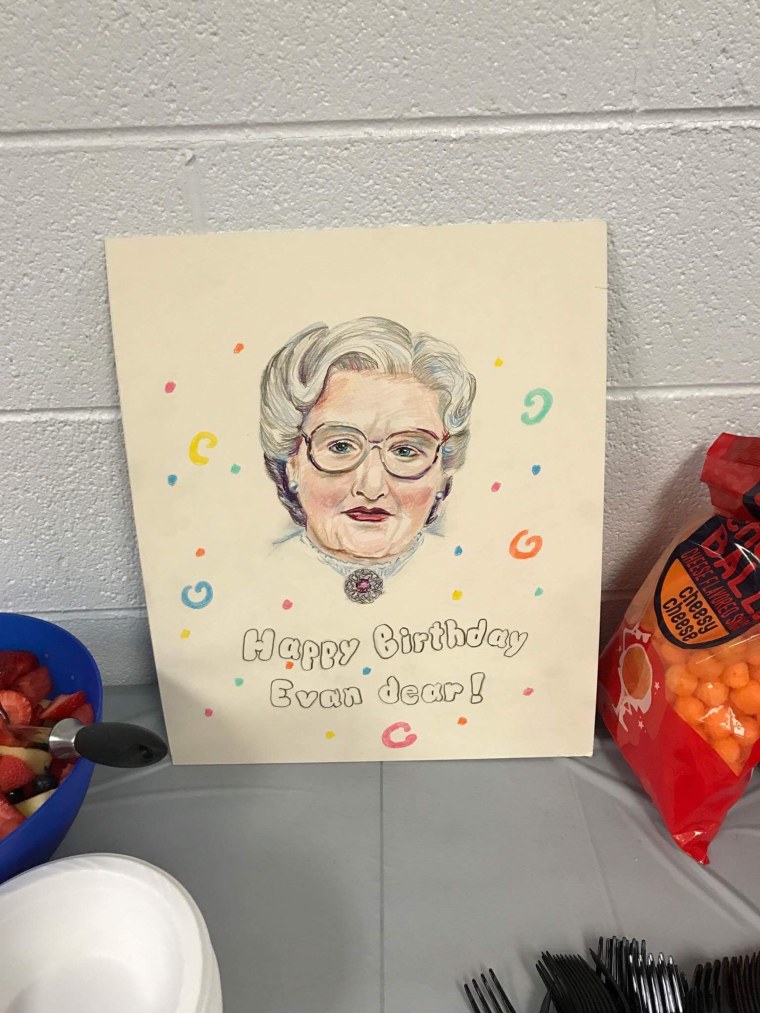 So Kowalski went to the internet. First, she checked Etsy for anything she could buy to help decorate or carry out the theme. "There was nothing," she said. "Absolutely nothing." She searched Pinterest for anything she could make on her own and found the same: zero pins. She Googled "'Mrs. Doubtfire' birthday party" and came up short. Finally, she reached out to Facebook.
"There is a Facebook page for people to promote their local businesses here in the suburbs of Detroit called Downriver and Friends," said Kowalski. "I posted there and asked if there were any local bakeries who could help me make a 'Mrs. Doubtfire' cake. That's where it all began to fall into place."
Angie Claxon of Cakes by Sweetypants volunteered enthusiastically to attempt to make Evan a "Mrs. Doubtfire" birthday cake that replicated the face cream scene from the movie, to the great relief of Kowalski. Then, Kowalski's cousin, artist John Hundley, drew a picture of Robin Williams as the character for Kowalski to use at the party.
After Evan had fruit kebabs at a Mother's Day party at his preschool, he asked his mom to make them for his party too. That's when she had the idea for the "run-by fruiting," from one particularly funny scene in the movie. Kowalski's mom, Pamela Tuttle, made them the day of the party, May 13.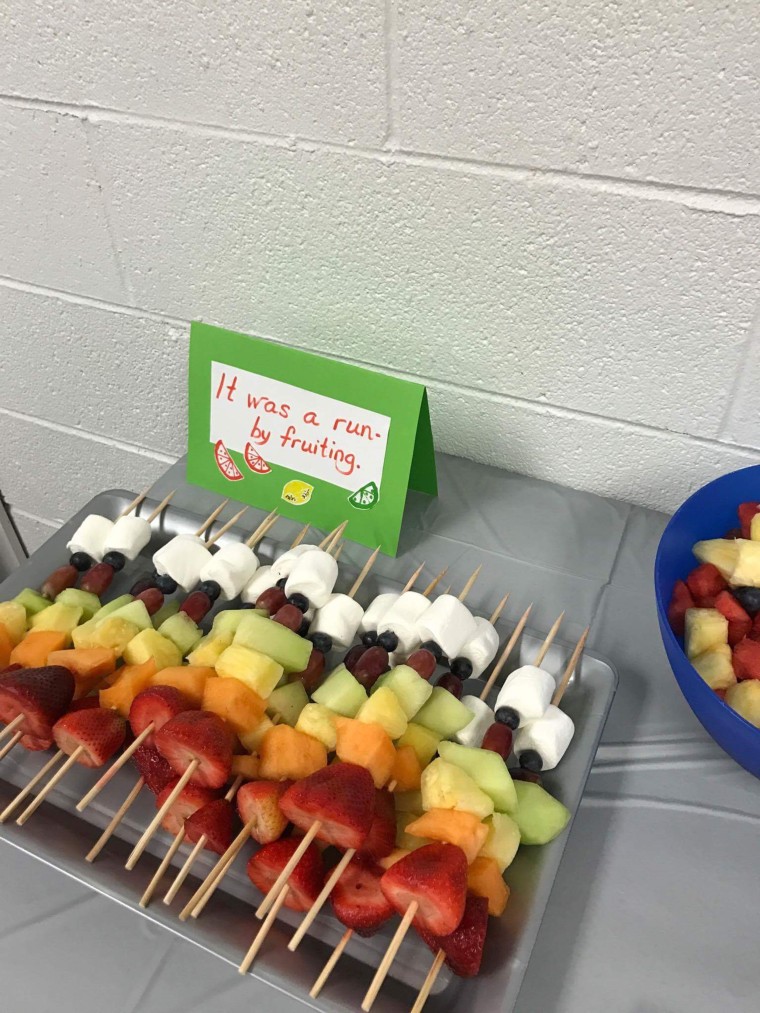 "We were just kind of winging it," laughed Kowalski.
The final touch was her idea for the goody bags. Not surprisingly, there are no "Mrs. Doubtfire"-themed pre-made bags, so Kowalski bought plain white ones and glued pictures of Mrs. Doubtfire on the outside with the phrase, "Thank you for coming, dear," and each child's name. It was an effort Mrs. Doubtfire herself would have appreciated.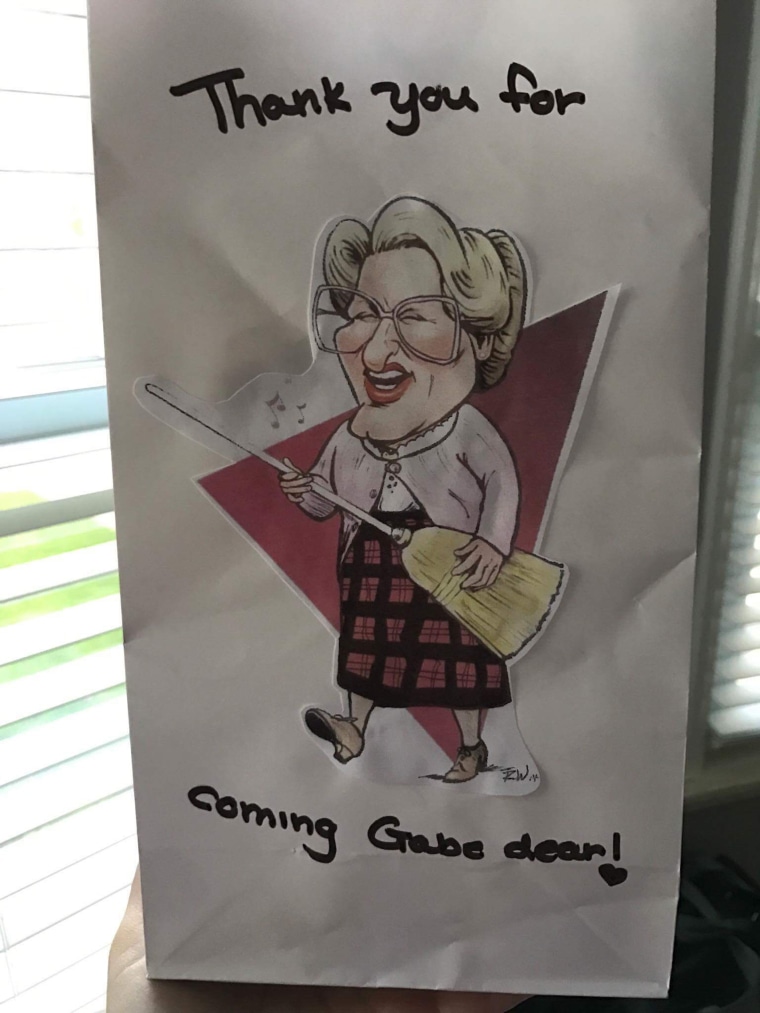 Evan loved his party, as did his older sister, Allison, 7, and his older brother, Ethan, 12.
The problem now? "He set the bar really high," said Kowalski. "I almost want to ask him now what he is going to want for next year. But maybe I don't want to know!"
Related:
Forget Mickey! Mom throws unique party for toddler obsessed with personal injury lawyer
Mom creates epic birthday cake for farm-loving son: A cow giving birth to a calf
This girl's Costco-themed birthday party had all the free samples