At 9 weeks old, Elijah Cook was able to hear his mom's voice for the first time.
After being born earlier this year with severe hearing loss, Elijah received hearings aids in early March. His first few moments listening to his mom's voice were captured on video — and it's wonderful.
"Once I started seeing the blinking, I knew he could hear," Ahavah Cook, Elijah's mom, said. "The first smile he did I had to try and not cry."
Twelve hours later after being born on Jan. 2, 2015, Elijah failed his newborn hearing screening. Follow-up tests led to the realization that Elijah did indeed have severe-profound sensorineural hearing loss
Both Ahavah and her husband, Jason, are children of deaf parents, so they had already been on the lookout for possible genetic complications.
"It was hard because growing up with a deaf family, you see the great things having a deaf family can bring you, but there's also a lot of challenges," Ahavah told NBC affilliate KARE 11. She and Jason were optimistic about possible treatments, but they also weren't expecting a fairy tale ending.
"I think for the first month I was just an emotional wreck," she said, but the family didn't give up hope.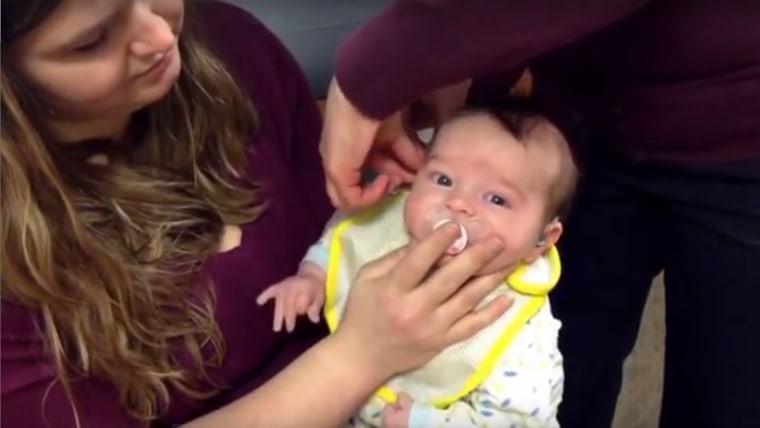 They began working with a specialty clinic at Children's Hospitals and Clinics of Minnesota, and opted for tiny, powerful hearing aids.
In early March, Elijah was fitted for the implants, and the moment he heard for the first time was captured on video and shared to YouTube.
Since then, Elijah has seemed to be entranced by the sounds of his own voice. He is finally making sounds himself and has even responded to sounds made by his family. Perhaps most heartwarming for Ahavah and Jason has been watching Elijah interact vocally with his older sister, Evelyn, age 7.
"He is definitely talking more, so he's hearing his own voices," Ahavah said. "It's pretty cool."
Ahavah says Elijah still has less than five percent hearing in his left ear, though he has between 25 and 40 percent in his right. There are certainly still challenges ahead, including being fitted with new hearing aids every two weeks.
Still, the Cook family remains optimistic.
"It seems like he's kind of on the right path," Ahavah said. "I think he'll do great."