/ Source: TODAY Contributor
The first time I babysat my friend's daughter, Adriana, I was intimidated. It wasn't the baby that scared me. It was The Book that accompanied her.
Far from an ordinary baby book, this was a thick tome in which her mom, Sandra S. Kim, recorded every possible detail about Adriana, often in color-coded pens. In those pages, you could find out exactly how many times and how much she'd eaten, drank, pooped, slept, passed gas, smiled or frowned on any given day.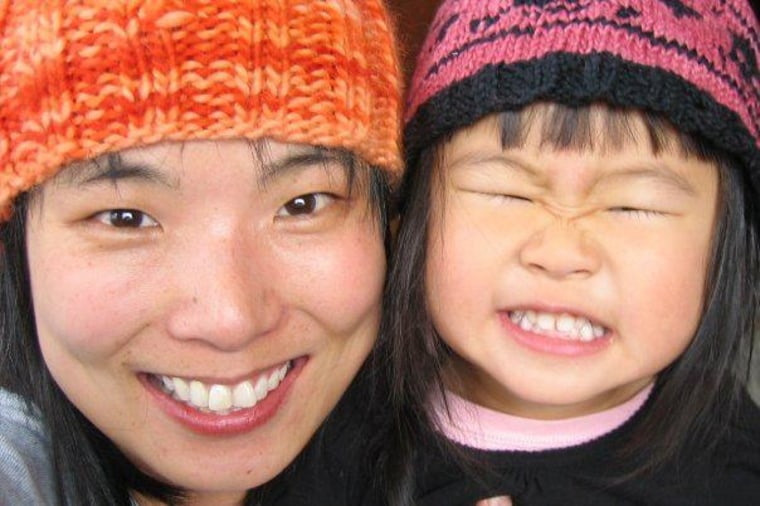 The Book, which quickly became legendary in our group of friends, went with Adriana everywhere, each of us dutifully writing in it if something happened when Sandra wasn't there.
"It was kind of crazy," remembers Sandra's sister, Esther Park. "But she wanted everything documented because she knew these moments that most of us just let slip by — she knew those moments were important."
And so, she carefully recorded all of them — until the day that all stopped.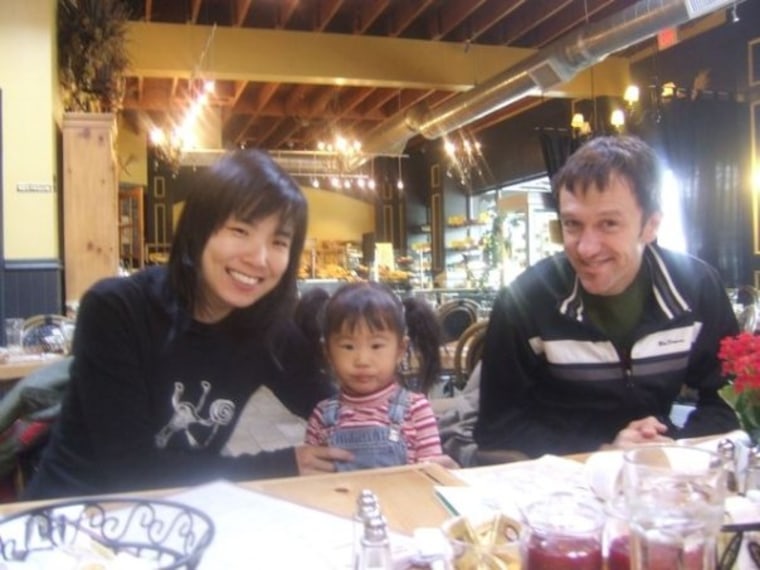 In February of 2009, when Adriana was 2 and a half, Sandra started a new prescription she hoped would beat back the depression that had stalked her in recent months. Within a few days she developed Stevens-Johnson syndrome, one of the rarest and most extreme side effects one can have to a medication. Also sometimes known as toxic epidermal necrolysis, it affects the skin and mucous membranes and can lead to infection and organ damage.
The night she was hospitalized, Sandra's best friend since middle school went to the house to care for Adriana. We all thought it would be a short stay and then she'd be back home. After all, Sandra was young — 37 — and incredibly healthy. All signs pointed to a full recovery.
Instead, she spent months Seattle's Harborview Medical Center, intubated and facing one life-threatening crisis after another.
In the early days, when visitors were limited, the entire waiting area was often filled with friends just wanting to be close to her. She'd always had that effect on people.
I met Sandra in 1996, when she started dating Willem van der Hoeven, my husband's best friend since middle school and the man she'd marry. From the start, her vibrance nearly took my breath away. She was often the loudest and most exuberant person in the room. She had a big personality — and loved at the same volume.
"She stood out so brightly," Willem would later write about her in a blog he kept during her illness. "She didn't care about norms or expectations … and she loved so strongly and openly and deeply."
'Severe Mommy glow'
Sandra was an award-winning elementary school teacher but even beyond that, her connection with kids was profound, deep and primal. They were her passion. She had always wanted to adopt a child to give a home to one in need. In 2006, she and Willem began filling out paperwork to start the process. By June that year, they learned they'd been picked to adopt the newborn of 19-year-old Ginny Park.
"I remember them walking in (to the hospital room) and Sandra cradling her and right away she looked perfectly natural," remembered Ginny, who remains in contact with Willem and Adriana. "She was just as in love and excited about having Adriana as any mother could be."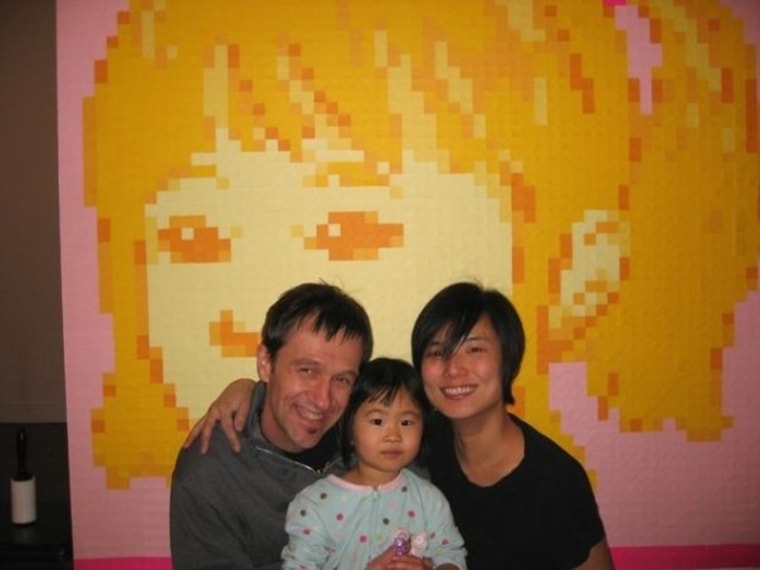 By the time Sandra and Willem returned home to Seattle with Adriana, "she had severe Mommy Glow," remembers Nicole Johnson, her best friend since middle school. "She was googly."
Family is whoever you love
Sandra spent her adult life creating family around her. She had left home as a young teen, fleeing a difficult situation with her parents.
"She felt like she was on her own," Willem says. "And when you're on your own, you find your own family. If someone was true to her she gave it back times 10."
Before Sandra became Adriana's mother, she'd already helped raise one daughter: Alecz Swanson, now 23. When Sandra was in her early 20s, her roommate, Jen Swanson, found out she was pregnant. Sandra promised she'd help raise the baby.
"And she did," Jen said. "When Alecz was born, Sandra was the only other person with me in the delivery room and she cut the cord. I always introduced her as Alecz' surrogate father."
They lived together for years, trading off childcare and homework help, even after Willem and Sandra got married. Alecz and Sandra had a tradition of always getting dressed up, often in matching outfits, and celebrating Valentine's Day together, the two of them, regardless of any men in Sandra's life.
The Valentine's Day after Sandra was hospitalized, Alecz, then 17, made a point to dress up and spent the entire day with Sandra, even though she was unconscious.
"She raised me. She was like my second mom," says Alecz. "She taught me compassion for people and how to love people wholeheartedly. As I'm getting older I understand even more how remarkable she was."
Sandra believed that family wasn't just about who you were related to. To her, it didn't matter whether you were tied by blood or marriage. Family was whoever you loved.
The book continues
Sandra had been the connective tissue in our group — after she got sick, everyone else had to come together in new ways on their own to form a web strong enough to hold Willem and Adriana.
During that time, some of us started a rotation, taking turns on Saturday nights having Adriana stay over with us. It gave Willem a break, but it also just felt good to be with Adriana.
"At first I felt like I was doing Sandra a favor," remembers Nicole Johnson, her best friend. "But then slowly I got more attached to Adriana. I fell in love with her. She's part of my family."
In those early days and weeks, whenever one of us was taking care of Adriana, we'd keep up the book and take lots of photos so that when Sandra was better we'd be able to show her. I have pictures of Adriana as a toddler at a pumpkin patch, sitting alongside my son, Gabriel, who is eight months younger. I took photos of them napping, making cookies, petting a llama.
I never got to show them to Sandra.
On Nov. 2, 2009, nine months after she got sick, she began bleeding internally and died at the age of 38. She died as she lived — surrounded by the family she'd created. We rubbed her feet, held her hands, stroked her hair and told her we loved her. I made some promises to her about family, friendship and enduring love that I hope I'm keeping.
Sandra is buried in a historic cemetery, on the slope of a rolling hill. It's a place that is hallowed ground to me for another reason: my first son is buried there. Phoenix, my beautiful, sparkling boy, died at the age of seven months from bacterial meningitis. Sandra had loved him deeply.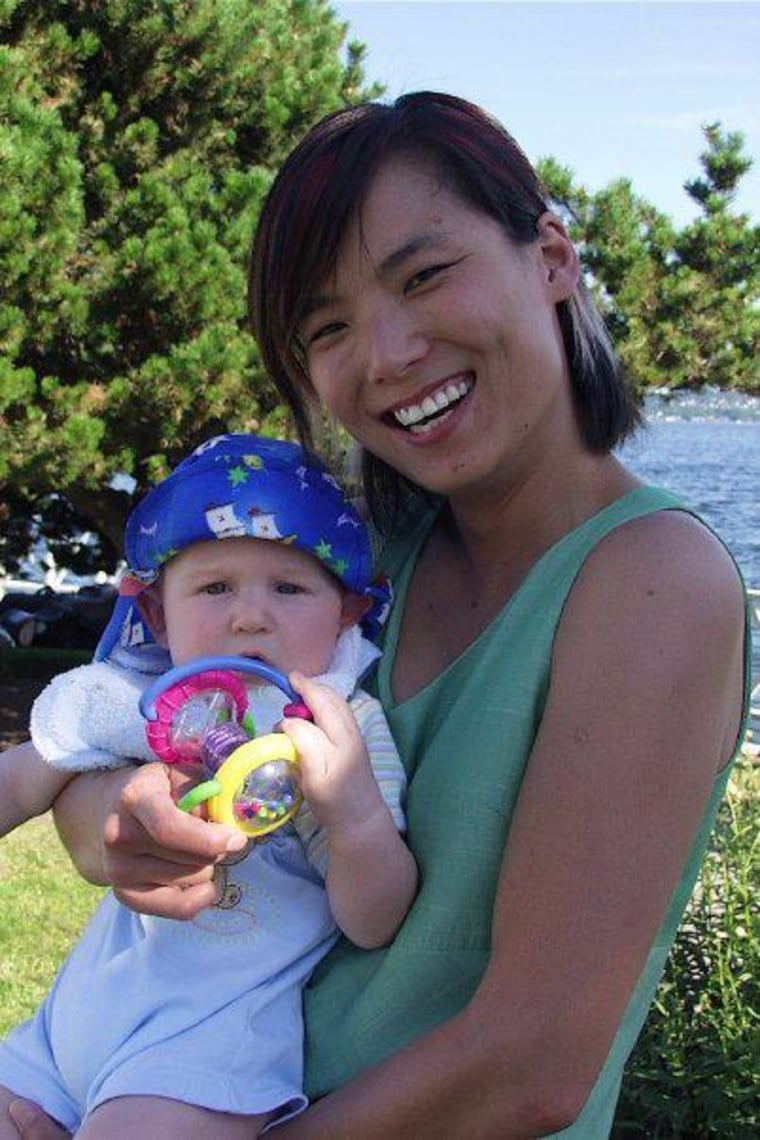 One afternoon, about a month after he died, I was with her when I had the sudden yearning to go to his grave, so she took me. Always the school teacher, Sandra had children's books in her car and she grabbed a few, sat down next to his headstone and read them aloud to him.
Four years later, Willem chose to bury her there, beside my son, in the place where she once sat. A few years ago on Mother's Day, Willem and Adriana arrived there at the same time as Mike, Gabriel and me. The kids ran and played hide and seek, their laughter echoing around the cemetery, then argued about which grave was better.
We are the family she created
Adriana, now 8 years old, is like her mother in strong, undeniable and unexpected ways. She's vibrant, whip smart and uninhibited. She doesn't remember a lot about her mom, but experiences her through those who knew Sandra, all of us in slightly different ways.
Adriana hears our stories, and sometimes asks to hear them again and again. There is a whole crop of stories about her irreverent mom we're waiting to tell her when she's older.
"It's important for me to learn about my mom since she's not here," Adriana said. "It helps me feel more (connected) to her."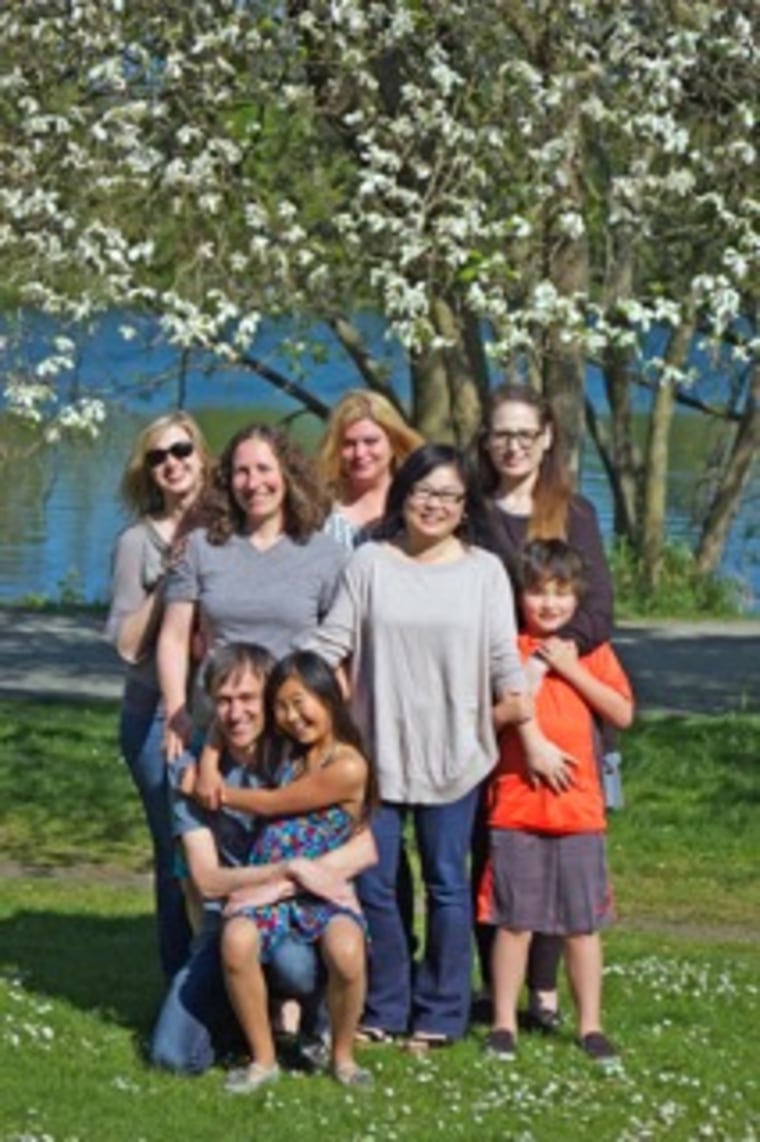 Esther, Nicole and Adriana's aunt Denise Patrick continue to do the Saturday night sleepover rotations. Willem often calls one of them for advice when he's wondering what a mom would do or just wants someone to talk to about parenting. Will and Adriana spend every Christmas morning with Mike, Gabriel and me; often Ginny, Adriana's birth mom, comes too, as well as my mother, who Adriana calls Grandma Beth, and other friends. For Adriana's 9th birthday next month, all of us will gather to open presents, watch the kids hit a piñata and eat the cake Jen makes each year.
In some ways, we all know each other better now than when Sandra was alive. I feel like somehow she set all of us up for that, so we'd have each other to lean on in her absence.
"Family is a group of people who are connected in a good way and care more about you than themselves," says Adriana. "Family can be anybody."
We gradually stopped filling out The Book. Sandra originally intended it as a way for her to remember her magical daughter. After she got sick, we filled it out so she wouldn't miss anything. Now, in her absence, Willem and those of us in her family of friends are the keepers of those memories. They reside in each of us — memories not only of Adriana, but of the all-encompassing way her mother loved her, something too big to be contained in the pages of any book. Those memories are strong and so many that I sometimes think it takes all of us together to hold them.
For TODAY's complete Mother's Day Guide, click here!
Linda Dahlstrom Anderson is a writer and editor at Fred Hutchinson Cancer Research Center. She lives in Seattle with her husband, Mike and her son, Gabriel. Follow her on twitter: @Linda_Dahlstrom