/ Source: TODAY Contributor
There's an underwear photo that's being celebrated around the web this week, but it's not what you might think. The undies the woman is wearing aren't skimpy or sexy, lacy or racy. In fact, they're just the opposite.
And that's exactly the point. In their oversized glory, they signal the joyful arrival of a tiny new bundle.
North Carolina mom Amanda Bacon posted a photo of herself wearing nothing but a pair of disposable mesh postpartum panties stuffed with a giant pad. The photo was taken in the hospital a day after her son was born on May 27.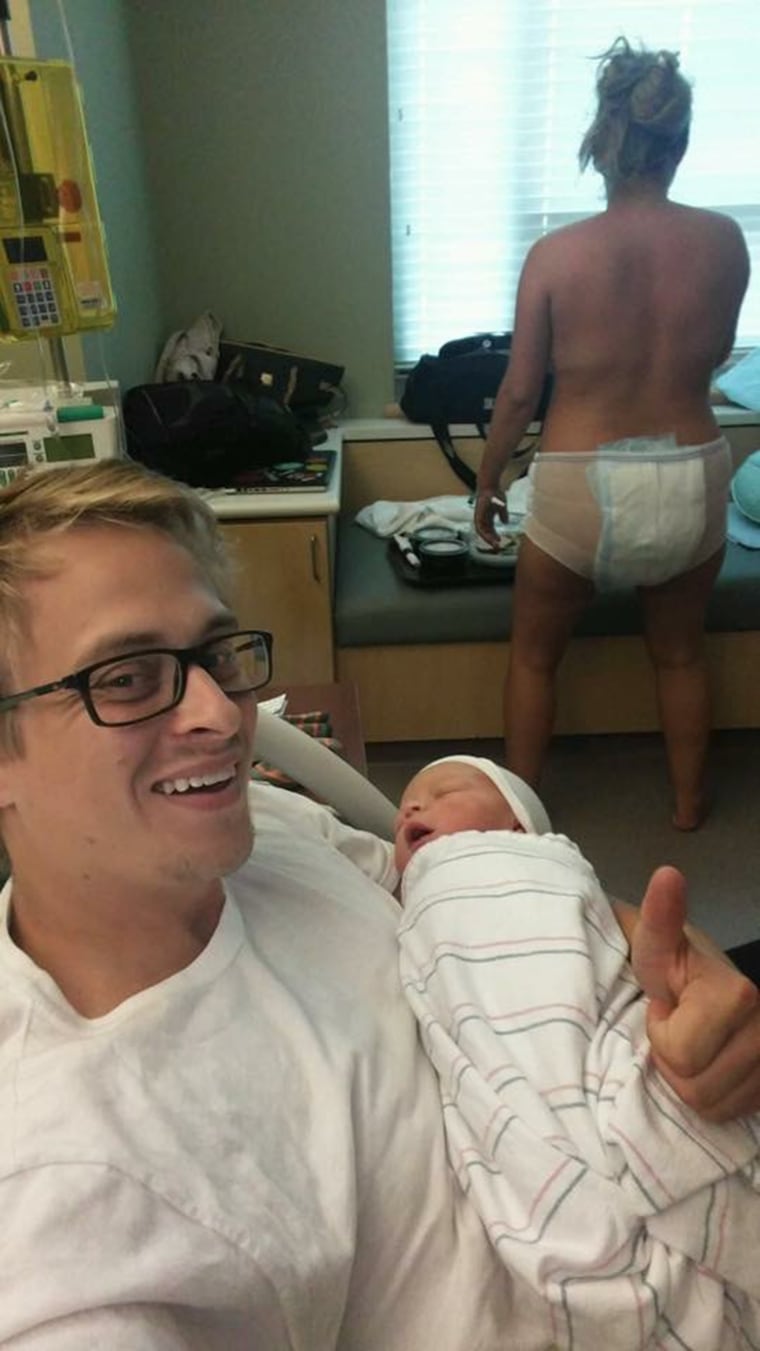 "This is motherhood; it's raw, stunning, messy, and freaking hilarious all rolled into one," Bacon captioned the now-viral photo on Facebook under the title "Motherhood uncensored." "Having a baby is a beautiful experience, and the realities of postpartum life aren't spoken enough about. And definitely not photographed enough."
"Nothing says welcome to motherhood like an adorable squishy baby, and a giant mom diaper," she added.
To Bacon, 28, the image is an honest portrayal of what it's like just after having a baby.
RELATED: See why this mom's honest breast-feeding photo got cheers, and jeers
"The photo shows a candid view of postpartum life: The good, the bad and the ugly," she told TODAY. "It's beautiful, but it's messy."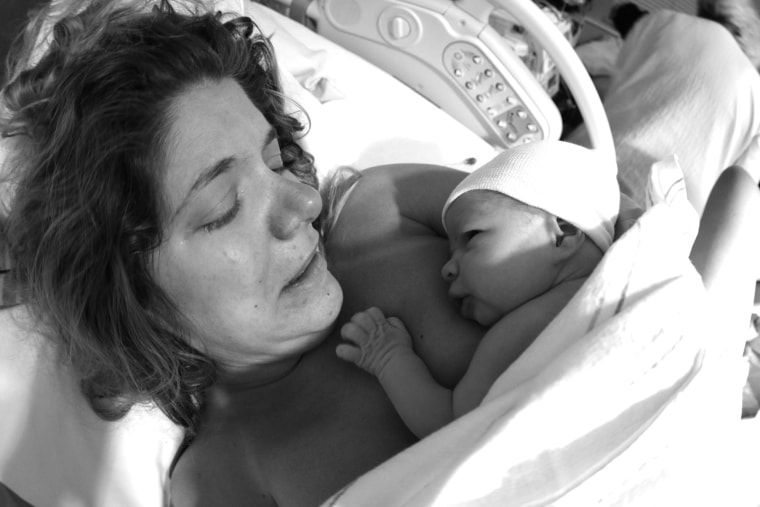 When the photo was taken by her fiance, Ken Hardy, he was holding baby Pierson and giving a thumbs-up while Bacon was scarfing down sweets that were forbidden during pregnancy due to gestational diabetes. She often wore just undies in the hospital to make nursing easier.
Bacon shared her bare self with the world because she felt postpartum women aren't usually shown dealing with the aftereffects of childbirth like bleeding and discomfort, and because she felt many women don't quite know what to expect after delivery.
"At first it made me feel awkward seeing it, but it was hilarious and I felt like it was a part of childbirth that people don't really share or speak about," she said.
RELATED: Photographer mom documents her own delivery in stunning collection of photos
The photo, which has been shared and liked hundreds of thousands of times, is drawing supportive words from fellow moms who are shedding happy emoji tears and reminiscing about their own days in those mesh monstrosities.
"A lot of people are appreciative that I showed this side of it," Bacon said. "It's kind of an uncomfortable thing to share with people. It's not something you go chatting with your friends about."
"It's like an invisible notch on your badge of motherhood that we all go through," said Bacon, who also has a 3-year-old daughter.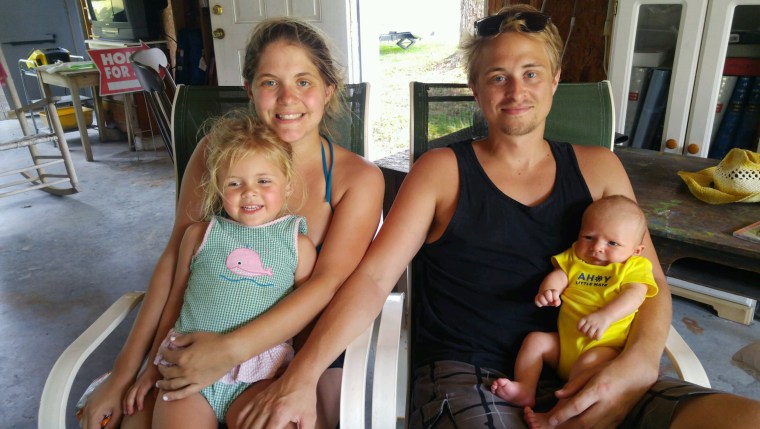 Bacon says her photo is also a reality check to the picture-perfect image that many people have of new moms: "The mother holding their beautiful newborn baby and everybody smiles, and Kate Middleton, fresh out of the hospital, looking great, feeling great. When in reality, it's not like that. There's a whole other side of it that nobody talks about."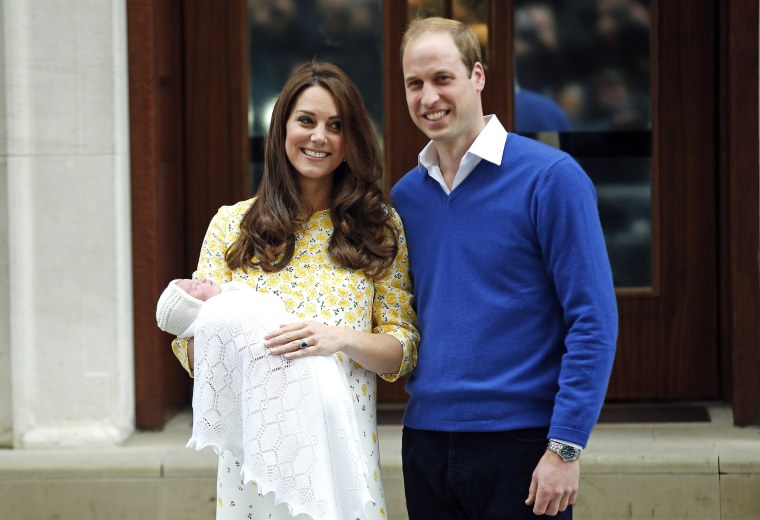 Many who weighed in on Facebook loved her honesty.
"This is the REALEST post I have ever seen," Nik Miles wrote in the comments. "It is exactly like this."
"Brilliant!" Sarah Jayne posted. "I remember looking like this after all 3 of mine! Celebrities make out that you have a baby, put your skinny jeans on and walk about looking fabulous! This is the real post-birth look!"
As Bacon adjusts to life as a mom of two, she offers this advice: "Laugh at yourself, don't take life too seriously. Birth is beautiful. Sometimes it's messy, but it's just something we should appreciate all aspects of."
TODAY.com contributor Lisa A. Flam is a news and lifestyles reporter in New York. Follow her on Twitter and Facebook.