Becoming a mother is a life-changing event — and perfectly curated Instagram feeds often don't reflect the adversity moms face on a daily basis.
Celebrities aren't exempt, either. Famous moms who have the benefit of additional resources still assert that schedules change, priorities shift and love is redefined from the moment a newborn takes a first breath. "My whole world took a big 180," Kelly Clarkson told People magazine in February 2015, months after giving birth to daughter River Rose. "It's very much changed my world in the most awesome way."
Spanning the past three years, here are 10 celebrity-mom quotes that demonstrate the often-universal lifestyle changes that come with motherhood.
1. Kelly Clarkson
On discovering a new kind of self-worth: "I love what I do, but I feel like I relied on my career a lot for my self-worth," added Clarkson — whose son Remington is about to turn 1 month old — in that 2015 People interview. "I'm a mother and a wife and have this whole other thing going on."
2. Kerry Washington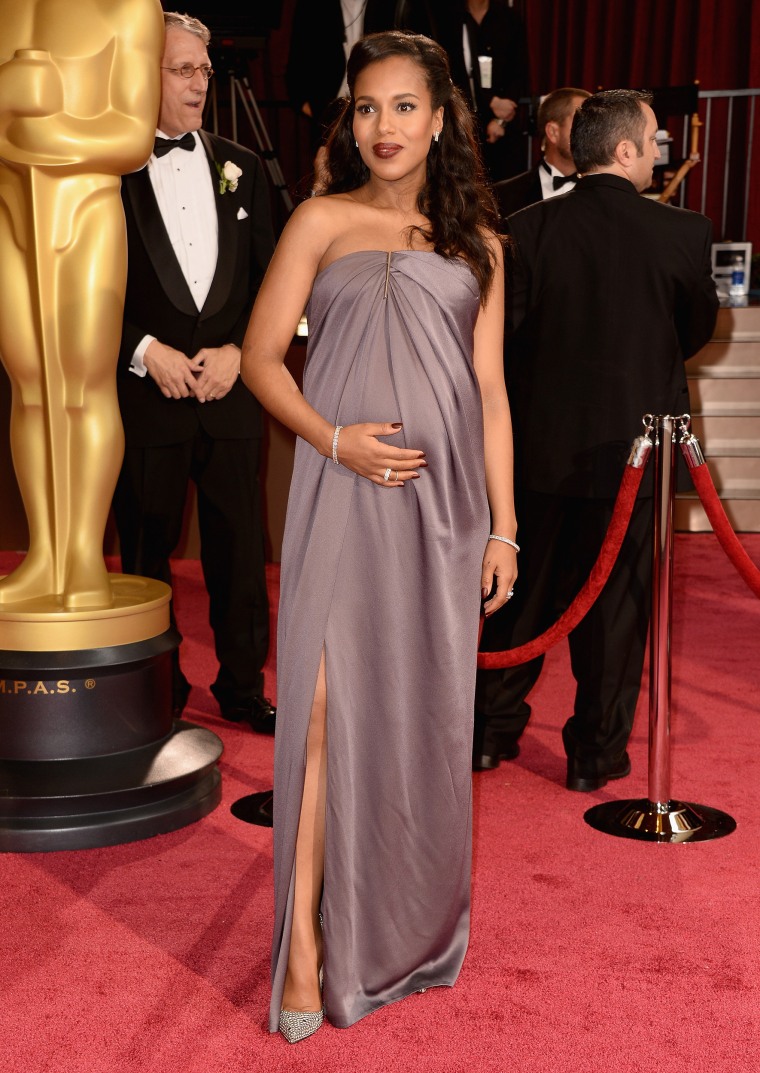 On redefining body perceptions: "I've been really focused on not being 'back' to anything, but being the best version of myself right now," Washington, whose daughter Isabelle turned 2 last month, told Self magazine in August 2015. "My body is the site of a miracle now. I don't want to be pre-miracle."
3. Kristen Bell
On resulting chaos: "Why does everyone wake up screaming?" the mother of young daughters Lincoln and Delta told Ellen DeGeneres last month. "Like, why don't they tell you that? Like, 'They're going to wake up screaming — for, like, four years.' The moment you wake up, you're in, like, a horror movie, 'cause everyone in the house is screaming bloody murder."
RELATED: 'I really enjoyed it': Kristen Bell dishes on her love for epidurals
4. Lucy Liu
On how time flies: "Every day is just a miracle and a dream," Liu, mommy to 8-month-old son Rockwell, told TODAY in November. "Because everything is so different every day. You're not even thinking about 'Is it Monday or Tuesday?' or what time it is anymore; you're just thinking about how he's changed from minute to minute and his reactions — also how you are and how you grow as a human being, being around another human being, like that."
5. Carrie Underwood
On feeling constant mommy guilt: "You feel guilty about every single thing, every decision you make, everything you do," Underwood, whose son Isaiah is 14 months old, told People magazine in October.
6. Jessica Biel
On the stress of restaurant dining with a child: "Since he's so little still and I'm still kind of learning how I do it in a very smooth and like elegant way, it's terrifying," the mom of 13-month-old son Silas told E! News in March. "You get to a place, you want to make sure the diners around you are not being bothered, you're full of anxiety, you're trying to go as fast as you can — you don't enjoy it at all. I've had some enjoyable moments, but more than not it's felt stressful."
7. Zoe Saldana
On a reluctance to leave the house: "I'm attached to [sons Cy and Bowie]; I'm attached to my family," the mom of the twin 17-month-old boys told Entertainment Tonight last May. "My husband has been forcing me to go out. Even if we go pick up food, it feels like a road trip. I miss them. I want to go back home. I feel like they need me."
8. Hilary Duff
On finding solace in family: "You have to have that place to be yourself, and I get to do that with my sister [Haylie]," Duff, whose son Luca turned 4 in March, told the TODAY Parenting Team last September. "That has only gotten stronger since becoming a mom and now watching [my sister] become a mom."
RELATED: Hilary Duff opens up about 'mom guilt' and her post-baby body in Redbook
9. Shakira
On re-evaluating priorities: "Becoming a mom forced me to re-prioritize, and make room for the things that are most important, while recognizing that there are things I can let go of and the world won't crumble around me," the mother of two young sons, Milan and Sasha, told Parents Latina in April 2015.
10. Mila Kunis
On discovering love on another level: "So, you think you know love … but the truest meaning of unconditional love is my child," Kunis, whose daughter Wyatt is now 19 months old, told DeGeneres in February 2015. "It's such a different aspect of it. It's not that it's greater or lesser; it's just in a whole other field. If she murdered somebody in cold blood, I would love her. I'd be like, 'That's OK.' When she was born, I was like, this is the most incredible thing that's ever happened."
Follow TODAY.com writer Chris Serico on Twitter.