Kimberly Fugate and her husband, Craig, got a surprise when they learned they were expecting identical triplets. After three babies were delivered Feb. 8, 2014, Kim heard a doctor announce, "I have more feet" — there was one more baby to come. That last baby, who had been overlooked on ultrasound, made her the mother of rare identical quadruplets at age 42. In this essay for TODAY.com's "2014 Voices" series, Kimberly recounts the health crises the four tiny girls faced, how she tells the quads apart and what a big help their 11-year-old sister is.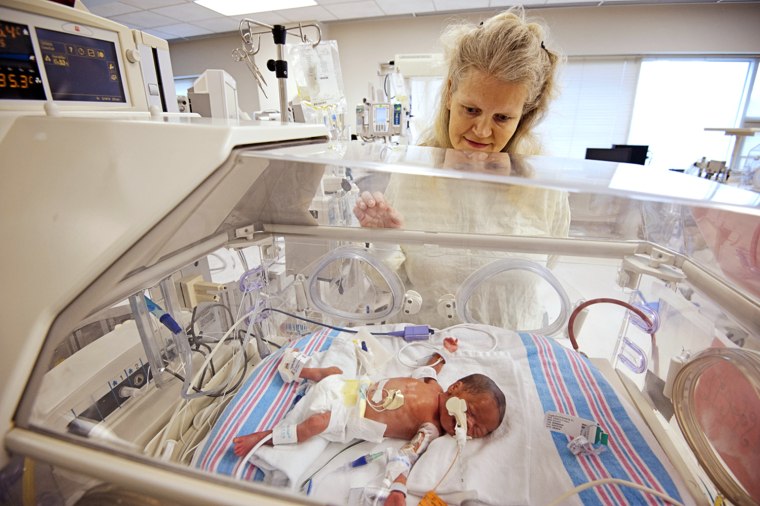 I feel very lucky, like the luckiest mom in the whole world.

I wasn't planning on starting over with more children, and many things have changed since I had my quadruplets, Kenleigh, Kristen, Kayleigh and Kelsey. It's a lot of work taking care of even one baby, let alone four, but I don't mind. It's a lot of fun, and they make it all worth it.
Just getting up in the morning and seeing the smiles on their faces, hearing them coo at me and listening to them babble at each other — the joy is overwhelming. I know every mom is partial to her babies, but I feel like I have the prettiest babies with the prettiest smiles. And those dimples ...
The babies were the biggest surprise of my life, and I couldn't imagine my life without them.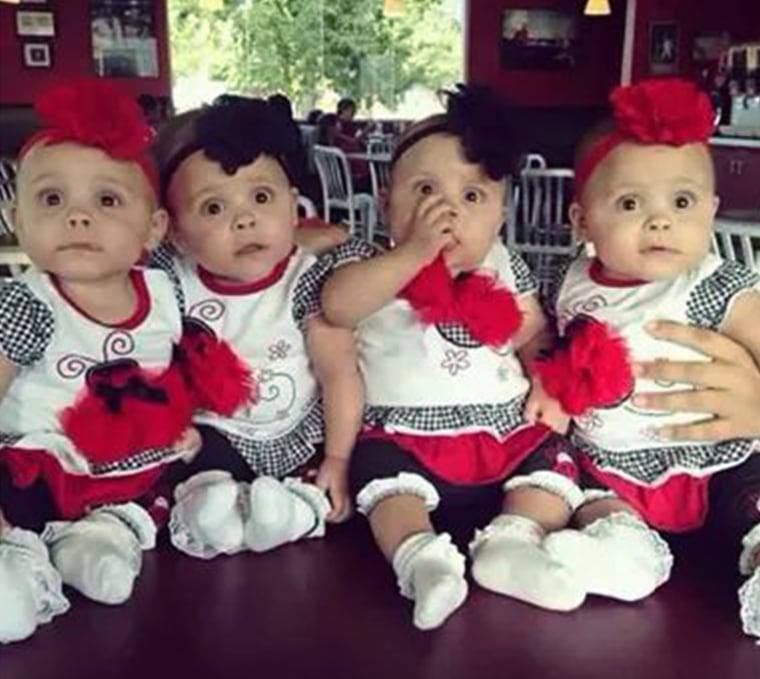 The past year has been a whirlwind. I was 13 weeks along before I found out I was pregnant, and had the babies at 28 weeks and one day. I didn't have a whole lot of time to comprehend that I was having more children. Everything happened so fast. Sometimes, I still have to pinch myself and wonder, "Am I dreaming or is it real?"

When the babies were born more than two months early, they weighed between 2 and 2½ pounds and were critically ill. They spent more than three months in the NICU, and needed to be on ventilators to help them breathe because their lungs were so small.
They finally came home in May and June and are doing really well. They weigh between almost 18 and 22 pounds, and their doctor is pleased with their growth. They are generally healthy. One quad has a mild case of a growth disorder and is being monitored regularly.
I believed that God picked me to have these quadruplets, and I felt that He would take care of them and allow them to survive. To see how far they've come makes me feel very blessed.

But there were a lot of very scary moments, and their first few months were like a roller coaster. One baby might be having a good day but another having a bad day. There were times when I feared for their lives. Several of the girls' heart rates dropped, and I held my breath as I watched two be resuscitated. Kayleigh needed eye surgery before she came home.
I stayed at the Ronald McDonald House near the hospital so I could be close by. Even though my blood family wasn't there with me, the other parents of ill children staying at the Ronald McDonald House became like family. And the NICU nurses were awesome. When I cried, they cried. They always told me, "We're going to get through this. We're going to make it."
We did, and life has never been the same. My family of seven moved from our two-bedroom trailer in Jayess, Mississippi, to a four-bedroom, double-wide mobile home so we had more space. And we needed a bigger vehicle as well.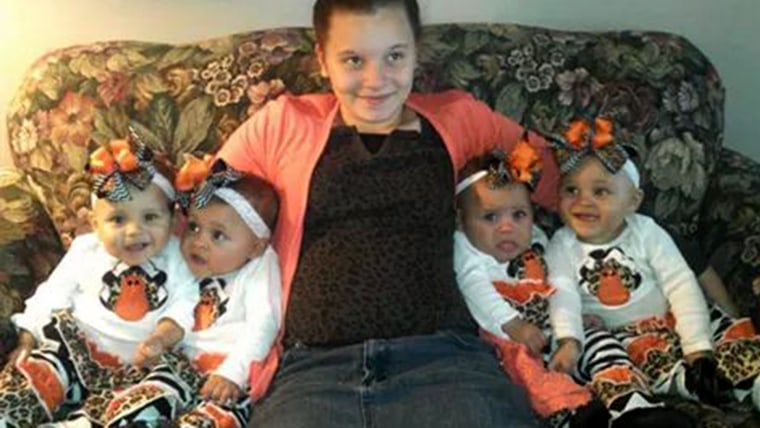 Because the babies were preemies, their milestones are measured from my due date, which was May 2. That makes them about 7 months old developmentally. They are just starting to sit up on their own and they each have several teeth.

When they were in the hospital, they were in isolettes and couldn't see each other. At home, though, you can see they really know each other. When they babble, it sounds like they are having a conversation. I put two babies on the couch recently, and one turned and put her arm around the other, like she was hugging her.
The babies wore bracelets with their names on them for a while but I took them off because I was afraid they would put them in their mouths. I know without a doubt who each baby is. They have their own personalities and little physical differences, like Kristen has more hair and Kenleigh is the smallest.
The babies still eat every three to four hours, even overnight, and if they wake up at the same time, I try to feed them together. I sit them in their floor seats, and give each one a bite of food and rotate through them. They are really patient. And they are starting to hold their own bottles a little, so that is a help.
They are calm, happy babies. But sometimes, if they are all crying at once, it can be stressful. I try to get them what they need as quickly as possible and keep them entertained. Though I'm tired, I think, "This too shall pass."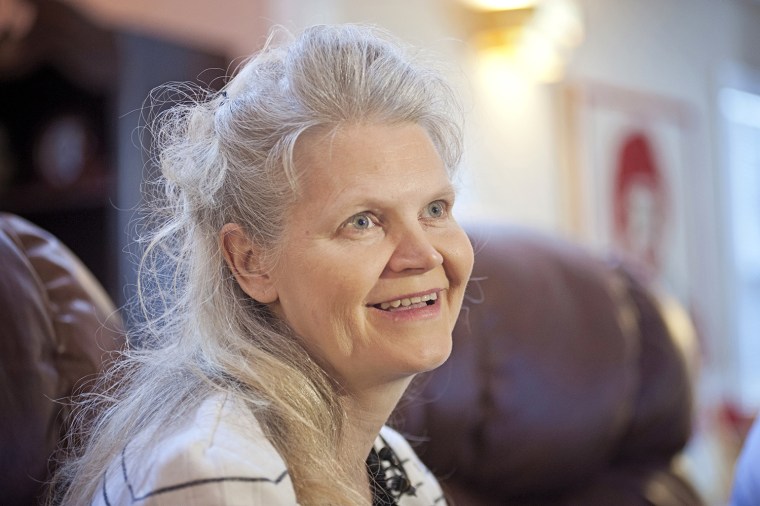 They go to daycare on some days and I use that time to run errands or catch up on sleep. When I'm home alone with them, it's all babies, all the time.

Katelyn, my 11-year-old, is a great help. She helps in the evenings with baths and feedings. She helps get them to sleep. She plays with them and keeps them entertained. I also have my family nearby to help if I need it.
There are only about 60 to 70 sets of identical quadruplets recorded around the world. I feel like I won the lottery with mine. We received a lot of attention after the babies were born, and their Facebook page has more than 77,000 likes.
Wherever I go, people ask me, "How's your babies?" I don't feel any different, though. I tell people, "I'm not the celebrity, the babies are." That's because they're the rare ones. I'm just so proud to be their mom.
Kimberly Fugate's story was told with the help of Lisa Flam.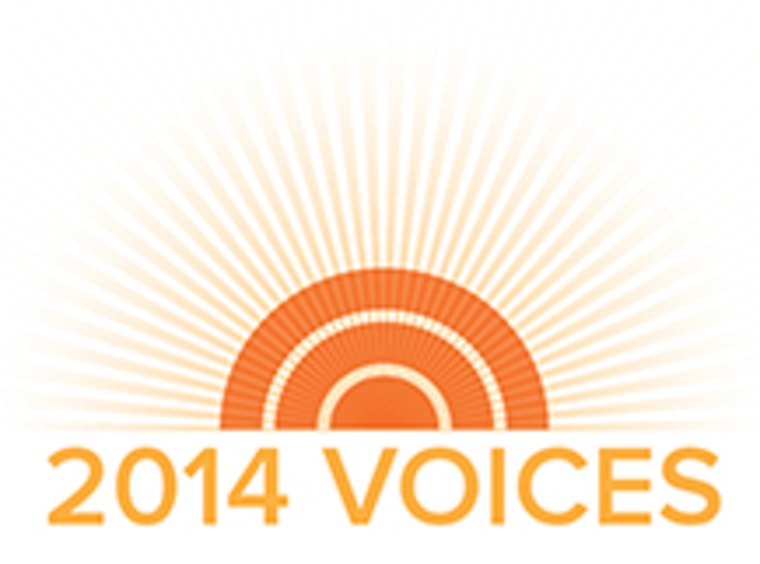 Find more essays and as-told-to pieces from the newsmakers behind some of the year's biggest stories on TODAY.com in our "2014 Voices" series.
* What's wrong with Wyatt? Parents of boy with mystery illness still don't know
* Once obese but starving Texas girl sees a healthy future months after surgery

* Woman whose weight-loss bikini pic went viral: 'I can help others not feel alone'