It will be a special Mother's Day this year for TODAY anchors who are moms: They just welcomed two additions to their circle!
First-time moms Hoda Kotb and Dylan Dreyer recently joined their "veteran" counterparts — Savannah Guthrie, Sheinelle Jones and Jenna Bush Hager — at the home of Kathie Lee Gifford for a luncheon celebration and conversation about their special sisterhood.
They discussed mom guilt, unconditional love, their parenting partners, and numerous other topics but nearly everything came down to, first and foremost, their gratitude for the children in their lives.
Hoda expressed excitement, and a sense of the surreal, about having her very first Mother's Day since adopting her daughter, Haley, on Valentine's Day.
"The idea of Haley existing, and me being a mom and me sitting at this table with you guys?" she said. "Am I supposed to be at this table? It feels a little weird. I can't believe the greatest joy of my life came at 52."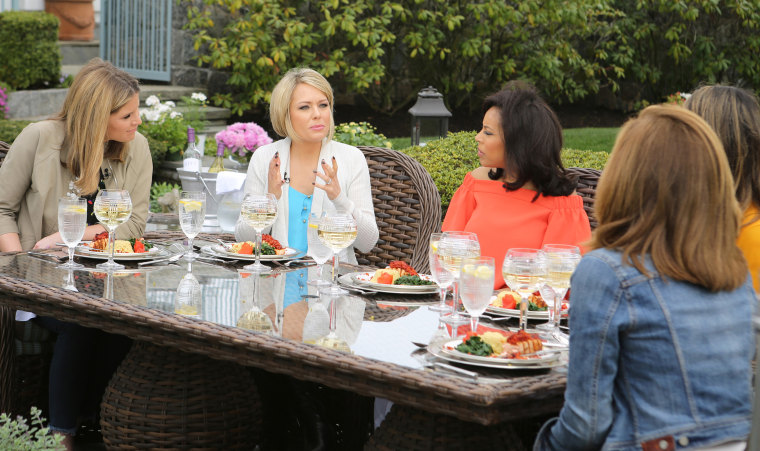 Jenna, whose own parents tried to adopt before ultimately learning they were pregnant with twins, praised Hoda for broadening people's perspectives.
"You've changed a lot of people's ideas on what motherhood is," she said.
The Mother's Day lunch, held in partnership with People magazine, led the TODAY moms down the path to numerous conversation topics, including:
Mom guilt
Savannah couldn't wait to talk about it.
"I have terrible mom guilt," she admitted, saying she gets "almost physically ill" when she's not with Vale or her baby brother, Charley.
"I miss them. I feel like I'm letting them down, even if I'm with them all day, all weekend long, and I want to go take a bath or something," she said. "I feel bad if they're on the other side of the apartment. I'm telling you, I have it bad. Mom guilt is real."
Kathie Lee warned the group that they will make wrong parenting decisions in the future. And their children will survive.
"I know I made mistakes, and that breaks my heart, because I never meant to," she said. "So much of it, especially if you're a parent for the first time, it's by the seat of your pants — your Spanx. It really is. And somebody is always going to feel like they're get the short end of the stick."
Healthy self-esteem
Savannah brought up how determined she is to model positive self-image in front of Vale. But she admitted it's more difficult than she imagined.
She described recently playing "fashion show" with her daughter while she tried on some dresses for an upcoming event — and then quickly realized how she was disparaging herself in front of Vale.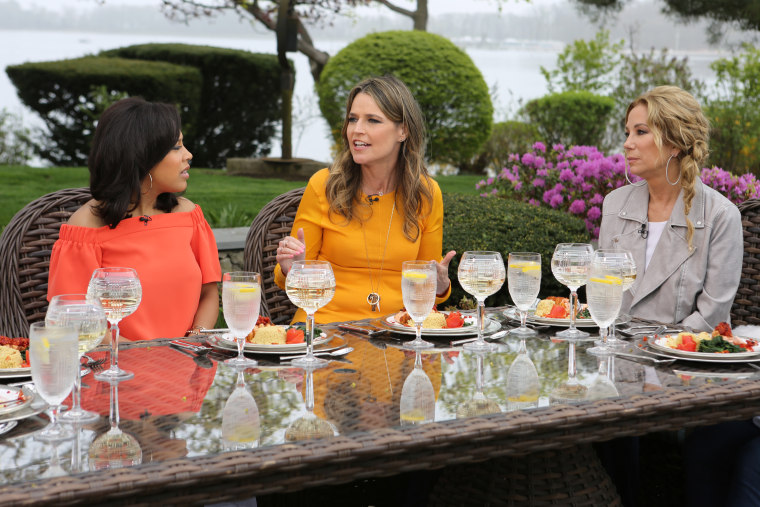 "I would look, and I'd be like, 'Ugh. I don't like that,' and I had to stop myself. Because at that age especially, they just look at you and they just copy you," she said. "So if you are sitting there saying you don't like how you look, or 'I'm so fat,' she will internalize that and I just don't want her to have that vocabulary."
Kathie Lee admitted that she's made that slip more than once with her own daughter.
"I made a mistake with that, with Cassidy growing up," she said. "I didn't realize that it could be harmful. I thought like, I was being honest. And I didn't realize that it can be harmful. She helped me see that. She said, 'Mom, please stop it.'"
Parenting partners
While the ladies took turns griping about spouses and partners who complain about not getting enough sleep, or being woken up by crying babies, they all admitted their children got lucky in the daddy department.
Sheinelle, the mother of three young children, including a set of twins, admitted there are plenty of times she has wanted to strangle her husband.
"And there are other times where I see him with the kids and my heart melts. He's such a good dad, and all is right with the world," she said.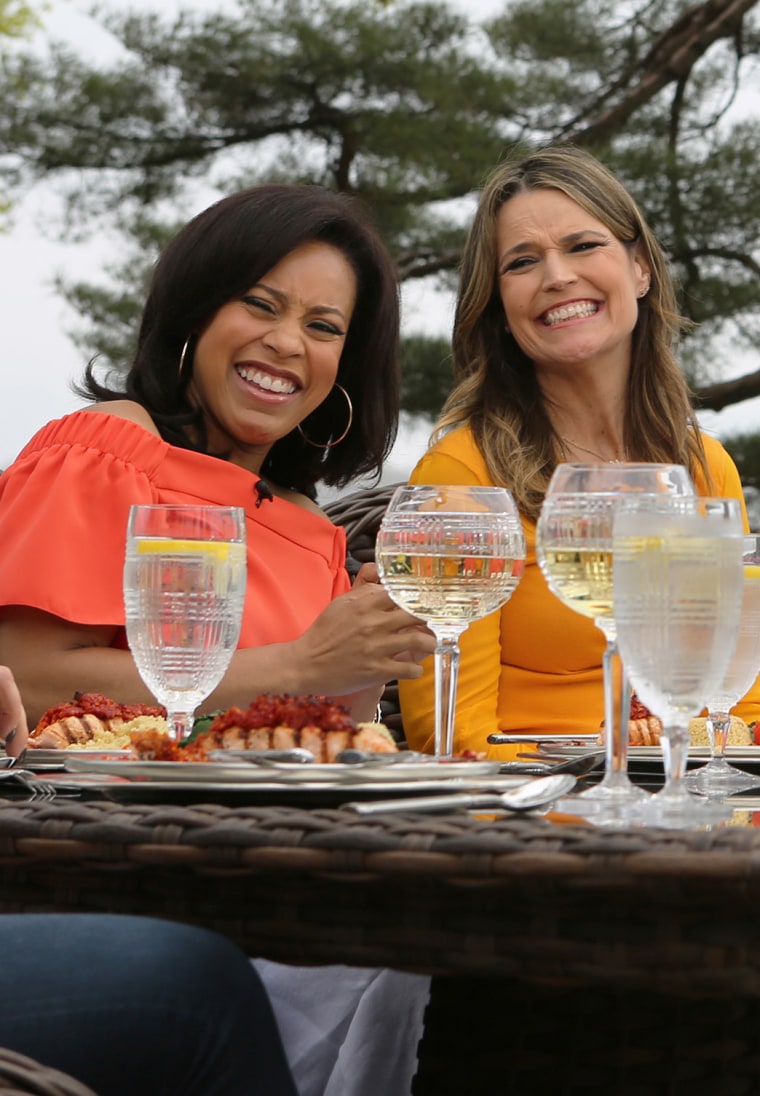 Savannah agreed that children place pressure on relationships in unexpected ways and can put commitments to the test.
"It's not going to always be love and sunsets, but you know what, there's this great deep love," she said of her husband.
Manners
Hoda noted that she has never met such "amazing" kids as Kathie Lee's two children, 27-year-old son, Cody, and 23-year-old daughter, Cassidy, whose impeccable manners were an expectation in their household.
"I just believed that you have to get those kinds of essentials into them, into their DNA," Kathie Lee explained.
The other moms said they've been working on instilling similar lessons into their own young children. Savannah shared how she was pleasantly surprised when, after changing the diaper of her 2-year-old daughter Vale, she was told: "Mommy, thank you."
Jenna shared she's been trying to teach her older daughter, Mila, 4, to say, "Yes, ma'am, Mommy," whenever she answers her mother.
"Does that make me strict?" she wondered.
The work-life juggling act
Dylan, new mom to 5-month-old Calvin, admits that returning to work has been tough.
"This career is so crazy. I don't know if I can juggle it all," she said. "I just don't know if I can."
But that's where her fellow TODAY moms come in handy.
Kathie Lee reminded her, and everyone, that "work is literally the way you make your living, but it's not your life."
Hoda noted what a blessing it is that her work has provided her with friends for life.
"We're proof that moms come in all shapes and sizes and ages and everything," she said. "And you look around, and you feel it. I feel so at home sitting right here."
RELATED:
• Hoda Kotb opens up about Haley Joy: 'When I look at her, I see forever'
• Savannah Guthrie opens up to People about life with Vale and Charley
• Dylan Dreyer opens up about the most surprising part of motherhood