After giving birth to the first set of surviving quintuplet girls in the United States last week, Danielle Busby was able to hold one of her daughters for the first time earlier this week.
"It was an emotional downpour,'' Busby told Hoda Kotb on TODAY Thursday. "I got to hold her two days ago and I got to hold (her sister) Ava last night. It's been hard to see your baby in the isolettes, but that moment where you finally get to touch your baby and hold them, there's no better feeling than that."
The babies were delivered in only four minutes by C-section on April 8 at The Woman's Hospital of Texas in Houston. Danielle and her husband, Adam, who also have an older daughter, Blayke, 4, welcomed Olivia Marie, Ava Lane, Hazel Grace, Parker Kate and Riley Paige into the world as the first surviving quintuplet girls born worldwide since 1969, according to The Woman's Hospital. Ava and Olivia are identical twins.
"I'm still getting used to changing them right now in the NICU,'' Adam said on TODAY. "It's pretty overwhelming because they're so tiny. Their legs are this big around, and whenever they kick, I don't want to grab them firmly because I'm scared I'm going to break them."
The babies all weighed between two pounds and two pounds, six ounces, at birth, and all are on oxygen in the NICU for their premature lungs.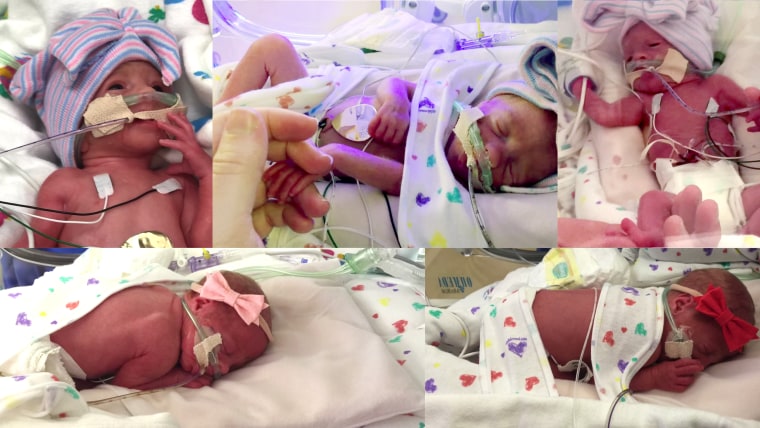 "They're doing fabulous,'' Danielle said. "They're so precious. They're doing really, really well, so fingers crossed."
"They all started out very vigorous,'' Dr. Jayne Finkowski-Rivera, who is caring for the quintuplets, said on TODAY.