To save her unborn child's life, a Colorado mother sacrificed her own.
Karisa Bugal died during childbirth when an unexpected and extremely rare condition forced her to make a heart-wrenching decision in the hospital delivery room.
Bugal suffered an amniotic fluid embolism during the birth of her second child. The condition occurs when the protective fluid surrounding a baby during pregnancy escapes into the rest of the mother's body.

"The amniotic fluids surrounding the baby or part of the baby's skin or hair gets into the mother's bloodstream and that causes catastrophic shutdown of all the organs," Dr. Kelly Gerow told NBC-affiliate KUSA.
Wes Bugal knew the prognosis wasn't good for his wife. 
"Deep down I knew it wasn't good but I wanted to keep the faith," he said.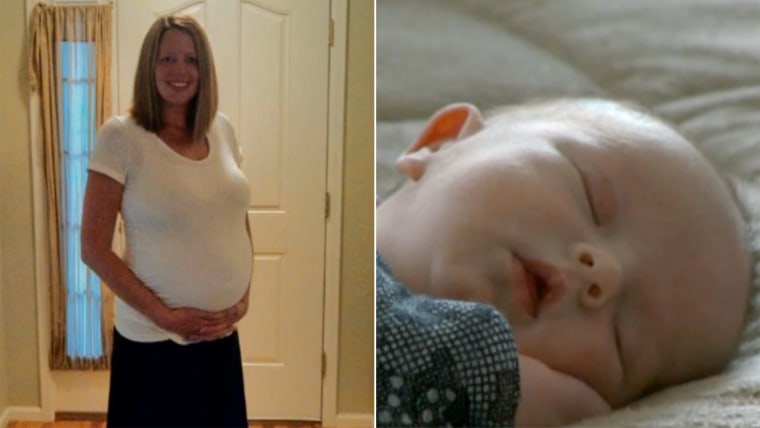 As the baby's heart dipped, Karisa had doctors perform an emergency C-section to save the baby. She and her husband also have a toddler daughter. 
"That was about the last time I saw her," Wes said. "That's the hard part: how to explain to him that his mom's gone giving birth to him. Explain to both of them where their mom's at when they ask, 'Where's Mommy?'"
Declan Jay Bugal was born Nov. 3. He weighed 7 pounds and 4 ounces. 
His mother was conscious of Declan before she died, asking "How big is he?" according to a friend who set up a GoFundMe page for the Bugal family. 
"Karisa was 34 years old and was set to celebrate her 8 year wedding anniversary on the 5th followed by her 35th Birthday on the 8th of November," Kendall Tinnes wrote on the page. 
Karisa's sister, Maren Oates, says her sister delivered a "miracle" with Declan.
"She came to the hospital to be a mom, and she did what she was supposed to do," she said.

Follow TODAY.com writer Eun Kyung Kim on Twitter.