When books, movies and TV shows don't go far enough to inspire unique baby names, some parents are turning to Instagram filters.
Ludwig, anyone?
You may laugh, but naming kids after the tools that make your photos more colorful or moody on the popular app is one of the hottest baby name trends of 2015, according to the annual BabyCenter Baby Names Survey.
"We were a little surprised by this," Linda Murray, BabyCenter's global editor in chief, told TODAY Parents.
"(But) there's this beautiful thing that happens with an Instagram filter. You take these precious moments in your life and it makes them even more beautiful, it enhances them. I think people have just really warm feelings about that and these names come into their consciousness."
Read more: The unexpected advantage of giving your child a unique name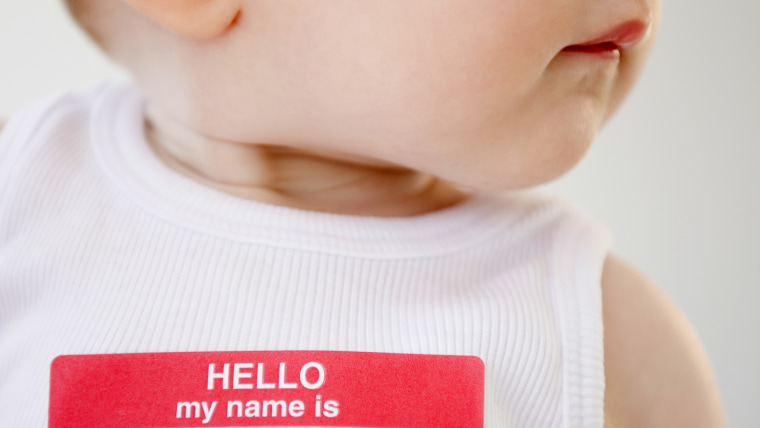 For boys, the name Lux is up 75 percent in popularity since last year, while Ludwig is up 42 percent. Amaro, Reyes, Hudson and Kelvin are also seeing an up trend.
For girls, the names Valencia, Juno and Willow are on the rise.
These are fairly recognizable names, but a little bit more on the unusual side, which parents like, Murray pointed out.
"They're looking for something unique, but not unheard of," she said, noting that not all Instagram filters make the cut. "No one's naming their baby X-Pro II," Murray added with a laugh. She doubted other apps would inspire a similar trend, though the name Pandora is on the rise since last year.
Read more: Oh no they didn't! The 12 craziest new baby names
Photo sharing is a huge part of our lives, with Instagram reporting more than 400 million active monthly users. Almost 75 percent of moms use their phone to share photos or videos of their children and almost a third, 30 percent, share photos every day, according to BabyCenter.
Most popular
If you're into more mainstream popular baby names, Sophia continues to be a powerhouse, topping the girls' list for the sixth year in a row. Parents love it because it works in many languages and has a "pretty femininity," Murray said.
Jackson leads the boys' list for the third year.
Here are the top 10 most popular baby names of 2015:
Girls:
Sophia
Emma
Olivia
Ava
Mia
Isabella
Zoe
Lily
Emily
Madison
Boys:
Jackson
Aiden
Liam
Lucas
Noah
Mason
Ethan
Caden
Logan
Jacob
The lists are based on the names of more than 340,000 babies born in 2015 to moms registered on BabyCenter.com.
If you're looking the fastest-rising monikers on the entire list, it's Paisley for girls and Muhammad for boys, Murray said.
Read more: Find your 'today name' with this fun baby name generator
Gender-neutral choices
Parents are also embracing gender-neutral baby names, in the same way toy and clothes manufacturers are producing items that work well for both boys and girls, rather than just "pink and blue" choices, Murray said.
"There is a movement among young parents to get away from those sort of traditional feminine and masculine names and give their kids names that work well for either gender," she noted.
The name Wyatt is up 84 percent for girls, while Piper is up 61 percent for boys, according to BabyCenter. Popular gender-neutral names on the list include Riley, Lincoln, Karter, Maxwell and Carson.
Royalty rules
Surprisingly, the year's most famous baby — Britain's Princess Charlotte — and her brother George aren't inspiring a boom in those names. But regal-sounding monikers are another big trend of 2015, BabyCenter found.
The name Royalty is up almost 90 percent, perhaps fueled by singer Chris Brown's name choice for his daughter. Duchess, Reign (the name of Kourtney Kardashian's son), Sultan, Princess and Tiara are also on the rise.
"Any formal title is totally up for grabs now," Murray said. "Why waste your time with something as subtle as George or Charlotte, right?"
Other big trends of 2015: Naming babies after characters in the TV smash "Empire" and choosing celestial monikers, such as Venus and Jupiter.