Even more than the baby names at the top of the "most popular" list, outrageous names can define our times, becoming the most memorable symbols of important passages and events. (Not to mention, sources of head-shaking wonder.)

Here, Nameberry's picks for the 12 most outrageous names of 2012:
1. Blue: The year was bookended by Blue, the name and color of 2012.  January saw the much-anticipated birth of Blue Ivy, the daughter of Beyonce and Jay-Z, who quickly moved to trademark their child's singular name.  And 2012 culminated in the reelection of Democratic President Obama and a political swing toward the blue.  Other color names on the rise include Silver, as in political prognosticator Nate, Scarlett, Violet, and Grey, as in erotic hit "50 Shades."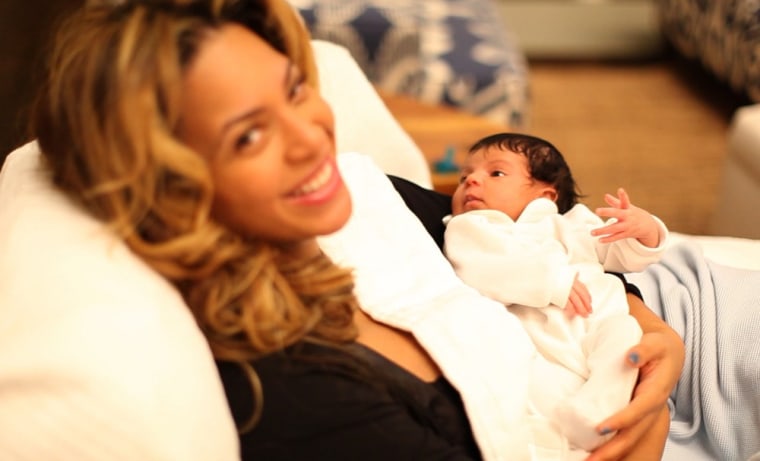 2. Katniss: The runaway hit The Hunger Games, which achieved mass popularity on the big screen this year, introduced the herbal name Katniss to the world.  While Katniss attracted the most views of any name on Nameberry in 2012 – 60,000 page views, nearly 20,000 more than the next most-viewed name  -- we predict that actual babies will be more likely be given the names of minor characters Rue, Primrose, and Cato.

4. Hashtag: Want publicity?  Give your baby an absurd internet term as a first name and the whole world wide web will pay attention.  Last year introduced us to babies Like and Facebook, and 2012 brings us (possibly apocryphal) reports of baby girl Hashtag Jameson.  Little Hashtag's parents announced their bundle of joy's name on Facebok, then sat back and let the media frenzy unfold. No one ever confirmed whether there's a real baby legally named Hashtag, and we're betting it was a joke. But with the popularity of tech-inspired names like Apple and Siri, we can't totally rule out baby Hashtag.
3. Rosalind Arusha Arkadina Altalune Florence: Everything other parents can do when it comes to naming their babies, celebrities can do better – and bigger and wilder and more outrageously.  And so now that ordinary Americans are following the lead of British royalty and giving their babies not one but two middle names, movie star Uma Thurman – who's got a pretty out-there name of her own – and her businessman boyfriend Arpad Busson gave their daughter four middle names in addition to her first name and hyphenated surname, adding up to a total of seven names.  Or wait, make that eight, since the little girl is to be known by yet another appellation, Luna.
 5. Zamzam: Our choice for a name that best represents the spirit of the Olympics is not London, which amazingly is already in the Top 100 for girls, but Zamzam, first name of the Somali runner who may have finished last on the track but won the hearts of many viewers.  Representing her war-torn nation and refusing to break her Ramadan fast for the competition, Zamzam Mohamed Farah's first name comes from a famous holy well in Mecca.
 6. Maxwell: The name Maxwell was most notable for wielding a silver hammer in the Beatles' song until two celebrities in 2012 pushed it across the gender line by choosing it for their daughters.  Singer Jessica Simpson's little girl with former football player Eric Johnson is named Maxwell Drew, called Maxi, but earlier in the year actress Lindsay Sloane named her daughter Maxwell Lue.  Other celebrities whose baby name choice defied gender conventions in 2012 include Peaches Geldof's son Astala Dylan Willow and Mike Eli's daughter Kline.
 7. Beretta: Badass baby names dominated the rosters this year, but gun name Beretta, chosen as a middle for newborn daughter Breeze by Bristol Palin babydaddy Levi Johnston, may be the most outrageous of the pack.  Other badass choices we've heard in 2012: Rebel, Shooter, Gunner, and Blade.
8. Kingsolomon: Not born into royalty like the most-anticipated baby of next year?  No problem; you can build a royal title into your first name.  Among the babies on the U.S. extended popularity list are five boys named Kingsolomon as well as children named Kingdavid, Princemichael, Sircharles, and Milady.
9. Vanellope: Speaking of royalty, the newest princess created by Disney sports the outrageous name of Vanellope von Schweetz .  One of the leading characters in "Wreck it Ralph," voiced by Sarah Silverman, Vanellope is kind of a smoosh between Vanilla and Penelope.  Among her co-characters are Taffyta and Wynchel.
10. Mykale, Linzi, Payzlee: Why use Michael, the most popular name in the US for three decades, when you can spell it Mykale?  "Yooneek" spellings of familiar names are one of America's most outrageous baby name trends of 2012, with official lists including such kreeative variations as Linzi, Payzlee, Izayah, Jovani, Leigha and Kyndall. 

 11. Sabbath: At first, Sabbath sounds like one of the newer spiritual names, commemorating the traditional day of worship and rest.  But wait!  The father of little Sabbath Page Wielandt Wylde is none other than hard rocker Zakk Wylde, who's recently been touring with Ozzy Osbourne of the quintessential heavy metal band Black Sabbath.  So much for a day of rest. The Page part honors legendary Led Zeppelin guitarist Jimmy Page, and Wielandt is Wylde's original surname.  An older son's names also call up Wylde musical idols—(Jimi) Hendrix and (Van) Halen.
12. Kick: Kick is the middle name chosen by Law and Order's Jeremy Sisto for his son Bastian, representative of the kind of anything-goes non-name middles that are a hallmark trend of 2012; see also in Sisto's daughter Charlie-Ballerina and Tobey Maguire's girl Ruby Sweetheart.  Other starbaby middles include Song and Story, Painter and Pip, Bravery and Bebop, Rocket and Midnight.  With Kick, Sisto has said they scoured the dictionary looking for words that aren't normally names; we just have to wonder at what stage of the pregnancy the idea for Kick kicked in.
What do you think of these baby names? Sound off on our Facebook page.