One mom from Austin was celebrated on social media for the creative email she sent her daughter's teacher to say she'd be missing school for one of Taylor Swift's upcoming concerts. 
Rather than send a simple email to say her daughter would be absent April 24 after attending one of the Houston dates on Swift's Eras Tour, Karen Vladeck opted to lean into her inner Swiftie and pen a note laden with references to the singer's discography.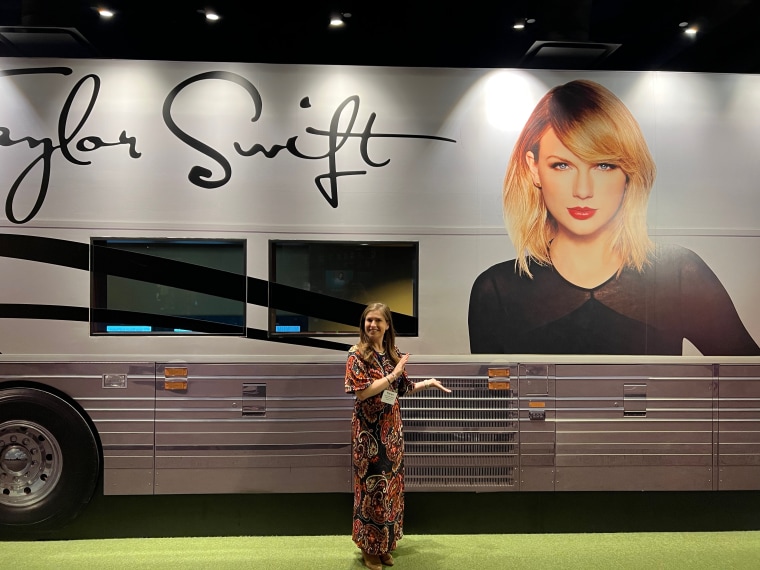 Vladeck, 38, tells TODAY.com that since it was the first time that her daughter, who is in first grade, would be pulled out of school for something "fun," instead of for a sick day, she wanted to find a clever way to share the news with her teacher. 
"At first, it was going to be one sentence long and then I got into it and I just kept pulling different titles out," she says.
The lawyer and legal recruiter shared the clever email she sent to her daughter's teacher on Twitter, adding the message, "Here's hoping my daughter's 1st grade teacher is a Swiftie."
After the "Anti-Hero" themed-subject line "It's Me, Hi, I'm the Problem, It's Me," Vladeck started the email off strong with another "Midnights" reference, writing, "Dear Reader [Ms. Parks], I'm writing to let you know that Maddie won't be in school on 4/24 because she is going to the Taylor Swift concert in Houston."
"I hope missing school doesn't ruin her otherwise stellar Reputation, but she begged me to go and maybe I Should Have Said No but I didn't want to be Mean," Vladeck continued, before fitting in another Swift reference. "So It Goes…"
Vladeck added, "Anyway, I hope this doesn't leave any Bad Blood between you and Maddie and that things for the rest of the year are not Treacherous."
"I know I Did Something Bad and I promise this will be The Last Time she has an unexcused absence before the Cruel Summer starts," she said, before signing her email, "Forever & Always, Karen Vladeck."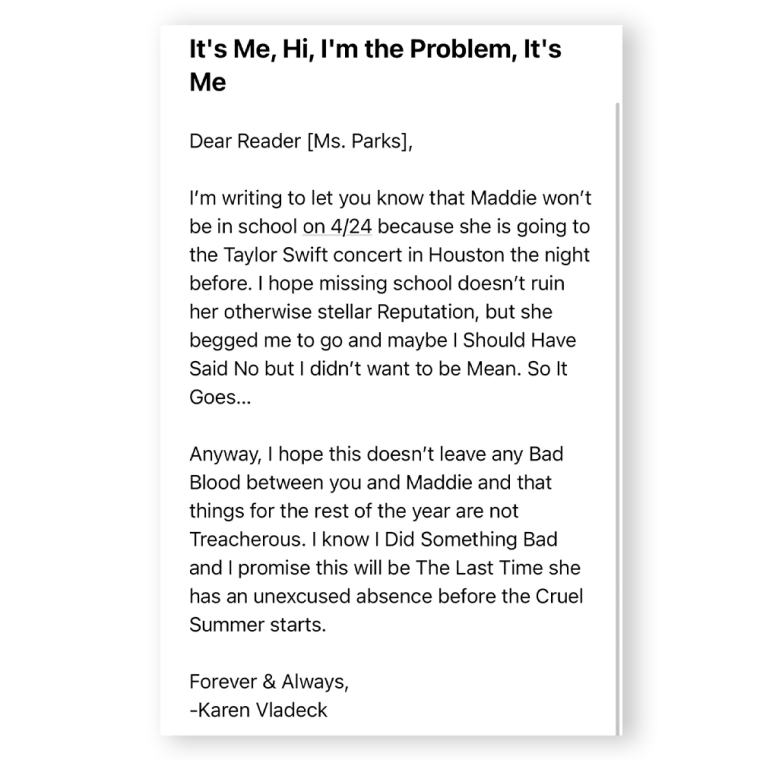 "I sent it without asking my husband, even though I copied him on it," Vladeck explains to TODAY.com. "When he saw it, he was like, 'What are you thinking?' But then the teacher wrote back immediately and she absolutely loved it."
Vladeck says Ms. Parks, who has two teenage daughters of her own, thought the email was "hilarious."
On Twitter, she also shared Ms. Parks' formal reply to the Swift-themed email, which read in all capital letters, "THIS MADE MY ENTIRE DAY."
"MS PARKS GETS IT," Vladeck wrote in the tweet.
Vladeck says the response to the email has been overwhelmingly positive and a welcome break from the negativity on social media.
"There's so much bad news right now, we can spend a couple of minutes just enjoying that someone wrote a funny note to their teacher and it doesn't have to be that serious," she explains.
Vladeck, a longtime fan of Swift, is excited to be attending the concert with her daughter. She shares that it will be Maddie's first concert ever, calling the moment a "big deal."
"Parents now always talk about those core memories, but I do really hope in 20 years, she's sitting around with her friends saying, 'Oh, what was your first concert?' and she says, 'My mom took me to The Eras Tour when I was 7,'" Vladeck says.
In addition to getting to create memories with her daughter, Vladeck also celebrates the message Swift has conveyed through the tour. 
"I absolutely love the message of what The Eras Tour represents, which is that you as a woman can be constantly reinventing yourself if you want to," she says. "I've been listening to Taylor Swift since 'Tim McGraw' came out and the fact that she's still here and is still so incredibly relevant — even more so than when she was 18 — that's just an amazing message for little girls to see."