The NBC News family has gained another member!
NBC News Washington Correspondent Yamiche Alcindor gave birth to a healthy baby boy on May 30th. Alcindor and her husband, Nathaniel Cline, named their new addition Yrie Myles Alcindor Cline.
Yrie is pronounced "i-ree," according to Alcindor and Cline, in a written statement shared with TODAY.com — the same pronunciation of the Jamaican saying "Irie," which the couple explains means "vibes are good and everything is well."
Yrie Myles Alcindor Cline was born at 1:53 p.m., weighing in at 5 pounds, 1 ounce and measuring 18 inches.
"We are overjoyed and feel incredibly blessed that our son has arrived," the proud parents said in a written statement. "While the journey to get to this moment was tough, it was well worth it as our hearts are full with happiness and love."
The couple reported that Yrie "is a very chill baby, who like many newborns loves eating and sleeping."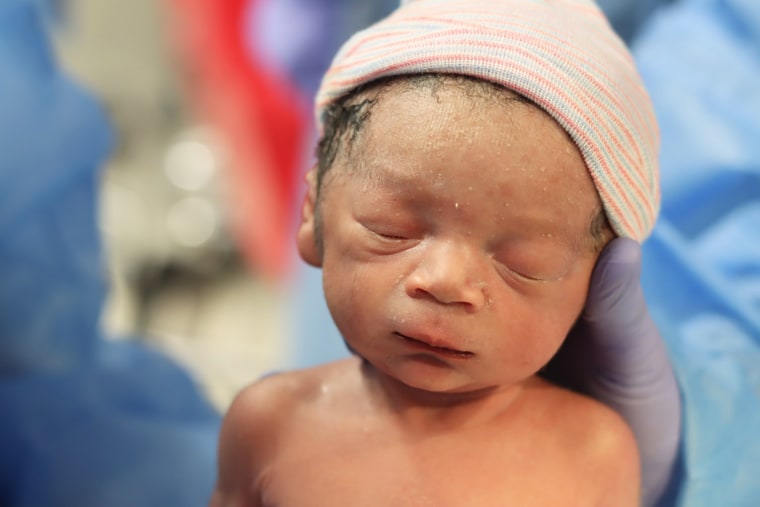 Earlier this year, Alcindor opened up about her difficulty trying to conceive in an exclusive personal essay for TODAY.com.
"For the past four years, I have been feverishly chasing motherhood — hoping, and praying, and deeply wanting more than anything else in this world to be pregnant and to bring home a healthy baby," Alcindor wrote. "All this, while desperately willing my way through rounds and rounds of IVF and pressing forward through wild, rocky news cycles that required me to look and sound calm."
Alcindor said that deciding to undergo IVF in order to conceive put her on a "rollercoaster of emotions," adding that she was "both sad and excited to start the process."
"I was scared but eager to begin the shots. I was anxious but determined to freeze my eggs. I was terrified but curious to know how many embryos my husband and I could create," she wrote. "I was crushed when a round failed, and over the moon when a round finally worked."
About one in five women are unable to get pregnant after one year of trying to conceive, according to the Centers for Disease Control and Prevention (CDC).
Yet, one 2010 study found that 61 % of couples struggling with infertility kept it hidden from family and friends, and half didn't discuss their struggles with their own moms.
"Intellectually, I knew that IVF is something many, many women rely on to have children," Alcindor wrote in her TODAY.com essay. "My brain told me that I wasn't alone, but my heart felt broken. Personally, the moment I decided I needed to do IVF felt like admitting a failure. There was a deep shame that I had to use science to help my body have a baby."
The NBC Correspondent added that she hopes her "story provides both comfort to those still in the struggle to get to motherhood, and affirmation for those whose paths have left deep scars."