A mom in the United Kingdom is flexing her muscular infant on TikTok.
"When you continue to weight lift throughout your pregnancy and your baby comes out of the womb with muscle," Yoana Banda, 26, captioned a video on Jan. 27.
In the now-viral clip, Banda is seen dong a variety of strength-training exercises including cable bicep curls while in her third trimester. The footage then cuts to Banda's newborn daughter Ariah, who appears to have defined arms. 
"The first time we bathed her, I looked at my husband and I was like, "Babe, she's got muscles. She's got big, big muscles,'" Banda, a youth sports coach, tells TODAY.com.
And the internet agrees.
"Better shoulders than me," wrote one person in the comments on Banda's TikTok video.
Added another, "That baby's stronger than I am."
Banda says that Ariah, who was born on Nov. 11, also has serious neck strength: She was holding her head up at two weeks old. According to the American Academy of Pediatrics, this milestone typically occurs between 1 to 2 months of age.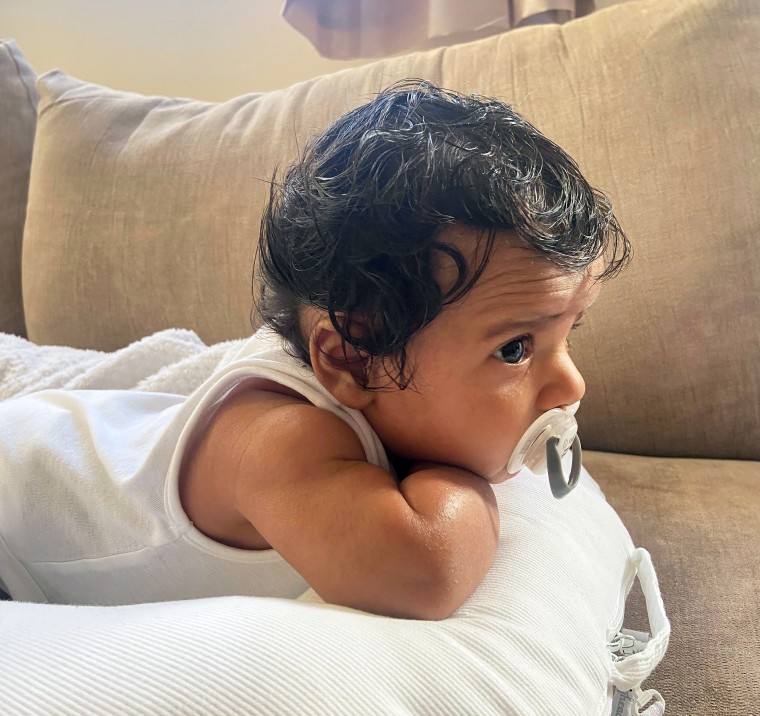 Though it would be fun to chalk up Ariah's brawny build to her mom — that's not how it works, according to Dr. Lisa Thiel, a maternal fetal medicine at Corewell Health in Michigan.
"There is no link between a mom and her exercise regime and how fit she is during pregnancy with her baby's muscle mass," Thiel tells TODAY.com.
But it's very possible that Banda's healthy, protein-packed pregnancy diet played a role in Ariah's development.
"There is a role for epigenetics in pregnancy and the best example would be nutrition," Thiel explains. "A healthy diet in pregnancy can have great health benefits for a child."
Thiel notes that an active baby in the womb won't come out looking like Hercules.
"They are extending and flexing their arms and their fingers and getting that nervous system activated for movement," she says. "But (in the uterus) they're not having the resistance force needed to increase muscle mass."