A woman who tracks her children's locations with Apple AirTags says their safety is worth being called a "crazy mom."
"I saw a TikTok about a mom who puts Apple AirTags in bracelets on her kids and I thought it was the coolest thing," North Carolina mom Vada Stevens shared in a TikTok video facetiously captioned, "Today we are dog training.
"You can find them on Amazon and you can track them and make a beeping noise," Stevens said in the video. "And you can train your kids to come when they hear the beeping noise."
For her video, Stevens practiced using the AirTags on her delighted daughters, Stella 4, and Serena 2, who ran over when she pressed a button.
"You beeped for us," the girls answered, one asking, "What did you need?"
"It's giving shock collar vibes," someone wrote under Stevens' video; two people commented, "I love that she said 'train' instead of 'teach,'" and "They're not dogs, WTF."
"This is sad," a TikToker wrote.
But parents who use AirTags with their own children agreed with Stevens.
"I put these in my daughter's clothes so it's not visible," someone said.
"This is great and yes to the harnesses too," a person commented. "It is the world we live in and no judgment matters when it comes to keeping children safe."
Stevens, 24, tells TODAY.com that she purchased the "VEGO AirTag Bracelet for Kids" for her daughters to wear outside the home.
"I am extremely paranoid about everything (related to) safety," she says. "I thought the bracelets were genius."
Stevens' daughters are homeschooled, however, they regularly visit their grandparents for sleepovers or outings to the park or the movies. The AirTags will also be used at Disney World and trampoline parks, she says.
"Instead of calling my parents to say, 'Where are you?' I check the AirTags," says Stevens. "I want to make sure that if anything were to happen, I can track my kids immediately."
According to Apple, the location of an AirTag, be it on a bag or a keychain, can be tracked through a bluetooth signal, using the "Find My" app on an iPhone or an Apple watch.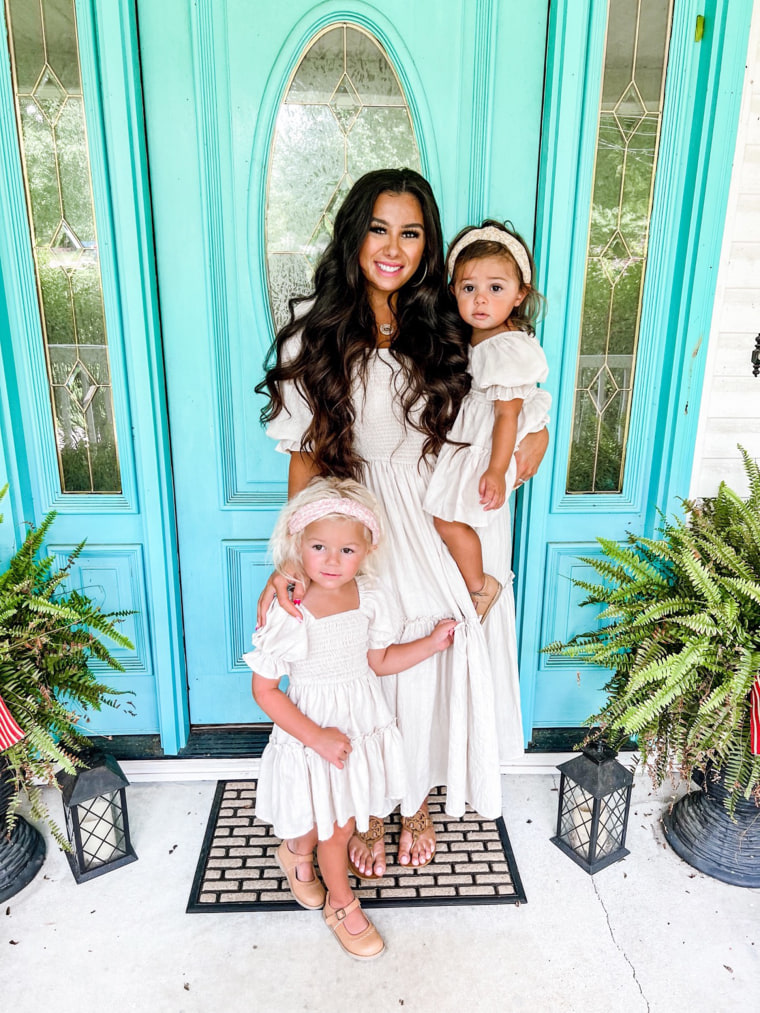 Stevens, who is 8 months pregnant, is specifically concerned about Serena. "My 2-year-old doesn't pay attention and runs off so if she happens to get lost, (the AirTag) is a perfect way to find her ... it just takes one second to look away from your kid and they're off in a crowd somewhere."
Stevens has refrained from reading comments under her TikTok video. "I try to stay away," she says. "No matter what it is, you'll always have parents with something negative to say."
Parenting is a competition for some "to see who can be the best mom," she adds. "Through social media, people feel they can say whatever comes to mind because they're typing behind a keyboard."
Stevens is indifferent to the opinion of others: "I don't care if people think I'm crazy."
"In this day and age, you can't ever be too protective," she says. "People think I'm a crazy mom — one even said I needed to sign my child up for therapy ... I'm doing this to prevent my children from ever being taken or lost. I'm going to do my best to know exactly where they are."
Correction (May 16, 9:38 a.m.).: A previous version of this story misspelled Vada Stevens' last name as Stephens.