On Feb. 13, an Oklahoma judge ruled that a lesbian mom has no parental rights over the child she has raised for two years.
Instead, the court ruled that the child's sperm donor is his "legal parent," along with her estranged wife, the child's biological mother.
Kris Williams, 51, tells TODAY.com that her estranged wife, Rebekah Wilson, wanted to be a mom after watching Williams parent her 16-year-old son from a previous marriage.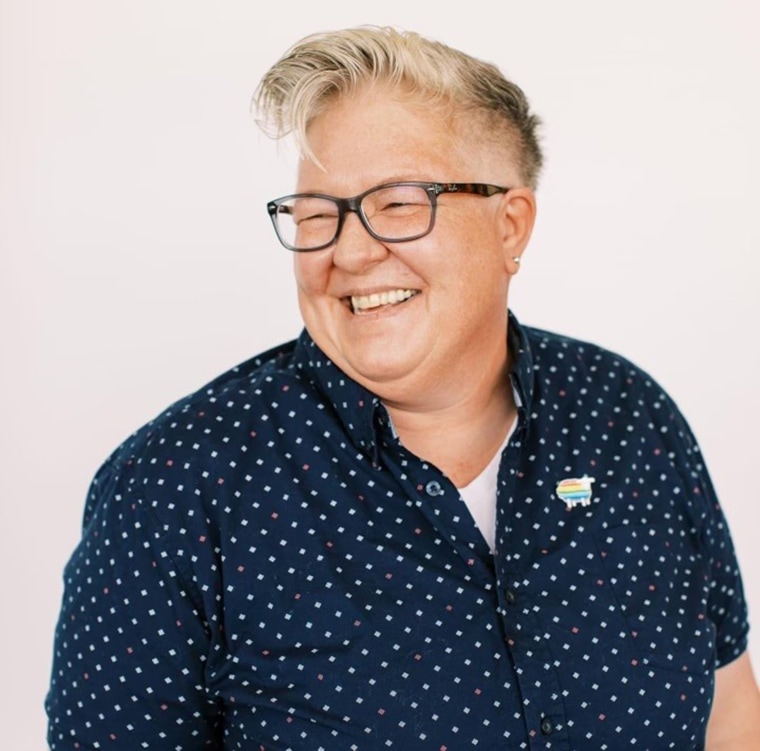 "So we started planning and looking at different avenues to make that happen," Williams says. "We wanted that bio-connection, so we found a website and who we thought was the perfect guy."
In September 2018, the couple entered into a "Known Sperm Donor Agreement" with Harlan Vaughn in the hopes of conceiving a child, according to court documents. By the end of the year, Wilson was pregnant. Wilson and Williams legally married in June, and the baby was born in August.
"We had talked about different scenarios, that if I didn't adopt how things could go awry," Williams tells TODAY.com. "But we both felt safe," she says, so she did not adopt the child.
After raising the child together for two years, Williams and Wilson separated in November 2021 and Wilson obtained a Victim Protective Order against Williams in December, alleging abuse. Williams denies those allegations.
That same month, Wilson and the child moved in with Vaughn, who filed a Petition for Adjudication of Paternity and Establishment of Custody and Visitation on Jan. 18, 2022. Wilson and Vaughn have gone on to have another child together.
According to court documents, Williams has not seen the child since Nov. 23, 2021, when she says she dropped him off at daycare.
"If anything can put a hole in your soul, I would say it's that," Williams tells TODAY.com, crying.
Williams' name is on the child's birth certificate, according to court documents, and the child was given Williams' surname. Oklahoma County District Judge Lynne McGuire wrote in her decision that because Williams did not adopt the child prior to the couple's separation, she has no parental rights.
"The reality is that the law provides a legal remedy available to Williams," McGuire wrote. "She knowingly chose not to pursue it."
In addition, McGuire also ruled that the Oklahoma law that gives married couples automatic parental rights over any child born during the union does not apply to Williams, because the protection was enacted prior to same-sex marriage being legalized in the state.
"(The act) does not take into account same-sex marriage, and there is no presumption that the wife of the mother is automatically presumed the parent of a child born during the marriage," the judge ruled.
"Why should we have to adopt our own children?" Williams says to TODAY.com. "If we want to have children you're going to put us through more loopholes to have our children legally? Why would you put that financial burden on people?"
Rachel Morris, Vaughn's attorney, told TODAY.com in a written statement that her client is "thrilled with the outcome of the case."
"From a legal perspective, this case is highly fact specific with regard to contracts, timing, and at-home artificial insemination," Morris wrote.
TODAY.com also reached out to Wilson and her attorney for comment, but did not hear back at the time of publication.
Morris said it's "unfair to the court to generalize this case as a ruling against LGBTQ+ parents," noting that Vaughn also identifies as LGBTQ.
"All three potential parents in this case were LGBTQ+, and they attempted to create a family that is not currently recognized under Oklahoma law," she wrote. "All three parties were known to the child as his parents. All three were bonded with the child and participated in the child's life. At the end of the day, the court followed the current law, and biology rebutted any presumption of parentage created by marriage."
Robyn Hopkins, Williams' attorney, is appealing the judge's ruling, and tells TODAY.com that the "Supreme Court of the United States has stated that it is unconstitutional to hold same sex couples to different standards than opposite sex couples."
"My initial thoughts were always about the child," Hopkins says. "Kris has raised this child. She's been his parent his entire life. She family planned with her spouse, and a bond was formed. The law protects married couples who have children. The child in this case deserves that protection, too."
As Williams and Hopkins focus on the appeal process, they say they're also concerned about what the judge's ruling could mean for other LGBTQ+ couples in Oklahoma and beyond, especially after the Supreme Court overturned Roe v Wade and Justice Clarence Thomas wrote, in a concurring opinion, that the court should reconsider rulings that protect same-sex intimacy and marriage rights.
"We're fighting for queer rights," Williams says, "but this is another level of attack."
Some legal experts and LGBTQ+ activists agree.
"There is an effort to establish same sex marriages as second class and not entitled to all the rights and benefits that are afforded to heterosexual marriages," Brian K. Esser, an attorney with an adoption and assisted reproduction practice in Brooklyn, New York, tells TODAY.com.
"It would be a clarion call to all same sex couples, especially female couples in Oklahoma, if they have not firmed up their parental rights with a second parent adoption," Esser adds. "There are factual twists that are unique (in this case), but I think it could potentially be expanded to all married same-sex couples and, in my mind, puts non-genetic dads whose children are conceived with donors also at risk."
In a statement provided to TODAY.com, Stacey Stevenson, CEO of Family Equality, a national nonprofit that works for the rights and freedoms of LGBTQ+ families, said the ruling is "incredibly disappointing" and adds "another layer of worry and fear for LGBTQ+ families."
"It's happening at a time when we're seeing an unprecedented level of attacks on our families," Stevenson wrote.
While Hopkins, who uses they/them pronouns, says that while they're "appalled" by the judge's ruling, they remain hopeful about their appeal.
"This case is not complicated," Hopkins says. "It's black and white. There's two people who are married, who both happened to be women, who had a child together.
"If these two people were a different sex couple, their parental rights would be protected, regardless of biology," Hopkins adds. "The same should apply to same sex married couples."
Williams says she will continue to fight for custody, and keeps thinking about the day she hopes to be reunited with her child.
"I've been lucky enough to be the mom of my teenager and lucky enough to bring my little one into this world," she says, wiping tears from her eyes. "The first thing is to be aware of his emotions, and to approach it as gently as possible — the last thing I want to do is upset him and I know (the reunion) will be confusing for him. It's not about the adults — it's about the kids."
Related video: