Lindzi Scharf's "feisty" 3-year-old daughter, Evan, loved wearing sunglasses. When the little girl died last year from mitochondrial disease, Scharf turned her favorite accessory into a piece of art.
Evan Frances, or "Miss Evan," as she was known to family, suffered from KARS, a rare mitochondrial disease. She was born deaf and was nonverbal; one doctor predicted she would never walk or talk.
"My daughter lived her life in and out of the hospital," Scharf, a freelance writer in Los Angeles, tells TODAY.com.
Lindzi and her husband Michael Buckner dressed Evan in "fancy" baby clothes, painted her toenails with bright red polish and bought her stylish sunglasses, which represented her "big personality."
"Clothing can be both a form of armor and a means of expressing yourself; we embraced that philosophy for Evan," says Scharf. "She wore hospital gowns a lot, so getting dressed up together became a joyful activity in our house. We looked forward to our Sunday trips to the farmer's market when we'd dress as if we were going to a garden party."
"Clothing can be both a form of armor and a means of expressing yourself; we embraced that philosophy for Evan."
Evan loved books, particularly "Giraffes Can't Dance" and "I Want My Hat Back." During one ICU stay, Scharf read aloud for nearly three hours; when she stopped to catch her breath, a nurse rushed into the room, flagging a rise in Evan's heart rate. "The doctor said Evan was doing great, as long as mom keeps reading!" says Scharf.
The trio loved taking daily stroller walks around their neighborhood or to Malibu Pier (Evan's "happy place"), for which Evan always wore her sunglasses.
"Evan probably had 10 pairs of sunglasses," says Scharf. "They made her recognizable. Strangers would grasp their hearts when they saw her. Evan brought out the best in everyone."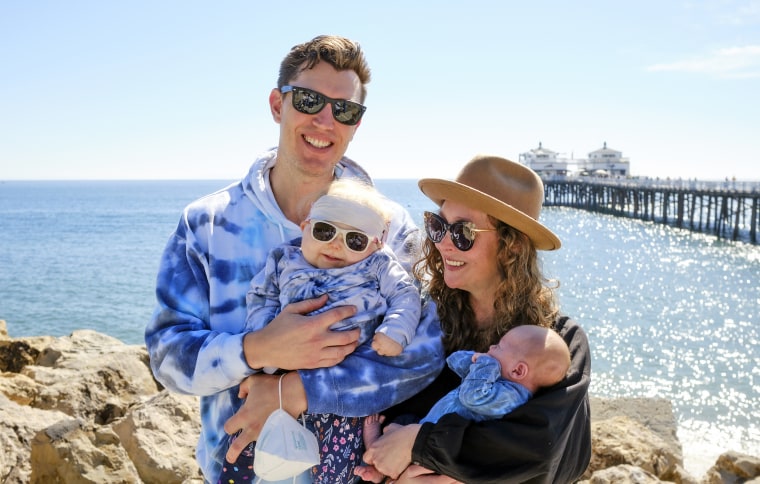 Scharf and Buckner also have a son, Reid, now 15 months. He was named after Scharf's brother and to symbolize Evan's love of books. Reid was only 4 months old when Evan died on April 28, 2022, a few months before her fourth birthday.
As Scharf approached the one-year anniversary of her daughter's death, she yearned to commemorate her sweet and hilarious little girl.
Scharf turned to her friend Emily Faith Strauss, a jewelry designer who lost her newborn son Austin to Polycystic Kidney Disease. Strauss created a rose gold and ruby ring modeled after Evan's favorite pair of pink, cat-eyed sunglasses. The ring is on sale at EF Collection, the company Strauss founded, with a portion of the proceeds benefiting Rady Children's Institute for Genomic Medicine in San Diego through the nonprofit Angels 4 Austin.
"I wanted a ring as opposed to a necklace which can be seen by everyone but myself," Scharf explains. "A ring is how I continue telling my child's story."
The ring is a "conversation starter," an introduction to Evan, whom Scharf says had not met many people, because she was so medically fragile. "We want every opportunity to talk about our child — the ring has as much of a personality as Evan."
The parents ensure that Reid is connected to Evan through photos and bedtime rituals, during which he says, "Goodnight" to his big sister.
"Reid knows his sister," says Scharf. "We're beyond grateful they had the opportunity to meet."