Fans knew only one Kelce brother would end up on the team that won Super Bowl, but both of the NFL brothers were able to find joy in their mother having her moment in the spotlight.
Philadelphia Eagles center Jason Kelce and his younger brother, Kansas City Chiefs tight end Travis Kelce, spoke about their experience going head-to-head at the 2023 Super Bowl in the Feb. 15 episode of their podcast, "New Heights."
The brothers got emotional as they spoke about what the historic matchup meant for their family, particularly their mother, Donna Kelce, who became the first mother to have two sons playing against each other in football's biggest game.
"The moment I saw mom is when I got really emotional. Because, man, it was so awesome," Jason Kelce said, pausing to hold back tears. "You know, she was on top of the world for a week."
"She was the heavyweight champ, man," Travis Kelce responded, as tears rolled down his brother's cheek.
Donna Kelce told Today.com about her preparations for the event, including her custom-made outfit. She had a jacket that was half red with "Chiefs" on one sleeve and half black with "Eagles" on the other sleeve.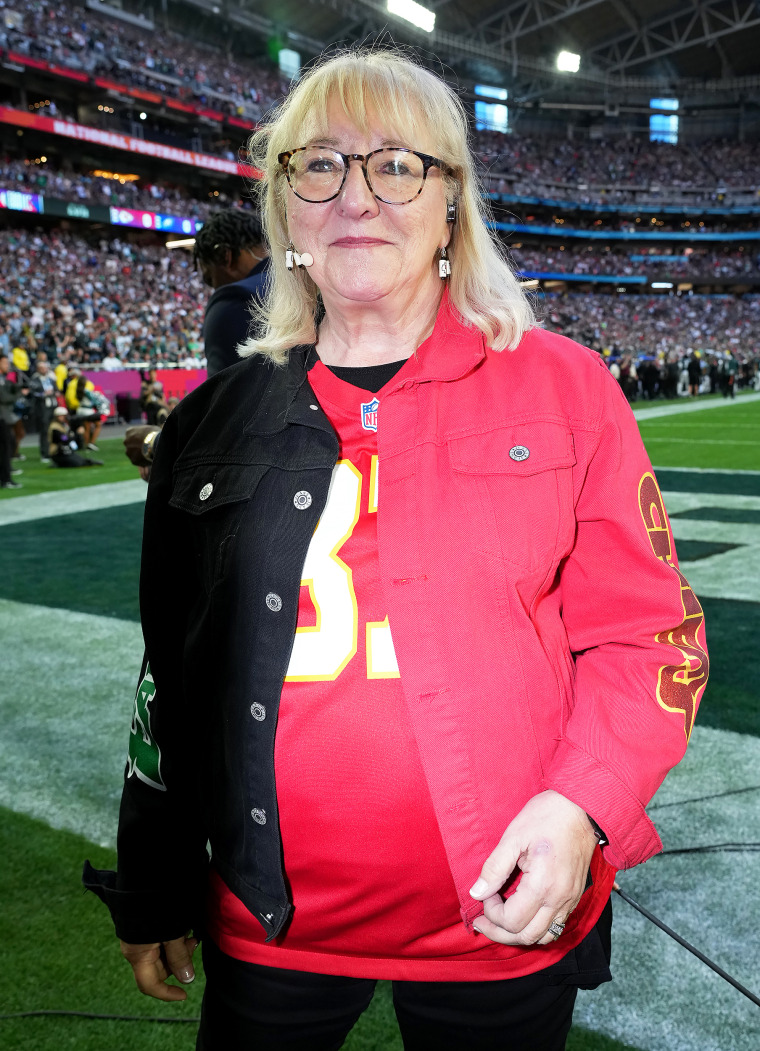 She also cheekily said she would be rooting for "the offense" ahead of the big game, as both of her sons play on that side of the ball.
"She was on top of it, and she shined the whole time. That was the coolest part. Mom, you absolutely killed it," Travis Kelce said, before also giving a shoutout to their father, Ed Kelce.
"It was just so cool man, to see her get to celebrate in that with us," Jason Kelce agreed. "It was an awesome moment. I'm just so happy for her and so happy that she got her moment, dad got his."
The Chiefs pulled ahead of the Eagles in the fourth quarter in a thrilling game on Feb. 12, winning the Super Bowl 38-35.
Donna Kelce donned her now famous jacket and also sported mismatched shoes — one Chiefs-themed and the other Eagles-themed, with her sons' jersey numbers on each shoe.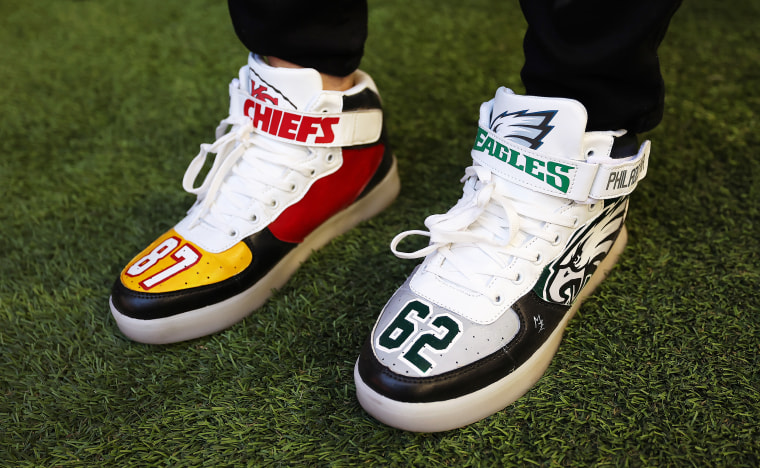 Following the Chiefs' win, Travis Kelce opened up about what he told his older brother as they met on the field after the game.
"Obviously, it came down to the end and we got all the respect in the world for those Eagles, man, but there's nothing I could really to say to him other than I love him and he played a hell of a year, a hell of a season," he told reporters after the game.
Jason Kelce told reporters he was "really, really happy for Trav," adding he "played his a-- off."
On the podcast, the Eagles center said he cried after the loss, but not for the reasons people might think.
"Ironically, you lose the Super Bowl and you're crying after the game, and they're not tears of sadness, they're tears of joy," he said.