Kaley Cuoco made her pregnancy part of her work.
The "Big Bang Theory" star, who gave birth to daughter Matilda in March, says her pregnancy was written into her upcoming Peacock dark comedy series, "Based on a True Story."
(Peacock is part of our parent company, NBCUniversal.)
In the series, Cuoco plays Ava, a married realtor with a baby on the way who's obsessed with true crime. She and her husband, played by Chris Messina, find themselves in over their heads when they start a podcast and blackmail a serial killer.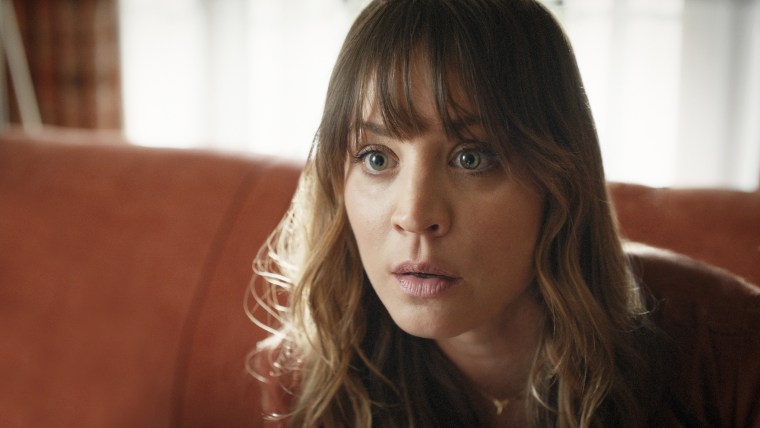 "The original script was written that they had grown kids, and then as we talked about it, that didn't really work," she told the 3rd hour of TODAY on June 5.
"So then that got taken away. So then it was the couple with no kids. And then I got pregnant, and I was like, 'What if she's pregnant?'"
The Emmy-nominated actor, who shares Matilda (who just so happens to be a TODAY fan) with boyfriend Tom Pelphrey, is loving motherhood.
"It is so awesome. I never thought this would be something that would happen to me," she said.
"It's incredible. It's what everyone says. Until you have it, you don't know. She's amazing," she added.
Cuoco, who has already said she thinks Matilda will also become an actor, has joked that her daughter isn't thrilled she failed to get any recognition for her work in "Based on a True Story," telling E! News last week that she is "very mad that she didn't get a credit."
"She's like, 'Shouldn't I be coming to the premiere?'" Cuoco joked. "I was like, 'You have to go to bed.' It was a big conversation, but she'll learn."
"Based on a True Story" runs eight episodes and is available to stream beginning June 8.