Hoda Kotb thanked viewers for their support after sharing news about her daughter's health.
"Thank you …for all of your beautiful words and prayers. I have read them all. You have no idea how much it means to me and my family," the TODAY co-anchor wrote in a recent Instagram post. "I am so profoundly touched.❤️"
Hoda returned to TODAY on March 6 after being away for the past few weeks to deal with a health matter involving her 3-year-old daughter, Hope.
"My youngest, Hope, was in the ICU for a few days and in the hospital for a little more than a week," Hoda shared with Savannah Guthrie when she returned to the show. "I'm so grateful she's home. She is back home. I was waiting for that day to come. And we are watching her closely. I'm just so happy."
Hoda, who is also mom to daughter Haley Joy, 6, shared her gratitude for all the doctors and nurses who have helped her family over the past few weeks. 
In an emotional moment, she thanked Savannah directly for her constant friendship and support.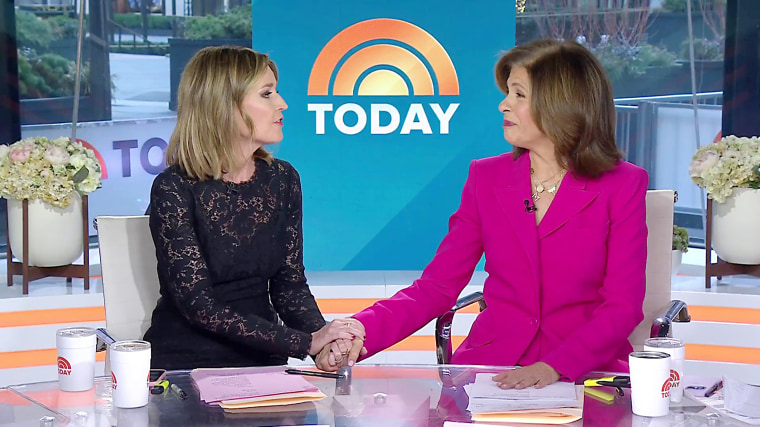 "I'm grateful to my family, and I'm grateful to friends like you who were there every single day," Hoda said. "So, I want to say thank you for that. I love you."
"I love you, too," Savannah said.
Hoda later shared the story behind a special necklace she was wearing the day she returned.
"I'm wearing this little thing that a friend of mine sent to me, and she said, 'I'm going to take it off my neck, and I'm going to send it to you. It's worn down because I rub it all the time, and it says, 'God's got this,'" she told Jenna Bush Hager.
"So she said, 'If I ever see you not wearing it, I'm coming to get you,'" Hoda added. "But that's it, that's it."
She also opened up about the new perspective she has gained from her recent experience. 
"And also anyone who's ever gone through an illness with a child, I thought I understood you, but I don't. I didn't, until you're sitting in that position," she said. "For every single person who's going through some stuff, I get it."