Just one day after a candid conversation with TODAY.com about breastfeeding, motherhood and push presents, Heather Rae El Moussa reached out about a follow-up interview.
Heather Rae, 35, realized she had omitted discussing an important topic: mom shaming. It's something the "Selling Sunset" star has become quite familiar with since welcoming her son, Tristan, with husband Tarek El Moussa in January. The little boy, who is now 4 months, joins sister, Taylor, 12, and brother, Brayden, 7, from Tarek's previous marriage to Christina Hall.
When Heather Rae shares a picture of Tristan on Instagram, she is inundated with questions and snide remarks about Taylor and Brayden's whereabouts. Sample comment: "Where are the other other children? Haven't seen them on your stories lately?"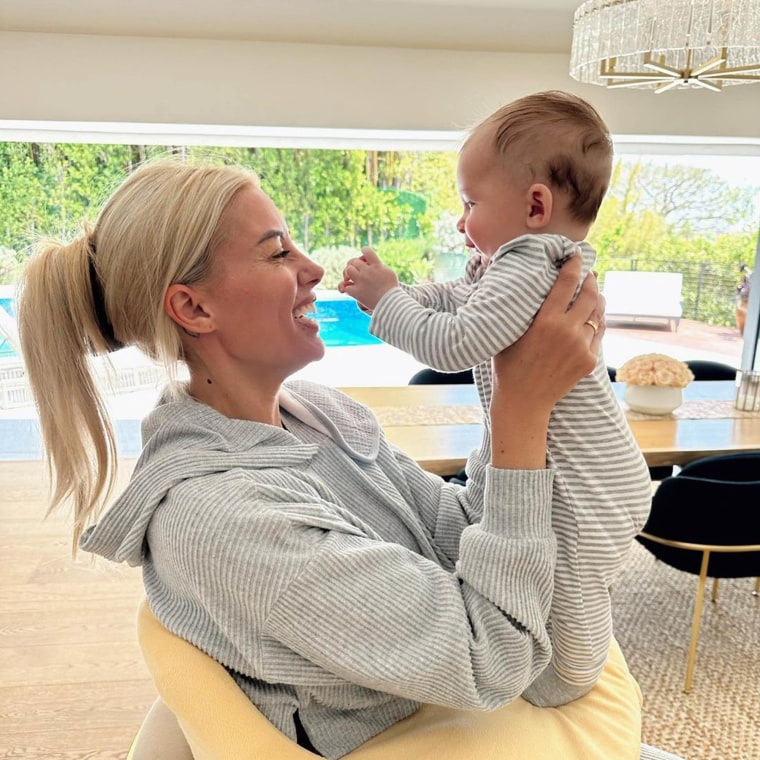 "Taylor and Brayden are in school all day, and I'm home with Tristan. I can capture moments with Tristan easily," Heather Rae tells TODAY.com. She notes that Tarek and Hall have a 50/50 custody agreement, which means she spends more time with Tristan than she does with Taylor and Brayden. 
"They're also busy with sports and tutoring— they always have something going on. I blink and it's 8 o'clock at night," Heather Rae explains. "So when we're all together, the last thing I'm doing is standing around taking photos with all three kids." 
Taylor also has a say in what images of herself are shared on social media, according to Heather Rae.
"She's a teenager now and she'll be like, 'I don't love my hair in that picture,' 'Please don't post that one,'" Heather Rae says.
During her conversation with TODAY.com, Heather Rae also addressed the criticism she received for an Instagram post about Tristan's first flight. In the picture, Heather Rae and the infant are seen cuddling on a private jet.
The family was traveling to Heather Rae and Tarek's "Flipping Summit," a large real estate event in Arizona.
"Tristan did such an incredible job and mom-tip, I breast fed him on the way up and then again on the way down to help with ear popping — it worked perfectly and then the rest of the flight he just giggled, played and looked around and was so happy & didn't cry once … he loved the new environment," Heather Rae wrote, in part. 
Heather Rae's glowing post sparked instant backlash. 
"Not all Mamas have the luxury of a private plane. But good for you and your 'tips,'" one person wrote in the comments.
Added another, "Of course it was GREAT. Try flying commercial."
"I was just trying to share a helpful tip because I'd done so much research," Heather Rae says. "We have a commercial flight coming up and I will breastfeed my son on that flight as well, on the way up and on the way down because that's what helps with ear pain."
Heather Rae says she was also shamed on the same trip for traveling with her mother, her in-laws, and a nanny. 
"It was a three-day event and we brought all three children. For us, it's very important that we involve the kids with our work because we want them to see what we're doing and travel with us," Heather Rae says. 
The grandparents were there to hang with Taylor and Brayden at the pool, while the babysitter was focused on Tristan. 
"Tristan was napping every few hours. I'd breastfeed him and hang out with him in the room, and then I'd rush back downstairs to the stage," Heather Rae says. "I can't sit in the room all day with Tristan when it's our event." 
"As a working mother, I need to be able to have help so that I can do the things that I need to do. I'm very proud of what I do, but I need help," she continues. "I can't do everything. I'm not Superwoman and I can't be in two places at one time."
Heather Rae says she is happy to receive parenting feedback from fans, when it's delivered in a kind and constructive way. For instance, Instagram followers flagged a common baby wearing mistake and then offered helpful advice.
"No one should get shamed for needing help," Heather Rae says. "The mom guilt is already strong. I do have to leave Tristan — it's already hard enough as it is, and to get shamed on top of it for having a nanny? It's not OK."