When Kentucky mom Amanda Morris was helping her daughter, Alexis, learn to drive, her concerns went beyond normal parenting anxiety.
Morris, 36, tells TODAY.com that her daughter was diagnosed with dyslexia in third grade. The learning disorder sometimes makes tasks like reading difficult, and for Alexis, means being unable to tell her left from her right.
In an effort to ease everyday life, Morris says that Alexis, 16, would "quite often" draw an "L" on her left hand and an "R" on her right.
"She has wanted (something more permanent) since she was a small child," Morris says.
With her daughter behind the wheel, Morris agreed and began contacting local tattoo shops, but even a simple design yielded a high price tag.
"I had called around to so many different shops and they all said it would be between $100 and $150, which I thought was ridiculous," Morris says.
But then she found Ambitious Ink, owned by Scotty Jr. Thompson, in Frankfurt, Kentucky, and sent him a message.
"My daughter is 16 and has severe dyslexia and can't tell her left from her right, so she's wanting just a small L on left hand and a small R on her right," Morris wrote to Thompson. "I'm being quoted $100 - $150 every where I call. How much would you do this for?"
Morris tells TODAY.com she was "shocked" by Thompson's reply.
"How bout free," the tattoo artist, 30, wrote back to the pleading mom.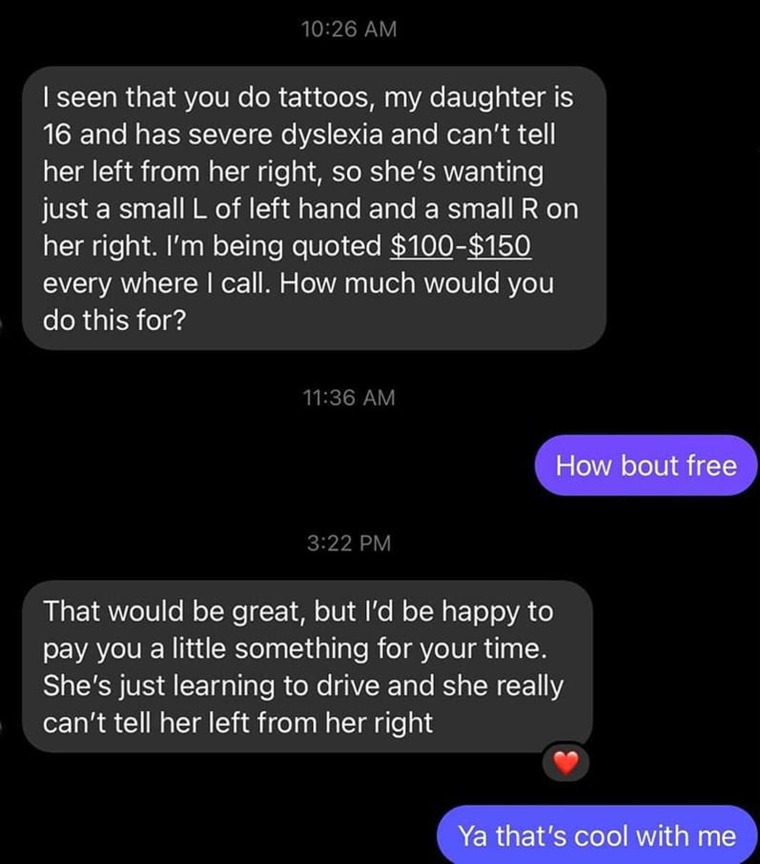 Thompson, who learned the craft of tattoo artistry from his dad, tells TODAY.com that it upset him other shops were charging so much.
"I take pride in being the everyday man's tattoo artist," Thompson says. "I grew up not having 200 extra dollars to spend on a tattoo, so when I saw her mother say she just got her permit and had trouble telling difference ... I knew I was going to just give it to her."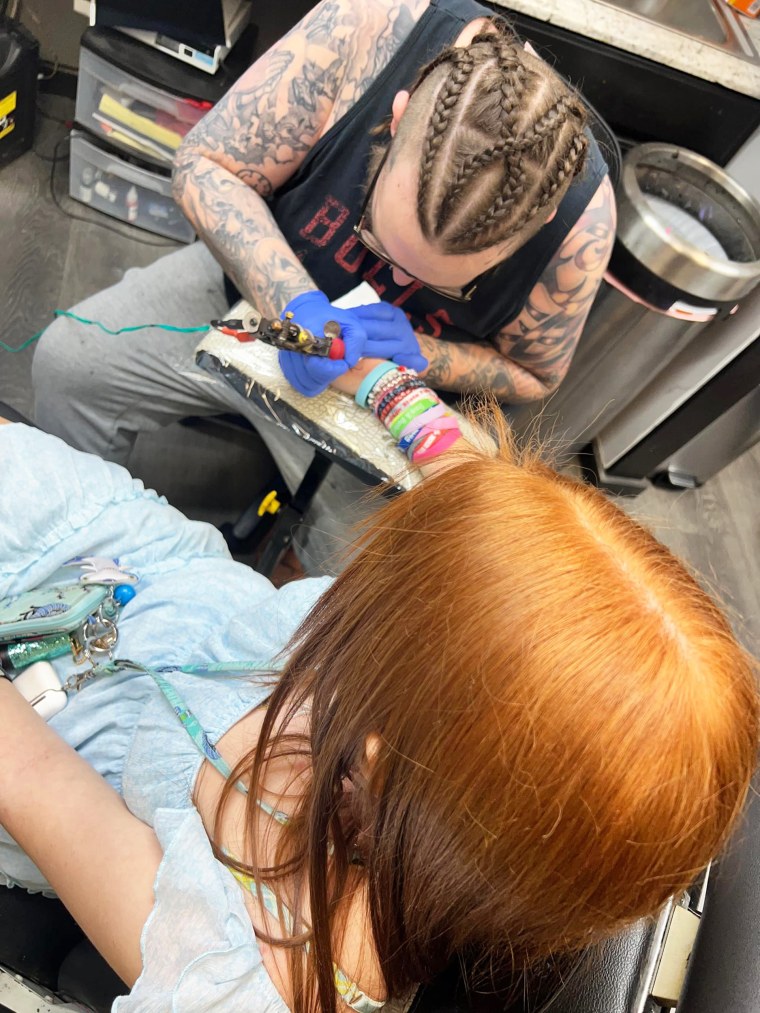 With full parental consent, Alexis was legally able to get a tattoo in the state of Kentucky at 16.
"When we got there my daughter was nervous, but Scotty was incredible," Morris says. "He walked her through everything he was going to do step-by-step and he even asked her many times if she was sure that's what she wanted."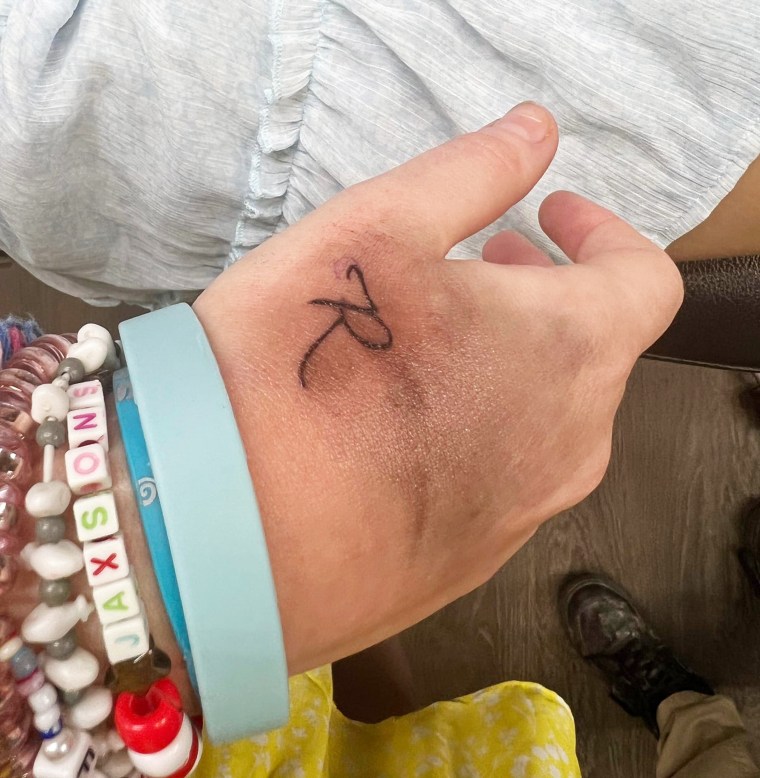 The end result was two little designs that make a big difference for Alexis.
"While tattooing her, Scotty kept asking if she was OK and if she liked it," Morris says. "We can't say enough good things about Scotty and the environment."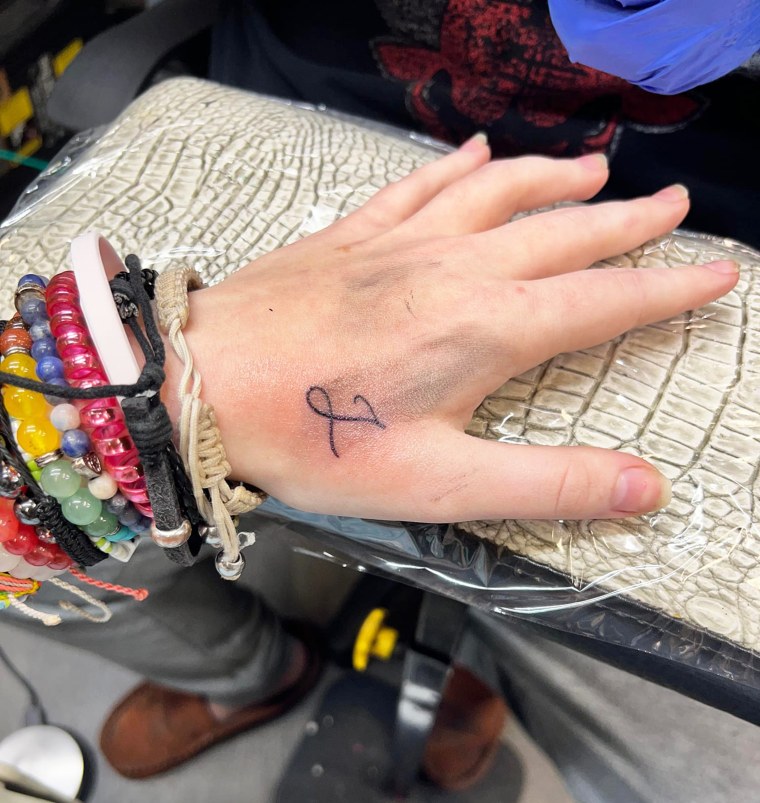 Thompson shared in a now-viral Facebook post that the tattoo was completed "for free and a hug."
"That's how you know a business loves and appreciates their customers. This is awesome," one user wrote.
Another added, "That kinda stuff restores my faith in humanity."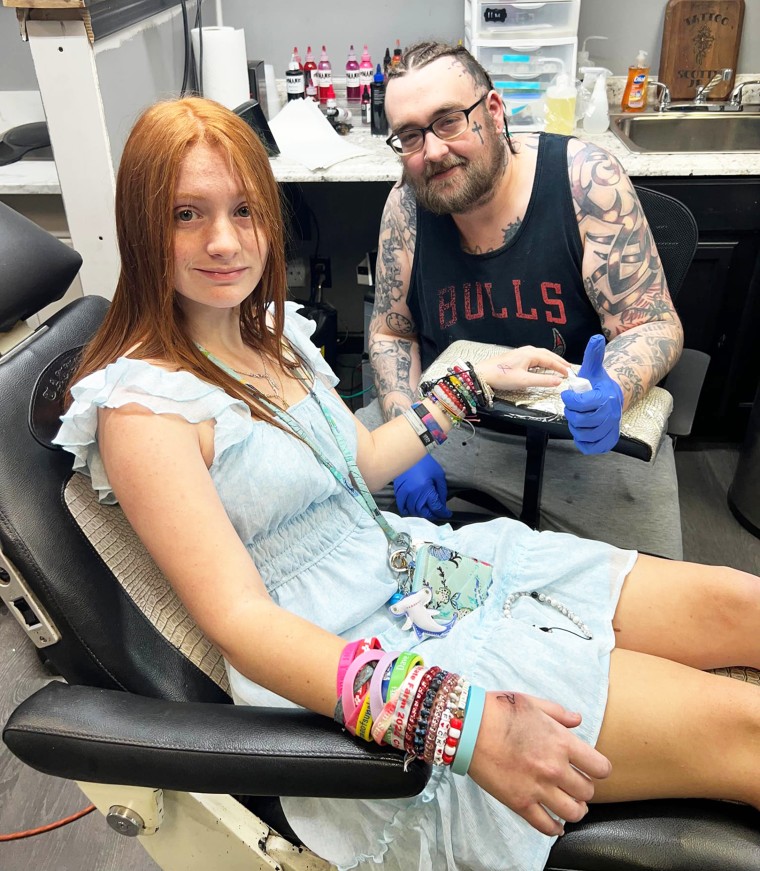 But Thompson says offering the tattoo for free was never about going viral — it was about doing the right thing.
"It made me think that my purpose on earth is a lot bigger than just tattooing and making money," he says. "I want to help people heal."
Related video: