Donna Kelce is showing off her fabulous gameday outfit, perfect for making history at the 2023 Super Bowl.
Donna Kelce, who will be the first mom to have two sons play against each other in the Super Bowl, tweeted a photo of her red and green ensemble in support of both the Kansas City Chiefs and the Philadelphia Eagles — and fans are loving it.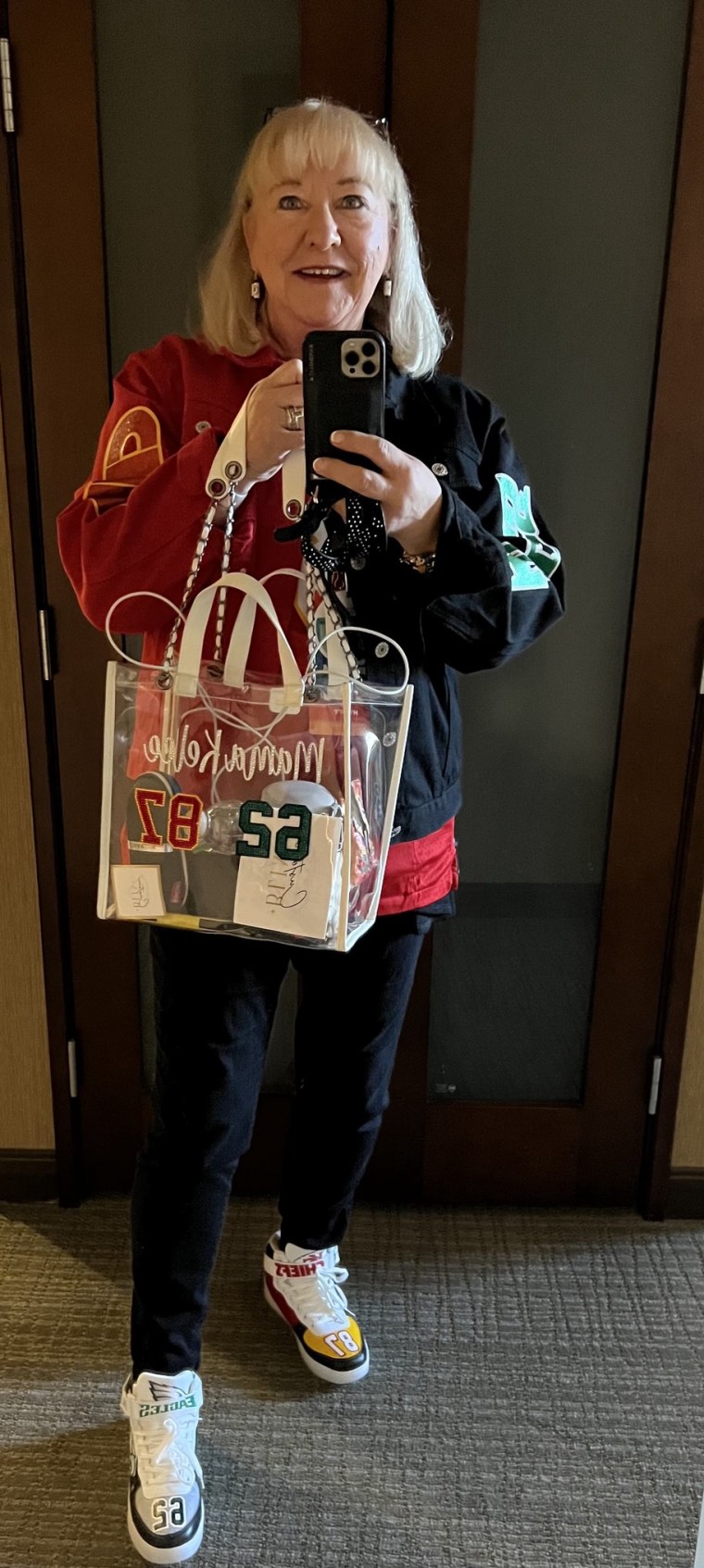 Dressed in her her now-famous split jacket and black pants, Donna Kelce shared a mirror selfie with the hashtag, "#gamedayfit." She also rocked a clear bag that read "Mama Kelce" and displayed the numbers of her two sons, Jason Kelce, who plays for the Eagles, and Travis Kelce, who plays for the Chiefs.
She also donned mismatched shoes, featuring the Philadelphia Eagles' logo on one foot and the Kansas City Chiefs' on the other, both accompanied by her son's respective numbers.
The NFL responded to the tweet, calling the look a "fire fit," with the fire emoji.
"Rooting for Donna," one Twitter user wrote.
Sports Business Journal quoted the tweet with emoji of checked boxes beside "Split custom jacket, custom clear bag and custom shoes," writing "@Dkelce1 is READY."
"Love that you win either way," tweeted one user @Brieyonce. "Icon behavior."
When asked who she'll be rooting for, the mother responded, "The offense." (The joke being that both her sons play offense.)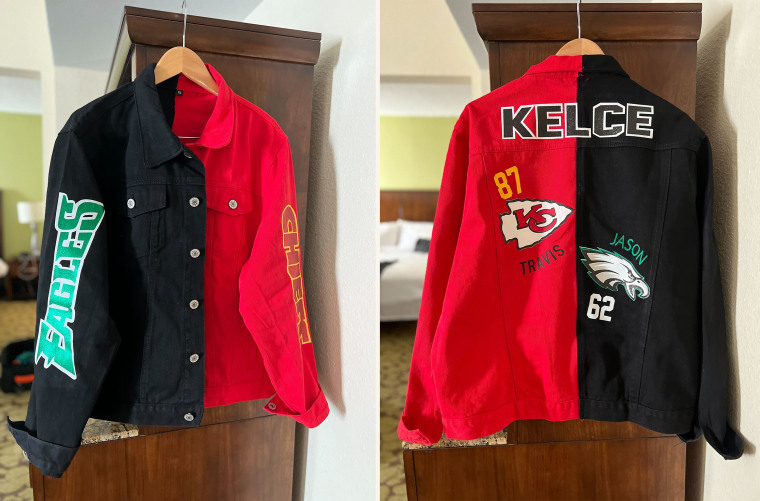 Talking to TODAY.com, Donna Kelce said her iconic jacket was personally made for her by "Passion For Ezra," a woman and veteran-owned company.
"It's a jean jacket," she said. "It's red on one side, black on the other. It has Eagles on one sleeve and Chiefs down the other sleeve."
The back of the jacket bears the family name "Kelce."
"Then it has both of the emblems for the Eagles and the Chiefs on the back and their numbers and their names," she told TODAY.com.
Though fans might not catch any jewelry in Sunday's tweet, Donna Kelce also told TODAY.com that she would be wearing bracelets to honor her late mother, who died in August 2022.
"I have two bracelets that my mom would wear religiously for games," she said of a green Eagles bracelet and a red Chiefs bracelet. "I'm wearing both of those bracelets and I feel like she's with me so it's kind of special to me."
"She would have absolutely loved this," she added. "You had a woman that that never drank a day in her life. The only time I ever saw her in a bar was to watch her grandsons play, and she would be at the bar rooting for them. So it was pretty special for her. She loved it."