On Super Bowl Sunday, super mom Donna Kelce will be wearing a special uniform of her own.
When she becomes the first mom to have two sons play against each other in the Super Bowl, Kelce will be sporting a custom-made jacket to go with her now-famous split jersey as she cheers on her sons' teams, the Philadelphia Eagles and the Kansas City Chiefs.
For anyone who hasn't heard by now, Kelce's sons, Jason Kelce, a center for the Philadelphia Eagles, will play against younger brother, Travis, a tight end for the Kansas City Chiefs, on Feb. 12 in Super Bowl LVII at State Farm Stadium in Glendale, Arizona.
Who does she root for?
"The offense," she replies. (Both sons play offense.)
Kelce tells TODAY.com she has a special jacket she will wear to the game that was made for her by "Passion For Ezra," a woman- and veteran-owned company.
"It's a jean jacket," Kelce says. "It's red on one side, black on the other. It has Eagles on one sleeve and Chiefs down the other sleeve."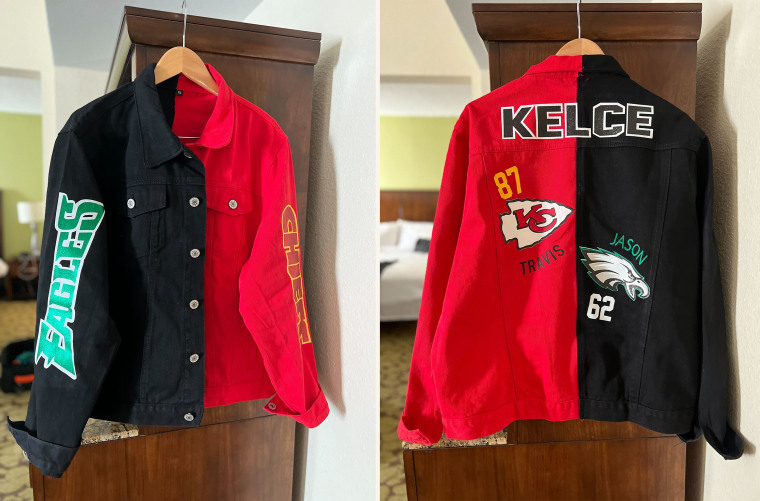 Like a football jersey, the back of the jacket bears the family name: Kelce.
"Then it has both of the emblems for the Eagles and the Chiefs on the back and their numbers and their names," she tells TODAY.com.
In addition to her jersey and jacket, Kelce also has a plan for her feet.
"I have two shoes — one is an Eagle shoe and the other one is a Chiefs shoe," Kelce tells TODAY.com. "So it's kind of fun."
Kelce also plans to honor her late mother with her outfit, she tells TODAY.com.
"I have two bracelets that my mom would wear religiously for games," Kelce says of a green Eagles bracelet and a red Chiefs bracelet. "I'm wearing both of those bracelets and I feel like she's with me so it's kind of special to me."
Kelce tells TODAY.com she lost her mother in August 2022.
"She would have absolutely loved this," Kelce says. "You had a woman that that never drank a day in her life. The only time I ever saw her in a bar was to watch her grandsons play, and she would be at the bar rooting for them. So it was pretty special for her. She loved it."
Ahead of the big game on Sunday, Kelce sat down to record an episode with her sons on their joint podcast, "New Heights."
"This one is just going to be pure joy, pure fun," she said on the podcast about the 2023 Super Bowl game. "How can it get any better than this? It's going to be the best day ever. Except for when ... both you guys were born, it can't get any better."