No one is more torn about who should win this year's Lombardi Trophy than Donna Kelce, the first mom to have two sons facing off against one another in a Super Bowl game.
While the NFL is no stranger to sibling matchups — think Peyton and Eli Manning or Tiki and Ronde Barber — no previous pairs have ever played against one another in football's grandest game.
Jason Kelce, a center for the Philadelphia Eagles, will play against younger brother, Travis, a tight end for the Kansas City Chiefs, on Feb. 12 in Super Bowl LVII at State Farm Stadium in Glendale, Arizona.
While both sons will play an active role in the big game, Jason, 35, and Travis, 33, won't actually be on the field at the same time, given they are both offensive players for their respective teams.
"They've been dreaming about this since they were so young," Kelce told PJ Ziegler of FOX 8 ahead of NFL Championship weekend.
During championship weekend, Kelce faced an impossible decision: her sons were playing on different teams in different cities.
Kelce told FOX 8 she planned to watch Jason's game in-person at Lincoln Financial Field, before heading somewhere in Philadelphia to watch Travis play on television.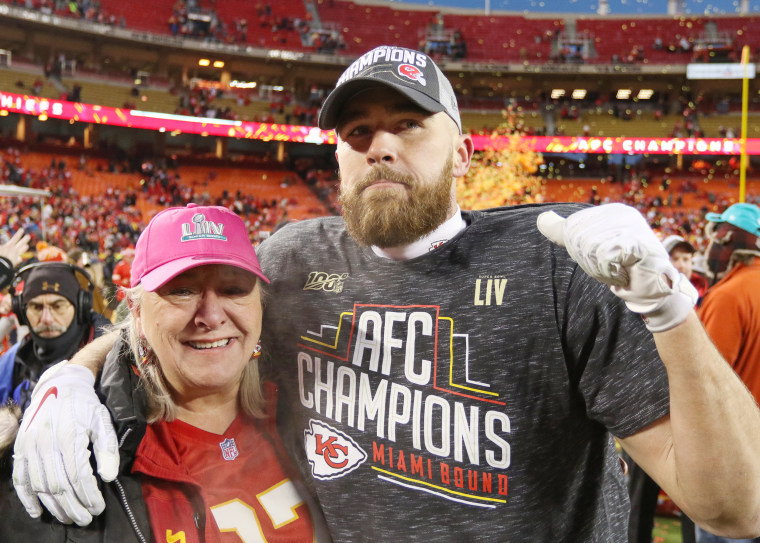 The proud mom is no stranger to the stress of playoff season and navigating games in different states. Last year, she began playoff Sunday in Tampa for Jason's afternoon matchup against the Tampa Bay Buccaneers before flying to Kansas City for Travis' game against the Pittsburgh Steelers.
On Jan. 29, 2023 after her sons' teams clinched their Super Bowl spots, the proud mom tweeted an ode to their alma maters.
#HeightsHighandUCBearcatSuperBowl," she wrote, referencing both sons attending Cleveland Heights High School and the University of Cincinnati.
But Kelce knows that in Arizona, tensions will be running high.
"It's your hopes and dreams coming true, but it's your worst fears," Kelce told PJ Ziegler of FOX 8 on January 24. "Somebody is going to go home a loser, and neither one of them lose very well."
Following the Chiefs' nail-biting victory over Cincinnati on Sunday, Travis told reporters playing against his brother is a "cool scenario to be in."
"My mom can't lose," he said in a post-game interview. "You won't see me talking too much trash because of how much respect and how much I love my brother, but it's definitely going to be an emotional game."
Despite this being the first time her sons will play against each other in a Super Bowl, Kelce has seen both men win the big game independently.
She attended Super Bowl LII in Minneapolis where Jason and the Eagles upset the Patriots in 2018, and she was in attendance two years later to witness Travis and the Chiefs take down the 49ers at Super Bowl LIV in Miami.