Super Bowl week is just getting underway and we are already seeing some a-dough-rable moments from the Kelce family.
During Super Bowl 57 Opening Night in Phoenix, Donna Kelce met her sons — who will face off against one another on Super Bowl Sunday — on stage with a special delivery.
"And just like a mom when she knows her boys are headed to big battle, she comes bearing gifts," Michael Irvin said during the NFL Network broadcast as Donna Kelce walked onto the stage to hug sons Jason and Travis Kelce.
In her hands? Two containers of homemade cookies.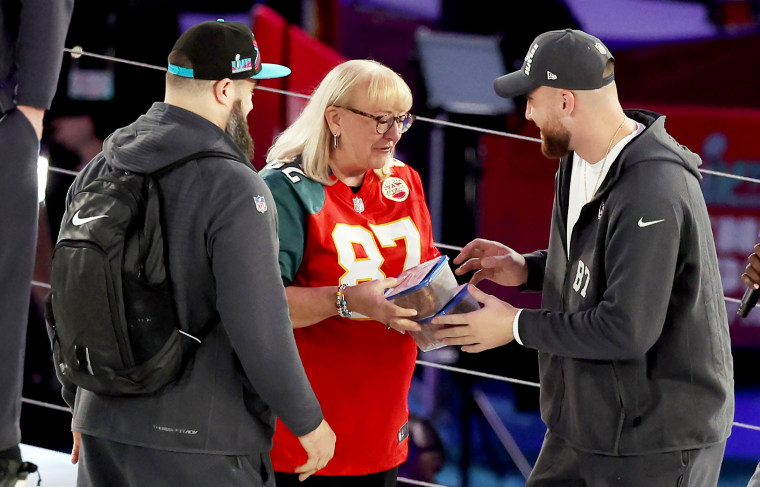 "You are probably cooking these cookies forever for these guys," Irvin quipped. "That's probably what got them big and ready for the NFL."
Kelce is no stranger to feeding her sons. She tells TODAY.com that growing up, the Kelce brothers loved oranges, Rice Krispie treats and fruit snacks.
Another favorite food item? Meat.
"A lot of chickens lost their lives," Kelce says of her sons' appetites in high school. "They were very voracious eaters for sure. That's how I got a raise the day they went to college."
On Sunday, Kelce will become the first mom to have two sons play against each other in the Super Bowl, when Jason Kelce, a center for the Philadelphia Eagles, faces off against younger brother Travis, a tight end for the Kansas City Chiefs.
"I'm a true fan of football. This is going to be so awesome," she said during a Feb. 1 interview on TODAY.
But with two sons playing against each other, she knows one is going to lose — and that's just the way the cookie crumbles.
"Obviously, there's going to be somebody that's going to go home heartbroken," she told TODAY. "They won't have the bragging rights at the Thanksgiving table, but this is going to be an awesome event and I'm really looking forward to it."