Chrissy Teigen and her baby Esti were having a sweet moment in the bathtub together.
The 37-year-old shared a photo on Instagram of herself au naturel while smiling at her little girl as they took a bath together.
"A boob that somehow hangs all along my side and deep purple lifetime scars but you are too perfect to worry about any of it !" she captioned the candid photo, which showed a towel discreetly draped over her legs.
Fans responded to Teigen's heartfelt and vulnerable message, with some pointing out that many mother's bodies change after giving birth.
"Our changing bodies remind us of the life we created. It reminds us of all we have," one Instagram user wrote with the heart eyes emoji.
Another wrote, "'Life scars' of a beautiful woman and mother. It's proof that we are strong and brave and good! Wear them all proudly."
In her Instagram story, she posted her 3-month-old resting comfortably in her arms and sucking on her own hands. Teigen wrote, "Baby girl discovers fingers."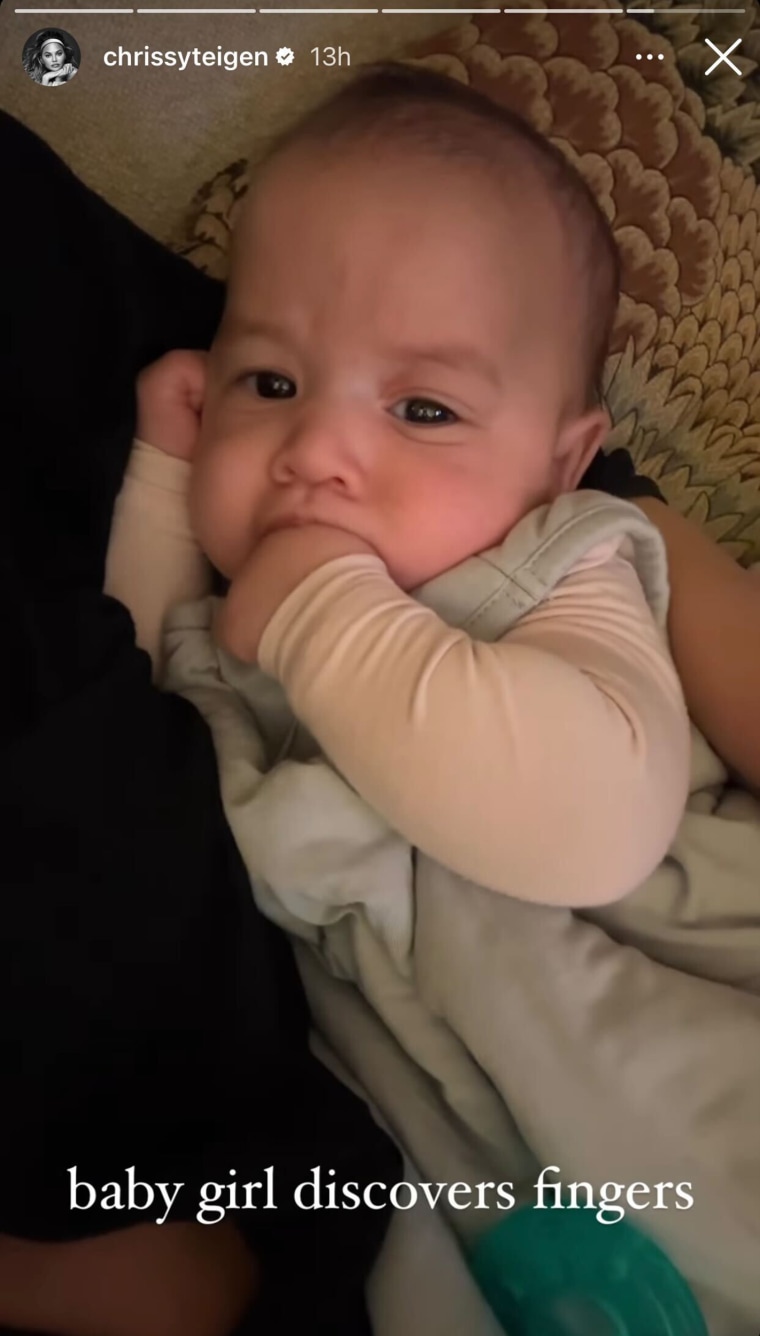 John Legend and Teigen welcomed Esti in January, sharing an adorable photo of their eldest children, Luna, 6, and Miles, 4, holding the newborn.
"She's here!" Teigen captioned the photo. "Esti Maxine Stephens — the house is bustling and our family could not be happier. Daddy sheds nightly tears of joy seeing Luna and Miles so full of love, and I am learning you still need diapers with a c section!? We are in bliss. Thank you for all the love and well wishes — we feel it all!"
Shortly after Esti's birth, Teigen went back to her beloved candor on social media, sharing a postpartum photo in a long dress with what appeared to be multiple breast milk stains.
"Omw to bandage together both my wound and 3.8 second clips of Beyonce performing in Dubai until I get a full hbo special," she wrote, referencing Beyoncé's private concert earlier this year at the Atlantis The Royal hotel in Dubai.
In the comments, she added, "My baby: wah me: learning to edit." 
Many women also took to the comments, finding the photo incredibly relatable, with one person calling it the "soggy stage."
"The soggy stage.. everything is soggy," the user wrote, adding a red heart emoji.
"I'm so glad women now have the freedom to acknowledge ... not hide," another commented.
"Love that you are normalizing leaking through everything in the first weeks postpartum. You wake up at night and you're like 'Is it pee? Is it milk? Or is it sweat?' So many body fluid options," one user wrote with a laughing emoji. "Thank you for sharing. Would love to have you on our breastfeeding podcast if you want to talk about that part of your life."