If you're a working mom who is struggling to balance breastfeeding with your job, take a cue from Chelsea Clinton.
Ahead of meetings, Clinton, 43, would make it clear that she had a hard stop and she didn't skirt around the reason.
"I would say 'I really have to end on time because I have to feed my child in the next room' or, 'I have to go pump,'" she shared while moderating a panel for maternity care company Oula on March 1, about the future of maternity care. 
"The reactions were across the whole spectrum," she recalled. "I had people say, 'Thank you so much for telling me that,' and others would (gasp) and say, 'You didn't need to tell me that!'" 
Clinton, an author and activist, was perplexed by the latter response.
"There's nothing to be ashamed of here. I was just explaining as if I had to go to another meeting, or I had to get to a doctors appointment or whatever else you see as a valid set of explanations for why we need to end on time," she said.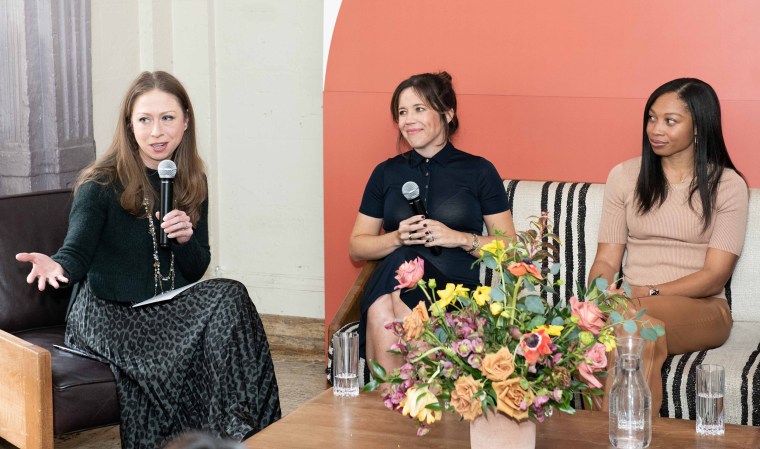 Clinton shares children Charlotte, 8, Aidan, 6, and Jasper, 3, with her husband, Marc Mezvinsky. After Aidan was born in 2019, Clinton said she noticed "some shift" around conversations about breastfeeding.
"But there still was so much squeamishness — and that shouldn't be," she said. "I often had to repress myself from saying, 'I'm sorry — but where do you think you came from?'"
Clinton's commitment to tackling issues surrounding maternal health led her investing in Oula, a maternity care center in New York City that brings together midwives and obstetricians.
Oula opened in 2021 with the goal of improving pregnancy and childbirth experiences as well as maternal survival rates. The company, which operates two locations in Brooklyn and Manhattan, accepts a number of insurances, including Medicaid. It also offers virtual services and care in the fourth trimester, or the 12 weeks following the birth of a newborn.
"Every woman deserves the level of dignity, care and support that Oula provides," Clinton tells TODAY.com.
The daughter of Hillary and Bill Clinton describes herself as "incredibly privileged" for having good health insurance and access to doctors she could trust. 
"I'm also grateful that I have a really supportive spouse and a really supportive set of parents," she says. "But for so many people this isn't the case."
Clinton hopes that by the time her children become parents, things will be different. American women today are 50% more likely to die in childbirth than their mothers, according to a study published by Harvard Medical School. 
"It's upsetting that things are getting worse," she says, noting that our country is also "failing" women when it comes to paid maternity leave. 
According to the Organization for Economic Cooperation and Development (OECD), the U.S. is one of the only developed nations that does not require employers to provide any paid leave to new parents.
"Ideally, I'd like to see four months paid leave," Clinton tells TODAY.com. "It's really important to be able to provide that time and space that a new mom and her baby need. And we should have it for everyone, whether you're an hourly employee or a salaried employee. It's an investment in the future of our country."
Related video: