As Cori McKenzie watched Tahlequah, the orca whale mother carrying the body of her dead calf, she thought of her own experience giving birth to a stillborn child.
"I think every baby-loss parent I have ever met relates to Tahlequah. We all wish that our society and culture would recognize how deep this loss is felt and how it changes you down to your core," McKenzie, of Gary, Indiana, told the Seattle Times after the paper asked for reactions to Tahlequah. "I wish I would have had a week or more to spend with my daughter instead of a few hours. Her sadness breaks my heart."
Tahlequah the orca mom, also known as J35, has been pushing her calf hundreds of miles for more than two weeks. On Wednesday researchers at Fisheries Oceans Canada saw her carrying her calf for the 16th day. Researchers are stunned.
"I am sobbing. I can't believe she is still carrying her calf around," Deborah Giles, research scientist for University of Washington Center for Conservation Biology and research director for nonprofit Wild Orca told the Seattle Times. "I am gravely concerned for the health and mental well being of J35."
Tahlequah's attachment resonates with so many people, especially those who have lost children, experienced infertility and had miscarriages or stillbirths.
"It was heartbreaking," Taylor Shedd, program coordinator at Soundwatch boater education program at the Whale Museum in Friday Harbor, Washington, told TODAY. "I can only imagine the stress and the pain she must be going through."
Shedd first saw Tahlequah on her second day carrying her calf and he worked with boaters to give the grieving mom extra space. The region receives visits from three different pods, which are matriarchal families of whales. Of the three pods, there are only 75 surviving whales and they have been on the endangered species list since 2005.
Shedd believes that people relate to Talequah because she seems truly affected by the loss of her calf and they, too, wish they had the same space to mourn their own losses.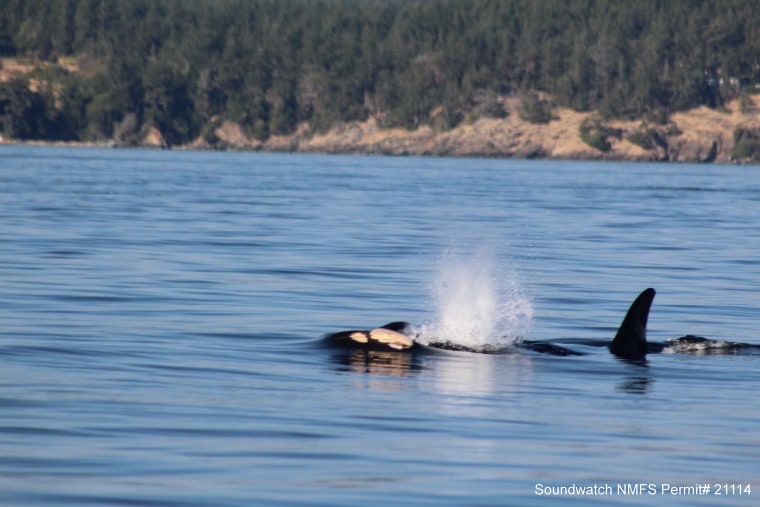 "She is grieving so much and she is dealing with it in her own time. (That) is something that maybe people long for," he said. "(Whales) show emotions in the way women — who have had a miscarriage or lost a young child — do."
It's not just those who work with the whales who noticed this similarity. Tahlequah reminds ecologist Jacquelyn Gill of the death of her mother and her experience with infertility.
"Like many, I've been closely following the story of the grieving orca mother over the last 10 days. It's been especially hard for me, as a daughter who recently lost her mother, and who has also struggled with fertility in the last year," she wrote on Twitter.
Another Twitter user, Kathleen Buchanan, summed up her thoughts succinctly.
"Tahlequah is every mother who's lost a child."
As a mom who recently experienced loss, Katie McKeehan understands Tahlequah's desire. Miscarriage meant McKeehan never had a chance to hold her child.
"I had a miscarriage in December when I was 16 weeks pregnant. I never held my son or even got to see him," she shared with the Seattle Times. "Losing my son was by far the hardest thing I have gone through in my entire life, so I can relate to how this mother orca is feeling at losing her calf."