/ Source: TODAY Contributor
When Roni Dean-Burren and her 15-year-old son, Coby, discovered a factual error about slavery in a textbook, they were shocked and concerned.
Dean-Burren posted a video to Facebook last Wednesday explaining the textbook error, and she figured her friends and family would watch and share it. Then she noticed that 2,000 people viewed it. Then 8,000. When it reached 10,000 views, she realized she hit on something.
"It's awfully spooky. When you post a video and a million people look at it, it is kind of a thing," she tells TODAY. "I still can't understand."
It was last week that Coby sent his mom a text with a picture from his McGraw-Hill World Geography textbook. In a chapter on world immigration, there was text on a colorful map of the United States that read: "The Atlantic Slave Trade between the 1500s and 1800s brought millions of workers from Africa to the southern United States to work on agricultural plantations."
The problem that Coby, a ninth grade student at Pearland High School in Texas, noticed immediately: slaves weren't workers who came to the country because they were looking for a better life. In typical teenage style, he sent his mom a sarcastic text: "We was real hard workers wasn't we."
"Yeah right," she replied.
But the more she thought about it, the more troubled she felt.
"I did think this is a form of erasure," she says. "I just felt like discussing the slave trade as immigration was inappropriate. The use of the word workers, what that means and what that implies, are we watering [history] down? Are we sanitizing it?"
After initially posting the picture of the map, she received so many questions that she posted a video, which has been viewed over a million times, to offer up more information. McGraw-Hill noticed and responded via Facebook.
"This week, we became aware of a concern regarding a caption reference to slavery on a map in one of our world geography programs. This program addresses slavery in the world in several lessons and meets the learning objectives of the course. However, we conducted a close review of the content and agree that our language in that caption did not adequately convey that Africans were both forced into migration and to labor against their will as slaves," the statement reads.
The company said it would change the wording in its digital edition and the next version of the print textbook will include revised language.
When Dean-Burren realized the company responded, she cried.
"It felt like people are listening," she says. "You all did this. It wasn't me. All that sharing really sort of did it."
While she felt thrilled that the company responded, the doctoral student at the University of Houston had worked as a teacher in that same school district. She knew that Pearland, like so many other schools, kept their textbooks for eight, maybe 10 years. That meant an entire generation of students would read that Africans came to the United States as workers, not slaves. So she pushed for more.
And McGraw-Hill responded with another message on Facebook:
"This afternoon, our president and CEO David Levin sent a note to all of the company's employees. Below are excerpts:
We made a mistake.
Last week a high school student and his mother in Texas raised an issue about a caption in our World Geography textbook. Many people who were understandably hurt and offended by the caption responded on Facebook and elsewhere.
We are deeply sorry that the caption was written this way."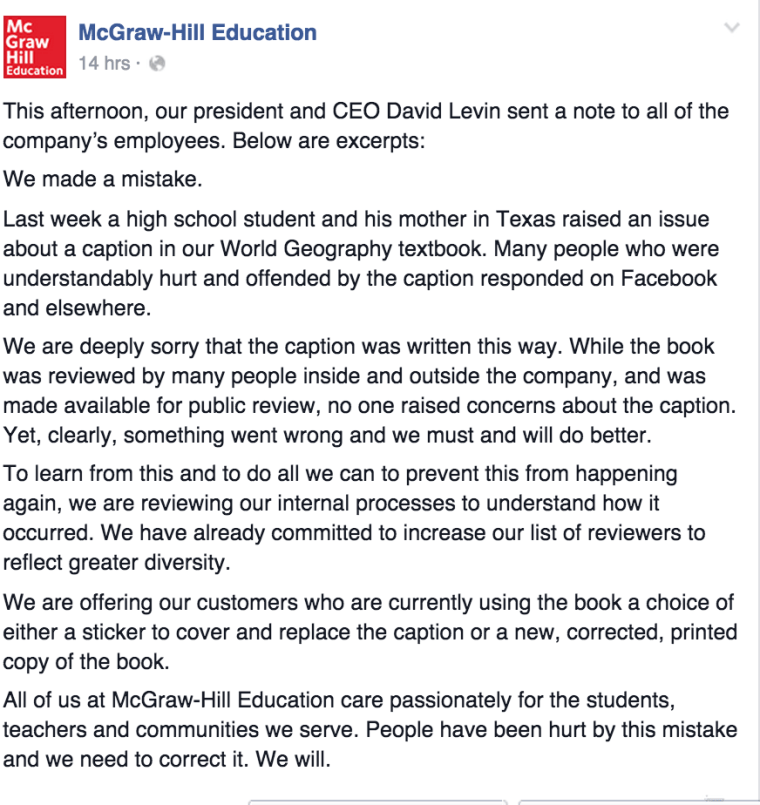 While the company is now offering stickers to cover up the error, Dean-Burren wishes they could do more and hopes the company will include people from diverse backgrounds in its review process.
"That's a step. We're getting there," she says. "That's not the full story. I think that is what matters to me. That they tell the full story and tell all of the narratives. And who sits at the table when they write the textbooks?"
She worried the school might react poorly to Coby's speaking up, but everyone embraced him. His principal and teachers felt proud that they had a student who had such a critical eye that he noticed an error. And, Dean-Burren certainly feels proud of him.
"My son said this: 'no matter how ugly the past is, we have to acknowledge it,'" she says.
But the biggest takeaway: Speaking up can make a difference.
"This is just confirmation that activism is necessary and activism brings change and not to shy away from it," she says. "It's pretty cool."