/ Source: TODAY Contributor
The responsibilities of parenting are hard to juggle, and if you ask a couple whether or not they split those duties evenly, there's a good chance you'll get differing answers.
The moms behind YouTube channel The Breakwomb are explaining how co-parenting works in their homes in a new video, which shows comedians Laurel Coppock, Molly Erdman and Megan Grano discussing the "equal" way they share parenting tasks with their husbands.
"Yesterday, Anthony had a fever so he couldn't go to daycare," Grano says in the video. "Mike and I had both had busy days at work, so Mike helped out by leaving for work and then I called nine babysitters until I could find someone."
RELATED: Parody of Fifth Harmony's 'Work from Home' reveals what moms really find sexy
The ladies continue to share stories of how their husbands co-parent by leaving out the vacuum cleaner when it's time to clean or serving as their wives' alarm clocks by nudging them when the kids are awake in the morning.
"It's like how we handle activities in our house," Erdman explains. "Joe will spend a lot of time convincing Valerie that she wants to play soccer, and then I drive her to every practice and game and make sure her uniform is washed every week."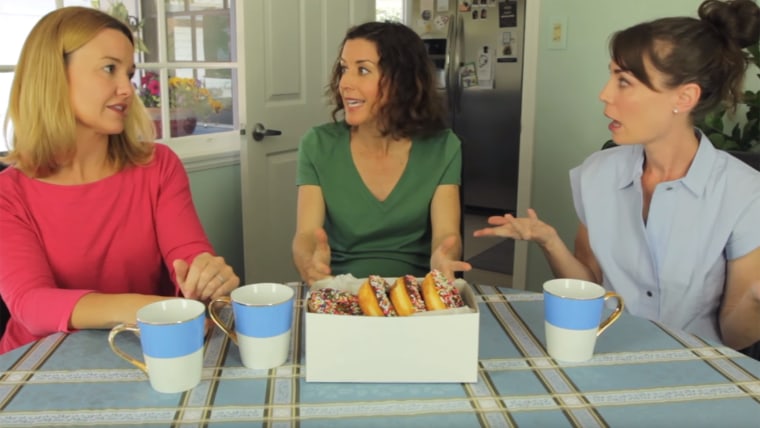 Grano says, while there is some comedic exaggeration thrown into the sketch, the idea for the video truly did come from a morning when she found herself struggling to find a babysitter for her sick child.
"I didn't even think about why I was the only one calling sitters at the time — I was too stressed out," Grano told TODAY Parents. "But after the whole ordeal was settled, I realized that I'm the one who lines up our sitters 95 percent of the time. I guess that is a little odd because we both have phones so there's no real reason it should just be on me."
Never miss a parenting story with TODAY's newsletters! Sign up here
So what do these funny moms' husbands think about being the focus of the video?
"My husband finds this sketch offensive and is looking to take legal action," said Coppock. "But he asked me to find him a good lawyer. Just kidding."