New mom Angela staged a special photo of her daughter as a way to chronicle the three-year journey it took to conceive. She had no idea the picture would resound so deeply with thousands who experienced the same struggle.
The photo features her baby girl, sound asleep inside a heart formed by hundreds of syringes and dozens of drug vials — just a fraction of what she used while undergoing five in vitro fertilization treatments.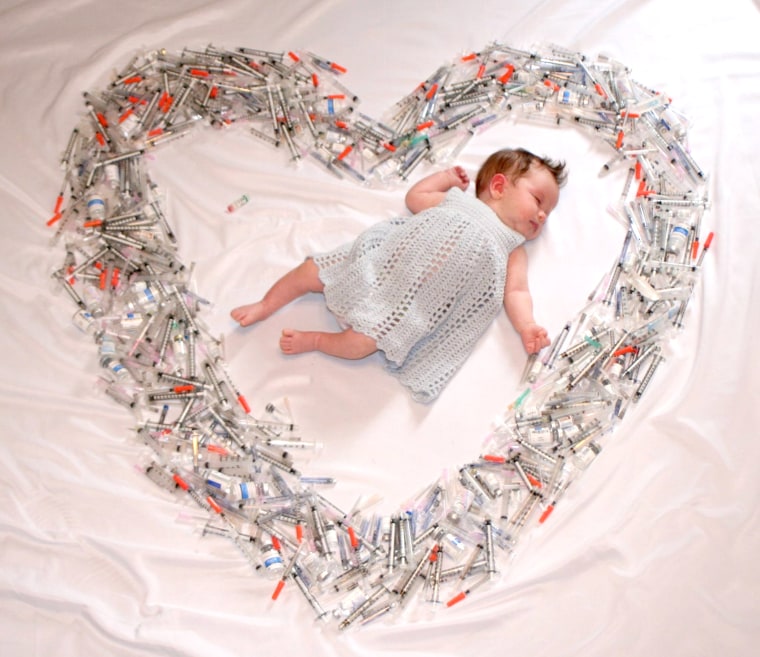 "It was just intended for me and her," Angela, who asked that her last name not be used, told TODAY.com about the photograph. "I wanted to document what I went through to have her."
She took the picture three months ago, but the photo went viral after she sent it to the Sher Institute's fertility clinic in St. Louis after the center called to get an update on her pregnancy.
"They wanted to know if I had a live birth or lost the baby and I said, 'No, I had a live birth' and I sent them the photo," said Angela. "They asked if they could post it and it kind of went crazy from there."
The photo went up Oct. 5 on Sher's Facebook page, where it has received more than one million views and has been shared more than 4,500 times. The picture "shows the true definition of love that went into making this gorgeous new baby girl," according to the caption.
The photo perfectly illustrates the emotional and often protracted journey many individuals and couples have experienced while trying to conceive, many said in their comments to the Facebook post.
"Didn't even tell my husband what this was, I just handed him my phone," wrote Sara Husson. "I saw tears form in his eyes as he probably also went through the memories of countless nights, over our four year journey, that he gave me shots. We finally were successful with twin boys and I've never been happier!"
Angela, 42, said she finally got pregnant after three years of IVF and another type of fertility treatment. The drug injections continued for several months even after that point, she noted, to help keep her pregnancy viable.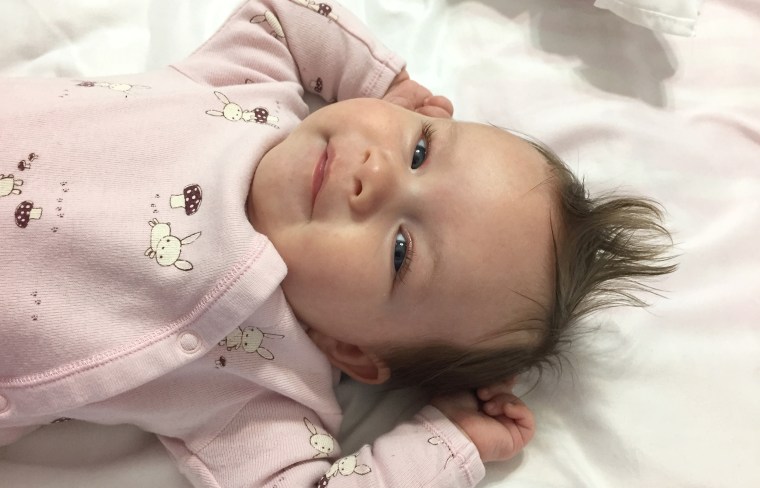 "It's a physical process. You've got a lot of hormones racing through your body," she said. "And a lot of women doing IVF, while experiencing these emotional ups and downs, are trying hard not to let it show because they don't want people to know what they're going through since IVF has a stigma attached to it in some circles."
Angela said she hopes the photograph of her daughter, Sophia — born in June, and whom she describes as "absolutely healthy and perfect" — will inspire those who are still trying to conceive.
"The needles to me were the easiest part," she said. "It was the emotional ups and downs that were hard. For a couple out there still trying and maybe are on their third or fourth try, just hang in there. It was such a struggle, but it's worth it."
Follow TODAY.com writer Eun Kyung Kim on Twitter.