Lindsey Doe has a message for the boy repeatedly being rejected by her 14-year-old daughter: No means no.
In a YouTube video titled "Dear Boy Who Likes My Daughter," the mom directly addresses her child's young suitor, but the lesson she delivers could easily be applied to any awkward, hormone-filled teen — regardless of gender.
In the clip, Doe tells the boy that she understands why he likes her daughter, but "what I don't like is how you treat her."
Despite repeatedly being turned down, the boy has continued to ask the girl out. It would be one thing if he was told "maybe," "I don't know" or even "ask me again later." Instead, he consistently hears the same answers (as spoken by the off-camera daughter):
"No, thanks."
"Stop asking me."
"No! Go away!"
In other words, the girl isn't interested.
Doe told TODAY.com that the boy is actually good friends with her daughter, but recently became adamant about having a relationship with her.
"She is pretty good about asserting herself but she came home one day, after I had already heard multiple stories of his pursuit, and said, 'He asked me again.' And I said, 'Would you like me to step in?' And she said yes," Doe said.
In the video, she asks for the young man to treat her daughter with respect.
"Someone tells you 'no' in any way, and you ask again? It's not cool, it's not attractive, it's not respectful — it's harassment," she says. "My daughter has the right to change her mind and the ability to let you know if she does. Until then, I expect that you do not ask her out, do not suggest a relationship, do not talk to her about her discomfort with you pursuing her. Leave her alone!"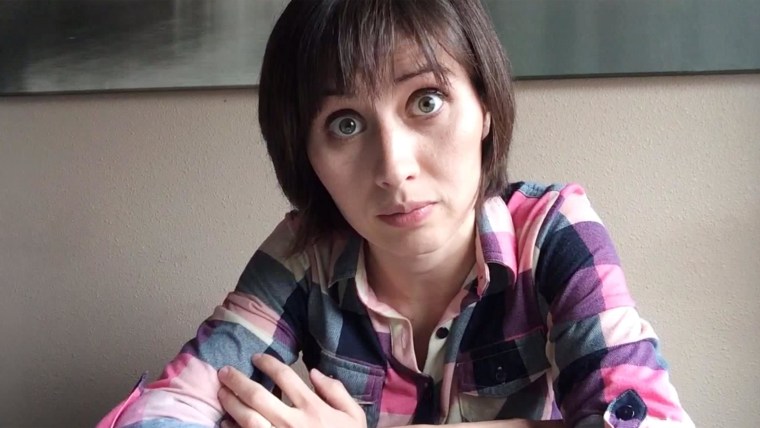 Doe, 33, emphasized she does not blame the boy for his behavior, as society often sends messages about never giving up — especially when there's a possibility that someone may be playing hard-to-get.
"If I wanted this (message) to go to anyone, it's the people who insist that behavior is romantic. And let them know it's absolutely okay to ask, but in doing so, you have to respect what that person's wishes are," she told TODAY.com. "And if that persons's wishes are to leave you alone, you need to do that."
Doe, a certified clinical sexologist with a private practice in Montana, also educates about sexual health through the YouTube channel, Sexplanations. One video on the channel is entitled "What Is Consent?"
Doe said she does not believe her video letter has been seen yet by her daughter's friend, whom she actually likes quite a bit. "Aside from this, he's a really good person for my daughter to have in her life. He helped protect her from bullies. He's a kind person who has great manners. I like him, I just don't like this particular behavior," she said.
"I will say that her last rejection of him was, 'If you don't stop it, my mom's not going to like you,'"she said with a laugh. "That deterred him a little but it hasn't actually stopped anything."
Follow TODAY.com writer Eun Kyung Kim on Twitter or on Google+.