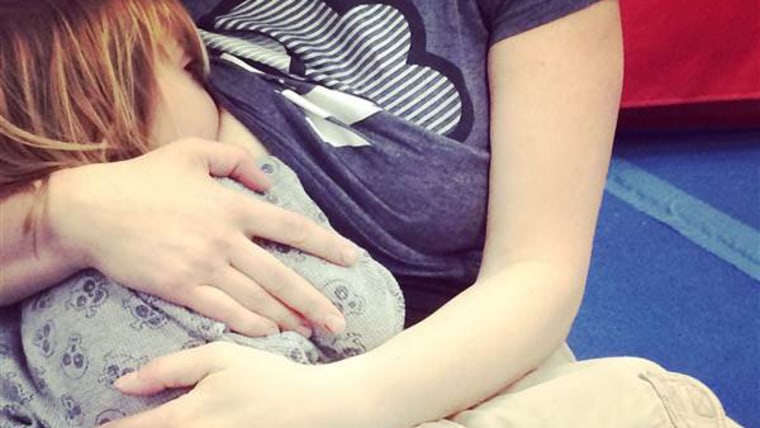 Attention, retailers: Breastfeeding moms wield some serious influence on the ol' Internet.
As evidence, consider the praise being lavished upon Target after its breastfeeding policy came to light on Facebook:
In case that photo from Target's employee handbook is a bit difficult to see, here's what the policy states:
Guests may openly breastfeed in our stores or ask where they can go to breastfeed their child. When this happens, remember these points:
Target's policy supports breastfeeding in any area of our stores, including our fitting rooms, even if others are waiting
If you see a guest breastfeeding in our stores, do not approach her
If she approaches and asks you for a location to breastfeed, offer the fitting room (do not offer the restroom as an option)
The hazy photo first appeared on the Mama's Milkies Facebook page on July 11 and then got shared by the Breastfeeding Mama Talk Facebook group. More than 40,000 people have liked the Breastfeeding Mama Talk post, and hundreds have commented on it with great enthusiasm.
"This is why I love Target!!! About a month ago I was nursing my daughter and a customer went and got a manager, brought them to where I was nursing (in the men's section with my husband, covered up) and complained. The manager apologized to me and explained to the LADY that I was allowed to feed my baby where ever I am comfortable doing so. And proceeded to explain to the lady that if she didn't like it, don't watch." — Laci Crawford
"Good work to them for getting it right and training their staff properly on this especially love 'do not offer the restroom as an option'...so many other places have been guilty of this!!" — Hazel Ip
"I LOVE Target and have nursed there many times!" — Daphney Biddle Long
On Wednesday afternoon, Target told TODAY.com that it cares about its shoppers' comfort.
"We want all of our guests to feel comfortable shopping with us," the retailer said. "Our breastfeeding policy, which applies to all stores, is just one of the ways in which we support our guests."
Target is certainly in a different position than it was back in 2011, when disgruntled breastfeeding mothers staged a "nurse-in" at Target stores across the United States. That act of maternal solidarity happened after a shopper at a Target in Texas was told to cover up while nursing.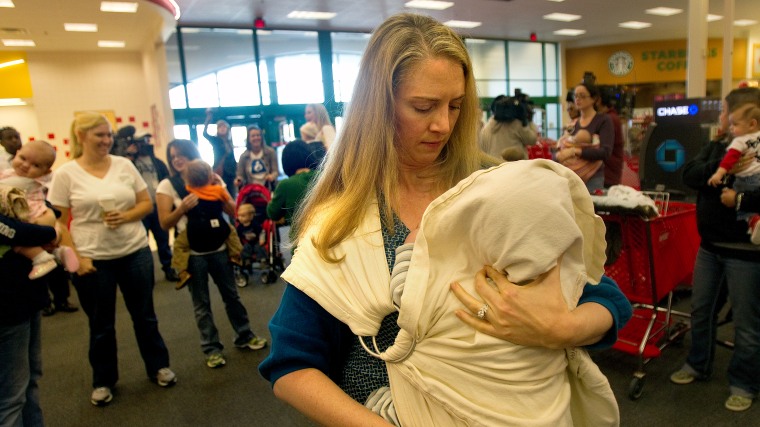 "We continually educate our team members in stores across the country on store policies to ensure all guests have a great experience," Target wrote in a statement at the time. "Target has been in touch with the [Webster, Texas] store to ensure all team members are aware of our breastfeeding policy. Target is proud to support all mothers who breastfeed year-round."
Target said Wednesday that its breastfeeding policy predated the nurse-in of 2011.
Past misunderstandings aside, in the summer of 2015, Target is feeling a whole lot of love from breastfeeding moms.
"Kudos to Target for their breastfeeding friendly policy," Breastfeeding Mama Talk said in its Facebook post. "Other businesses should take note."
Need a Coffey break? Follow TODAY.com writer Laura T. Coffey on Twitter and Google+.