What do upcycled prom dresses, vintage Bambi curtains and a little bit of Disney magic have in common?
They are a few of the materials Florida mom Jennifer Rouch used to create a wardrobe of Disney costumes to help her 3-year-old daughter Lane overcome her battle with shyness.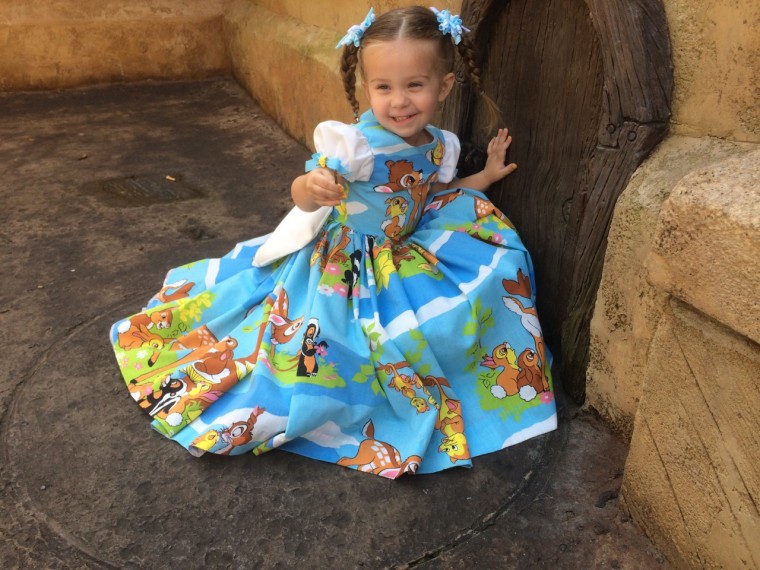 Two things have always interested Rouch – Disney and sewing, she tells TODAY Parents. And after watching her mom sew as a child and working at a fabric store throughout her teen years, she developed an interest in channeling her skills as a seamstress into a costume-making hobby.
When Lane was born, Rouch says she focused her sewing efforts on her tiny daughter, making Lane her first Disney-themed costume – a Little Mermaid tail – when she was just 10 weeks old.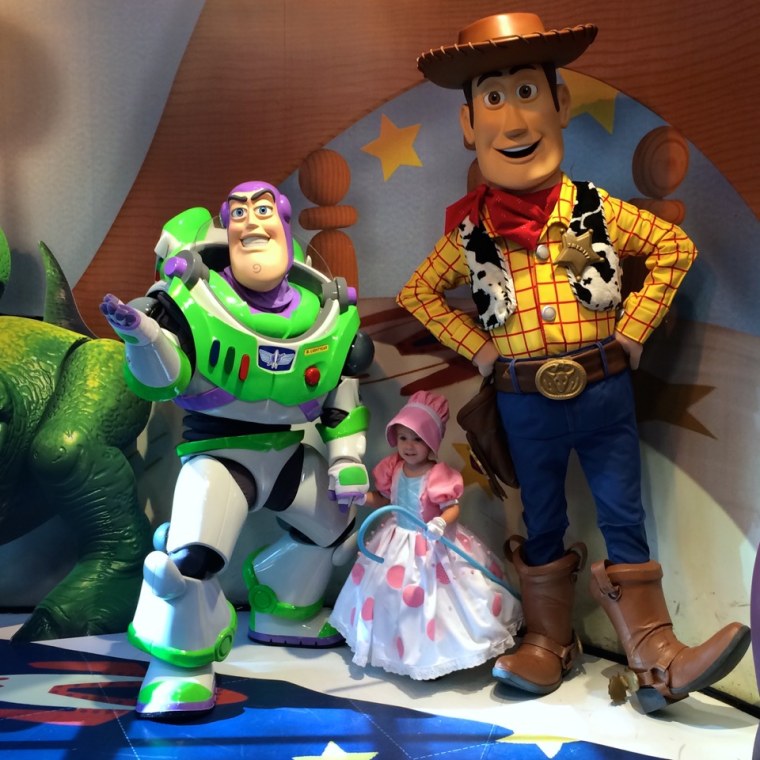 As Rouch and her husband Chad began to notice that Lane was developing a shy side to her personality, they decided to buy a special Disney pass available to Florida residents, allowing them to take her into the park as often as they liked.
"We were noticing that she was very clingy with us – if someone would even approach her at a restaurant to talk to her, she would seem very shy – we didn't want her to be crippled by that, so we figured since Disney was close to us and would be a fun, safe place for her to interact with characters and environments she loved, we'd take her there," said Rouch.
The rest is history – fashion history, that is.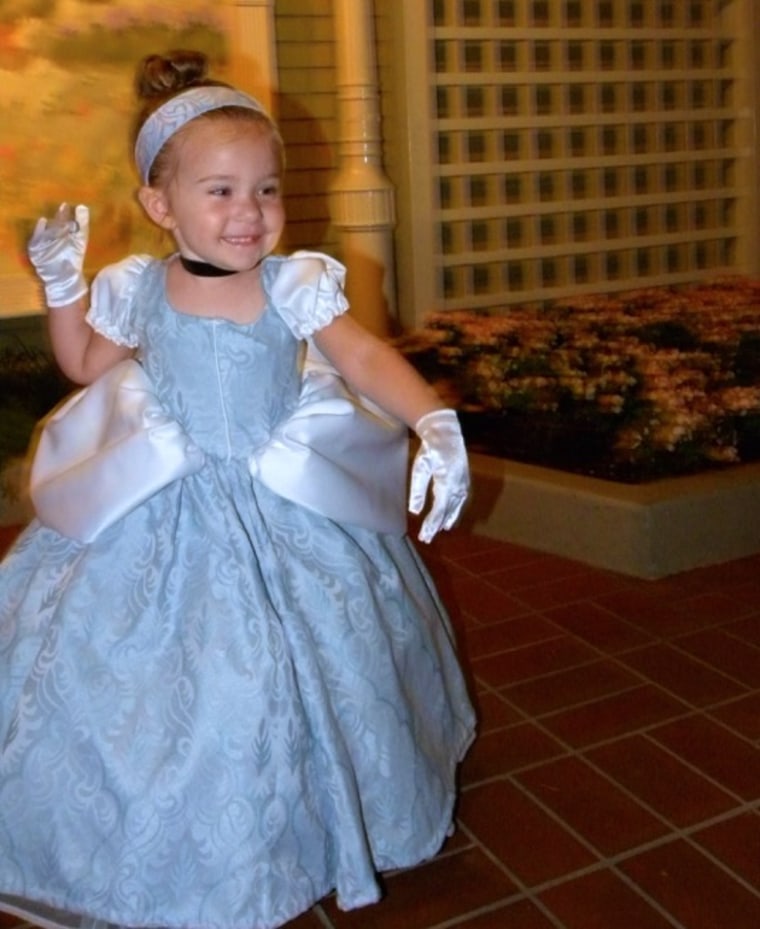 In addition to taking Lane to Disney on a regular basis, Rouch says she began upcycling pretty fabrics found at thrift stores to create incredible Disney-themed costumes for her daughter.
Rouch, who has been known to dye an old shower curtain "Cinderella blue" or create a princess dress out of vintage Mickey Mouse bed sheets, says the costumes have garnered Lane a great deal of attention and recognition from many of the characters within the park.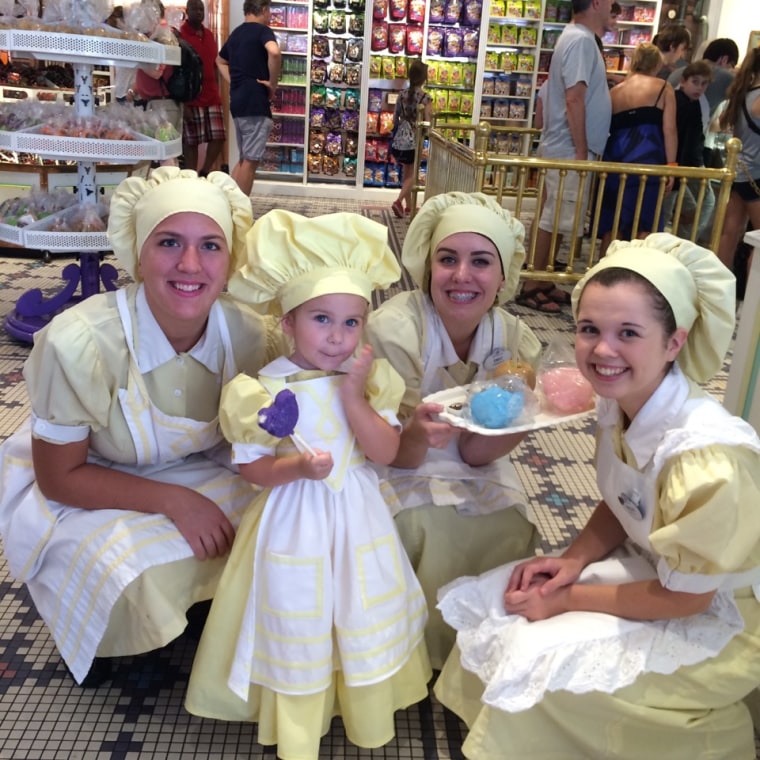 This attention, according to Rouch, has "basically changed Lane into a different child."
"At first, I was making her costumes because she's a little girl and it's fun – but we noticed that the more we dressed her up, the more out of her shell she would become and the better she would get with the characters," said Rouch. "And, it was kind of eventually like you would never have known this child was shy a day in her life -- it has made her have such a large personality."
Clinical psychologist Dr. Barbara Greenberg says that, while "shy" can be an overused term, she gives kudos to a mom who would go to such extremes to make sure her daughter would get positive feedback from strangers and enjoy being around other people.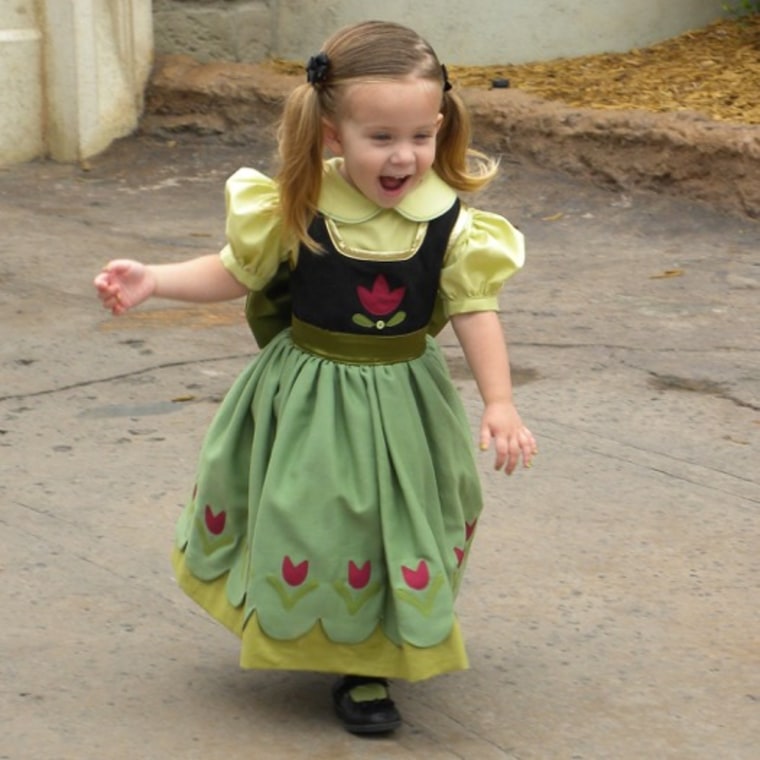 For parents without sewing skills and access to the Magic Kingdom, Greenberg offers this advice: Build your child's self esteem by gradually introducing them to activities and peers that they enjoy. Remember that many of us who were shy as little kids came out of our figurative shells with time and encouragement.
"Do not tell your child that he or she is 'shy.' Nothing good comes out of being labeled," said Greenberg. "Keep in mind, too, that many successful and happy people are shy by nature, but are able to navigate life successfully despite this."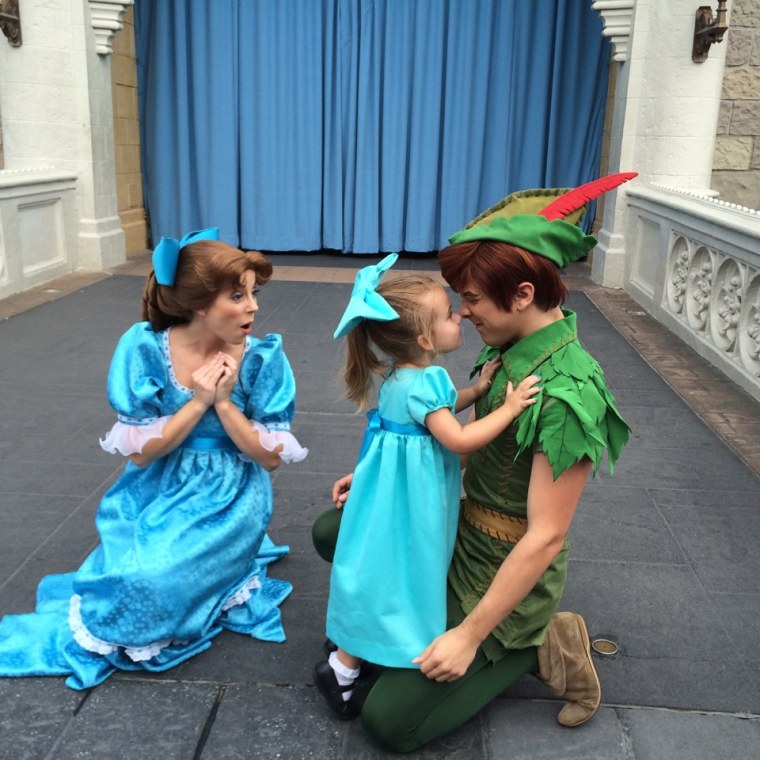 Rouch, who documents her daughter's beautiful costumes on Instagram and Tumblr, says that although Lane has come out of her own shell, she has no plans to stop creating a Disney-tastic wardrobe for her daughter, nor will the family stop its trips to the park any time soon.
"She loves wearing these dresses – she's as girly as they come. She wants matching shoes and nail polish. She has so much fun with it," said Rouch.
"As many times as we've gone to Disney, every time we pull onto the property she squeals and says, 'Momma look!' She loves everything about it, and we love sharing these experiences with her."