/ Source: TODAY Contributor
When Savannah announced that she and husband Mike Feldman are expecting their second child on TODAY this morning, the news prompted hugs and joyous reactions from the other anchors.
When Savannah told daughter, Vale, 21 months, however, the reaction was not as happy.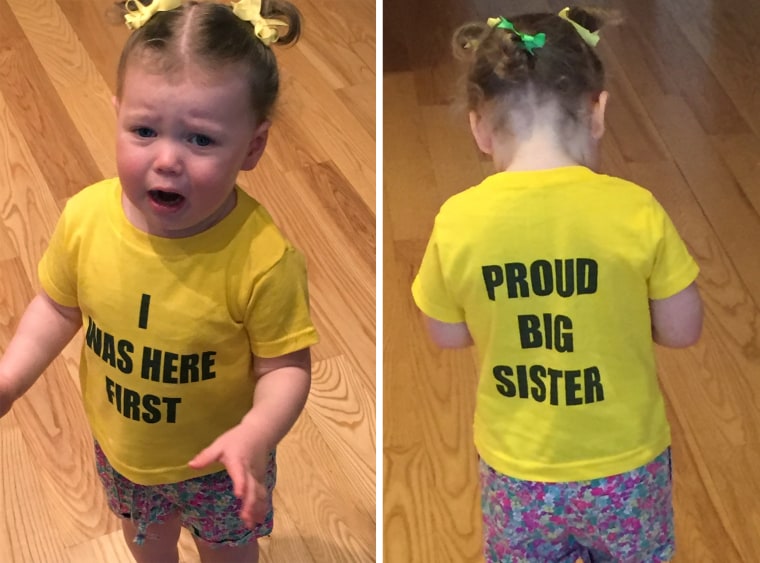 Savannah shared a video in which she asked Vale, "Do you want a new baby?" Wearing a bright yellow t-shirt that reads, "I was here first" and "Proud big sister," Vale responded with tears and an emphatic, "NO!"
Toddler tantrums pass quickly, and we know Vale will be a loving big sister when her sibling arrives later this year. In the meantime, TODAY Parents compiled a list of our favorite reactions from other siblings who received the news that Mommy is expecting.
Read more: TODAY Parents share siblings' funniest reactions to pregnancy news
1. Tears of joy!
6-year-old Jake Dooley had been praying for a brother or sister for quite some time, so when his mom broke the big news and gave him a T-shirt that read, "This guy is going to be a big brother," the sweet brother-to-be broke down into sobs. "You're pregnant?" the boy asks his mother before crying happy tears.
2. Another girl??
Matthew Last had four younger sisters, so when his parents learned that they were expecting a fifth little girl, they decided to have some fun with their pregnancy announcement. The photo shows Matthew reacting to another pink princess dress while sitting in a room full of baby sisters. Hang in there, Matthew.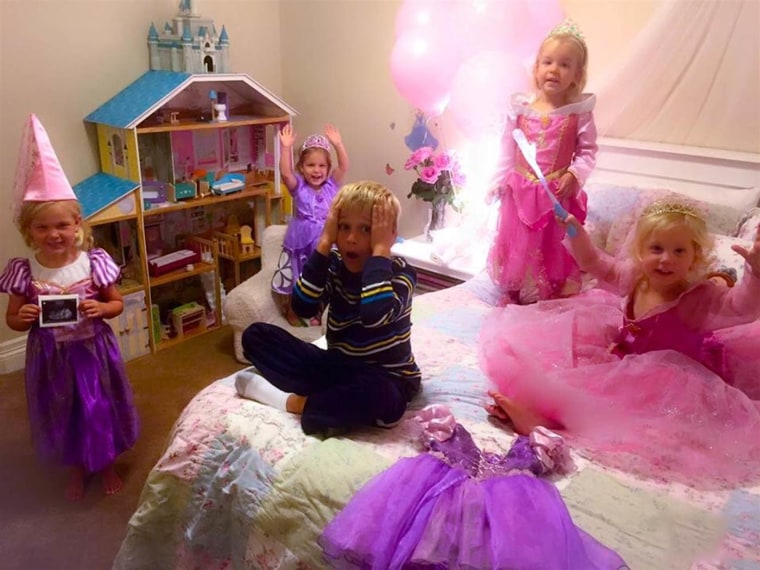 3. Wrong color!
Big-sister-to-be Grace Guerard broke down into tears when she bit into her gender-reveal cupcake and found that it was blue. "Oh no... I wanted pink. I wanted pink!" Grace cries in the video, while her older sister, Giuliana, expresses excitement at being big sister to a little brother for a change.
4. Two is enough.
TODAY anchors fell in love with Tré Hart when a video of his reaction to his mom's third pregnancy went viral. "Why do you just have to get another baby? You already have two," the boy exclaims in the video. "This is exasperating!"
5. Cookies and screams!
Tennessee sisters Harleigh and Christina Barrett screamed with delight when they were presented with cookie cakes by their parents. But it wasn't the chocolate chips that made these sisters so happy, it was the news written on the cakes — their mom was expecting a baby!
6. Excited Aunt.
Sibling reactions don't end once you grow up! This aunt could not be more excited when she finds out that her sister is having twins. Just goes to show, no matter how they react at first, there's something special about that sibling bond.