The mother of a toddler who died after his father left him in a car said she remembers hearing about such tragedies every summer and thinking how they could never happen to her.
"Unfortunately, we really are proof that it can happen to any American," Lindsey Rogers-Seitz told TODAY's Matt Lauer on Tuesday. "To all the listeners, we could be you, your best friend, your parent, the neighbor down the street."
Rogers-Seitz lost her 15-month-old son, Benjamin, on July 7, after her husband left him in his car all day. Kyle Seitz was supposed to drop the toddler off at daycare but ended up driving straight to work. Authorities say he went to pick up his son at the end of the day and only then realized his son was still in the backseat. The boy was rushed to the hospital but died of hyperthermia, or overheating.
Rogers-Seitz and her husband are now hoping to prevent similar deaths through the aid of technological safeguards that would alert drivers when their car's interior rises above a certain temperature. Rogers-Seitz said while some car manufacturers have pledged for nearly a decade to install such devices, nothing has happened, leading to hundreds of hot-car deaths over the past decade.

"We know the government is aware of this. There has been potential legislation that could be put out there, and it hasn't happened yet," she said. "I really feel like we need expert panels put together to find a good solution for this."
Rogers-Seitz said the inaction by car manufacturers and lawmakers may be more because they don't think it's a serious enough problem, rather than fear of legal liability.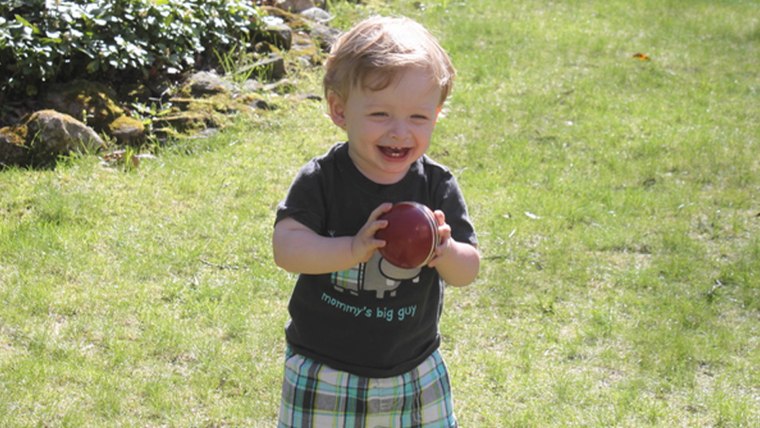 "Right now, we can sit back and most Americans can just blame parents and try to think you're different," she said.
Rogers-Seitz said although she and her husband miss their son "profoundly every day," the tragedy has brought her family closer. The couple has written about their grief in a family blog. On TODAY, Rogers-Seitz said she can now see how easily such accidents happen.
"It's called a fundamental attribution error. It's a psychological term and what I ask those parents to do is answer the question: Have you ever driven to work and forgotten how you've got there? Have you ever walked through your living room to your bedroom and forgot what you were going to get?" she said. "It can happen in a second and you're life is changed forever. It's a tragedy."
According to KidsAndCars.org, a nonprofit group that tracks child deaths and injuries related to automobiles, more than 500 children have died in overheated cars since 2000. This year alone, at least 24 fatalities have been reported. Although Benjamin Seitz's death has been ruled a death a homicide, no charges have been filed against his father. Rogers-Seitz said she and her husband are prepared for whatever may happen next. 
"We'll get through. We've thought about that. We hold on to each other and we will get through no matter what and we're doing this for Ben," she said.
Follow TODAY.com writer Eun Kyung Kim on Google+ or on Twitter.