/ Source: TODAY Contributor
It's the time of year when parents can be found wandering the aisles of big-box stores with long lists of school supplies in hand, loading carts with pre-sharpened #2 pencils, Expo markers, boxes of tissues, and eight bazillion glue sticks. It all adds up pretty quickly.
But a mega-viral Facebook video comedian and mom of three Dena Blizzard made in 2017 is again reminding parents why they shouldn't complain about the price of school supplies. In the video, Blizzard took her audience with her on a back-to-school shopping trip to Target, declaring she would buy teachers anything they want because they had the daunting task of teaching her children for nine months each year — and that meant she didn't have to do it herself.
"I've been noticing lately, when people are doing their back to school shopping, everybody's complaining," Blizzard said as she pushed her cart through the store. "And my thing is... Listen. It's the end of August. I will give you anything to take my kids. I'll get you a yellow binder or get you a red binder."
Blizzard even threw a microwave and some luggage in her cart — "You want some luggage? You going somewhere? Want Spring Break, teacher? I'm gonna get you some luggage," she said.
The funny mom went on to say she has heard parents complaining about buying Kleenex or pencils for their children's classes. "You can't give that teacher some Kleenex?" she asked. "These teachers have been making plans to teach your kids, and you complain about some pencils?!"
Never miss a parenting story from TODAY.com! Sign up for our newsletter here.
In 2017, Blizzard told TODAY Parents that she was inspired to make the video because of her personal experiences. "My sister Nicole DelGaudio is a 5th grade teacher at Thoroughgood Elementary in Virginia Beach, Virginia, and I see how hard she works for her students and her own kids. It's not easy," she said. "When I heard parents complaining, it just made me so mad."
Because her youngest child, now 18, has some learning disabilities, Blizzard said she values teachers even more. "I work so hard with my daughter to figure out her beautiful and lovely brain, so anyone that is willing to help me do that is my hero," she said. "I'll get them whatever they need. We are partners in educating my kids."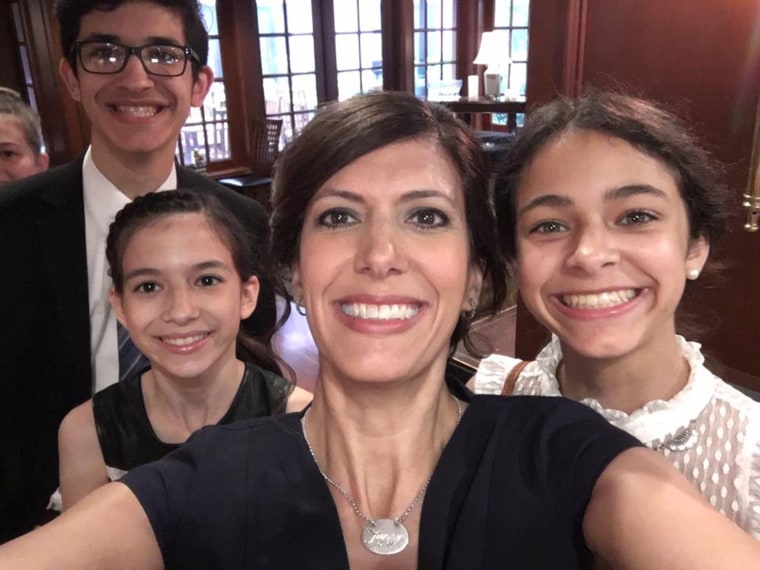 This was not the first time Blizzard went viral. In 2016, the mom from Mooresville, New Jersey, made a parody of Pokemon Go for moms, "Chardonnay Go," that spread across the internet.
But though her school supplies video is making people laugh too, Blizzard had a bigger goal when she made it: honoring teachers. "It needed to be said," she said. "I've gotten so many emails from people saying, 'I've never really thought about it that way... I'm going to buy more pencils!'"
Blizzard's own kids are 22, 20 and 18 now, and her youngest daughter is now off to college, but she said the video is still relevant to her life.
"My sister is a teacher, as are many of my friends, and it's nice to know, every year, that people remember to support teachers as they begin the new year," she told TODAY Parents. "Who knew that message needed to be relayed….but in a Target and with some vodka?!"
Editor's note: This story was first published on August 28, 2017.