/ Source: TODAY Contributor
Kids bring their fair share of messes to a home. So in the latest parody from the Holderness Family, Kim Holderness is telling husband Penn and kids Lola and Penn Charles to pitch in and do their part around the house.
"Your momma won't do that and she does everything," Penn Holderness sings in the parody of Justin Bieber hit "Love Yourself." While her husband croons Bieber-style, Kim dances through their North Carolina home, flushing smelly toilets and locating rotting food in backpacks.
"If you like the way she cleans it up, oh maybe you should clean it up yourself," Penn continues.
Later in the video, the song lyrics turn to pointing out Penn's messy behaviors such as missing shots at the clothes hamper and leaving crumbs from his "second dinner" in the couple's bed.
"And now I know, I'm probably sleeping on my own unless I learn not to tick off the boss, so maybe I should clean it up myself," sings Penn.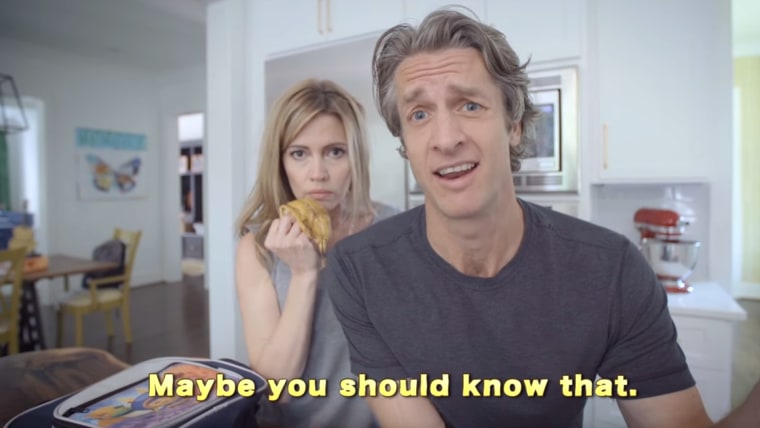 So how accurate is this portrayal of life in the Holderness household?
"Kim does most of the cleaning," Penn told TODAY Parents. "I do OK with the dishes and the kitchen sink because they're not on the floor. I am mortal enemies with the floor because I am 6'5". That is why when I was single I put my shoes on the counter."
"Cleaning a house for an hour then seeing my kids trash the place within fifteen seconds of getting home from school is cringeworthy and unacceptable, but it does happen," Penn continued. "I know it's largely our fault because we allow it to happen, and we usually cave and pick up after them. That's why we wrote this song. This is our fight song. Wait, now we have to parody that, don't we?"