As most of us well know, the holidays can be consumed by consumerism. Kids curate ever-growing lists of desired gifts. Companies pitch us on items we feel we absolutely need to have. So for parents especially, it can be tough to focus on what really matters.
That's where Florida resident and mom Leigh M. Clark set out to make a major difference, by paying off people's layaways.
She works in marketing, but her passion is what she calls being a kindness activist — especially when it comes to teaching children gratitude.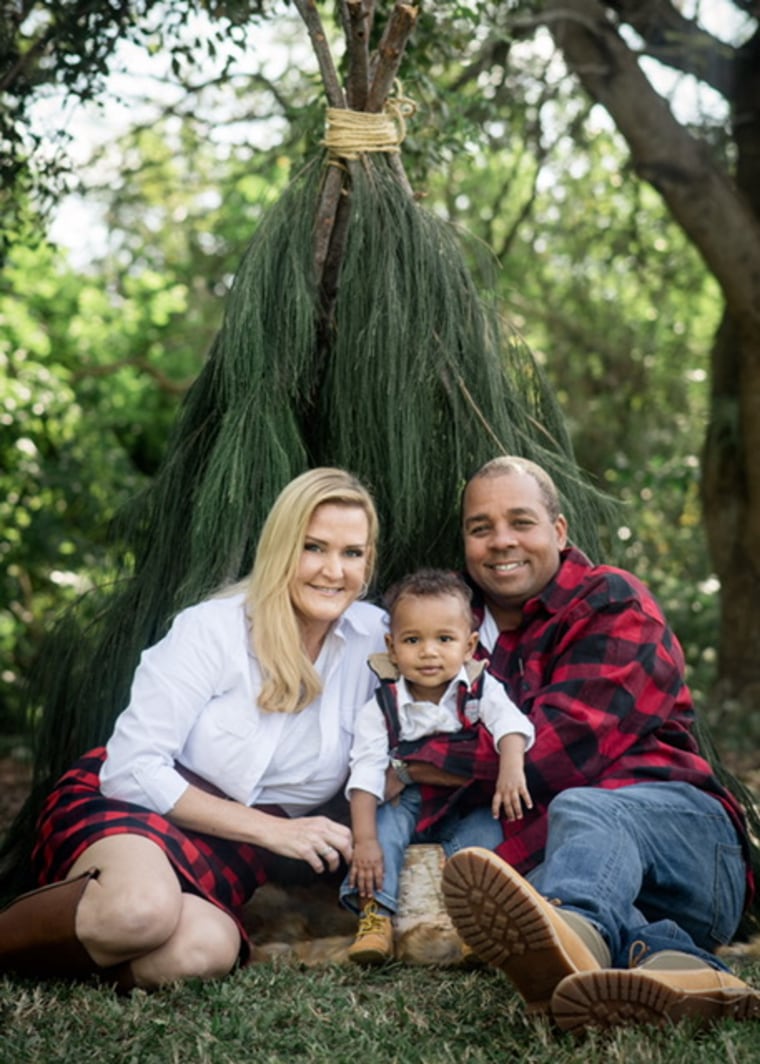 "I think you teach kids the importance of kindness through leading by example. It's important to show them opportunities to be 'helpers' in this world by creating family projects or experiences that give back," Clark said as part of Megyn Kelly TODAY's People Helping People series. "If we can only teach them one thing, it's that a kind attitude is the easiest way to make a positive impact on the world."
The key here is to practice what you preach.
"Illustrating the importance of giving back can be done with both words and actions," Clark explained. "For example, you can take your kids to a park or beach and clean up a small area together and then show them how much nicer the place looks because they gave their kindness to it. Perhaps take a picture before and after and point out that because of their giving spirit they made a part of the world more beautiful."
We asked her for a few more ideas of fun (and easy) things we can do with kids to teach them that the holidays are about much more than what's inside the wrapping paper.
Make get-well cards and deliver them to the local children's hospital. If you're able, maybe bring coloring books and crayons.
Go through the closet together and donate outgrown clothes or gently used toys to a local shelter, clothing drive or single-parent household that could use a little extra help.
Bring a bouquet of flowers to a local nursing home. Ask if you can visit with a patient who hasn't had visitors in a while. The smile on that person's face will be worth a thousand gifts.
Do a room-cleanup toy drive. This is a win-win act of kindness. Ask your kids to help go through their toys in their rooms and playrooms and choose some to donate to children who are less fortunate. Kristen Bell says she does the very same thing with her daughters.
Make up a special little candy jar or cookie tin and bring the kids to deliver it to a neighbor.
Leave a bucket of tennis balls at the dog park with a note that says: "Random acts of kindness: take one for your furry friend!"
Make cards and care packages for soldiers and thank them for their service.
Donate old books to libraries or daycare centers. There's always someone looking for a new book to read! And parents, drop those magazines off at nursing homes or dialysis centers — they will be extremely grateful.
Have the kids and their friends put together a neighborhood food drive and donate to a local food bank or shelter.
As a family, choose to sponsor a child or a family for the holidays — and have your kids contribute part of their allowance or help pick out gifts.
TODAY editor's note: And in my own household, every year we pick two charities and my son and I donate together to each one. We discuss why the organization is important, and what the impact is of giving money. Last year, we donated to the World Wildlife Fund. My son's favorite animal is the cheetah, and I explained that groups like the WWF go to great lengths to help save endangered or threatened species. He'd had no idea. And when I told him that some families didn't have toys, or even homes, he stared at me, flabbergasted. "Mommy, that can't be true." But it is.