Not content to sit and watch, one toddler found a way to get in on the action of a recent pro soccer game.
The little one ran onto the field during the FC Cincinnati vs. Orlando City SC match Saturday, only to be chased by his mother at a full sprint. When she reached the child, she appeared to slip and fall in a funny moment caught on camera and shared Monday on the Major League Soccer Twitter account.
"A young pitch invader was quickly scooped up by their own personal security detail without incident," Sam Greene, a photojournalist at The Cincinnati Enquirer who took a now-viral photo of the event, wrote on Twitter.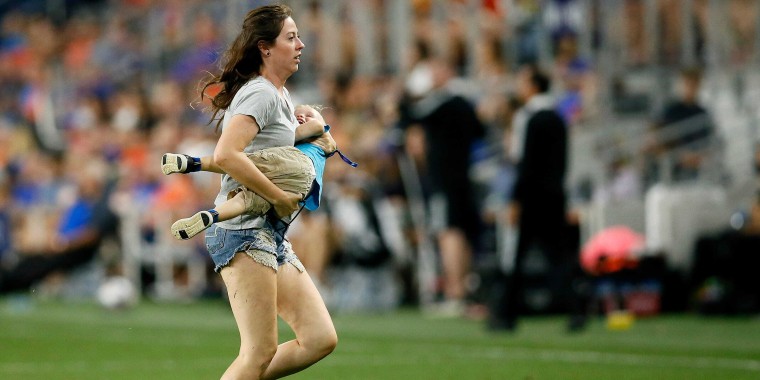 The tot's mom carried him off the field and back to their seats, which appeared to be close to the sidelines.
The Cincinnati Enquirer later identified the toddler as 2-year-old Zaydek Carpenter and his mother as Morgan Tucker, of Moscow, Ohio. Greene tweeted that Zaydek and his mom had "a great time" at the game despite the incident.
Online, the soccer jokes rolled in as fans watched the video.
"Mom deserves a red card for that reckless tackle from behind," @Dannybo47921132 joked.
"Toddlers only have two speeds: zoom and asleep," @hoops4peace replied with a laughing emoji to one video.
"No one puts baby in the corner kick!" @MarknessVisible joked.
Despite the interruption, the home team, FC Cincinnati, didn't seem upset in the least.
"Good kid. Loves the game," the team's Twitter account wrote.
The game ended in a 1-1 draw, though it's safe to say Zaydek was the real winner.
Related video: