/ Source: TODAY Contributor
TLC once sang "don't go chasing waterfalls," but Alivea Binder did just that — and found it soothed her heartbreak and helped her bond with her young son.
Binder was miserable after a breakup left her a single mom to her 3-month-old baby. But she found healing and happiness at the end of the peaceful hikes she took with him to drink in the magical beauty of waterfalls.
After Binder became suddenly single last year, she set out to hike to 50 waterfalls with her son, Rowdy, before his first birthday next month, a goal she's on the verge of reaching.
For Binder, 24, the hikes are a soothing way to clear her head, bond with her baby and bask in the satisfaction of putting one foot in front of the other until, time and again, they reach the falls. The hikes were exhausting, but worth it, she says.
"I hiked my pain away," Binder, of Cottage Grove, Oregon, told TODAY Parents. "Hiking to a waterfall is like therapy to me."
Never miss a parenting story with TODAY's newsletters! Sign up here
"It's just exhilarating and uplifting and beautiful to see the waterfalls," she added.
Since January, Binder and Rowdy, now a 10-month-old, 22-pound cutie, have hiked a total of about 150 miles to enjoy the splendor of 49 different waterfalls in Oregon and Washington, bringing Binder an increasing amount of joy.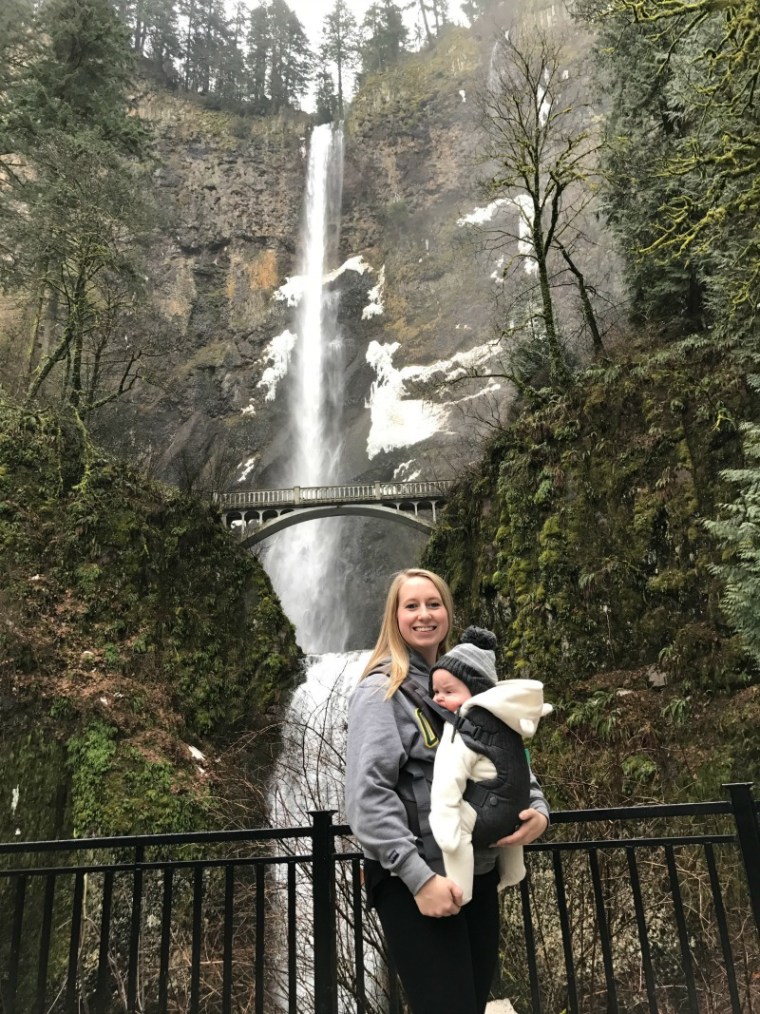 "I felt like on every hike we would go on, it helped free myself and find myself," she said. "I learned to love myself, and know that I can accomplish things on my own, and as long as I have Rowdy, that's all I need."
Binder thought she knew how her life would play out. After she and her boyfriend moved from Washington to Oregon to be near her dad in 2015, she became pregnant and gave birth to Rowdy last year on July 28. Three months later, she became a single mom when her boyfriend returned to Washington, though he is still a part of the boy's life.
"I thought we'd have a family, get married and grow old together, and Rowdy was going to have two active parents in his life 24/7," she said. "Once (Rowdy's father) left, I was completely crushed. The hardest thing was accepting, 'you're a single mom now, Alivea.'"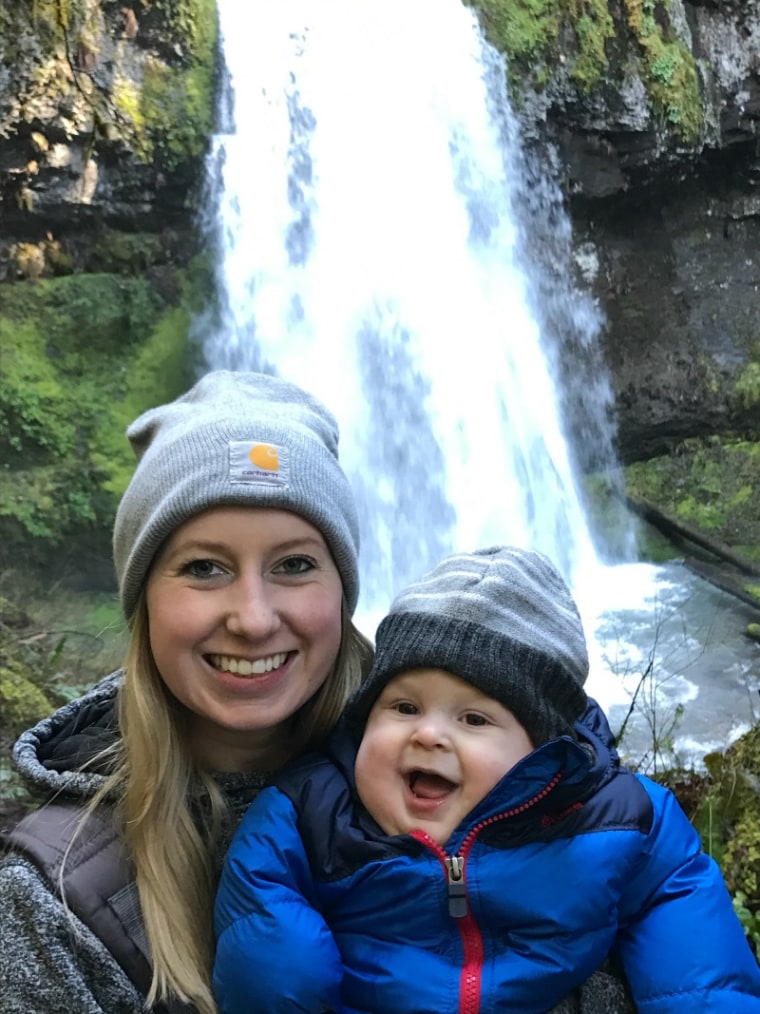 Sad and lonely, Binder was searching for inexpensive outings and took her son on two hikes to see waterfalls. They loved it.
"It was something beautiful to look at, and it took my mind off everything," she said. "I wasn't so wrapped up in thinking about his dad leaving and being sad."
Binder had been in counseling for depression, but it wasn't helping. She had enjoyed those two hikes so much that she felt she needed to make them a habit, and set her sights on 50 waterfalls.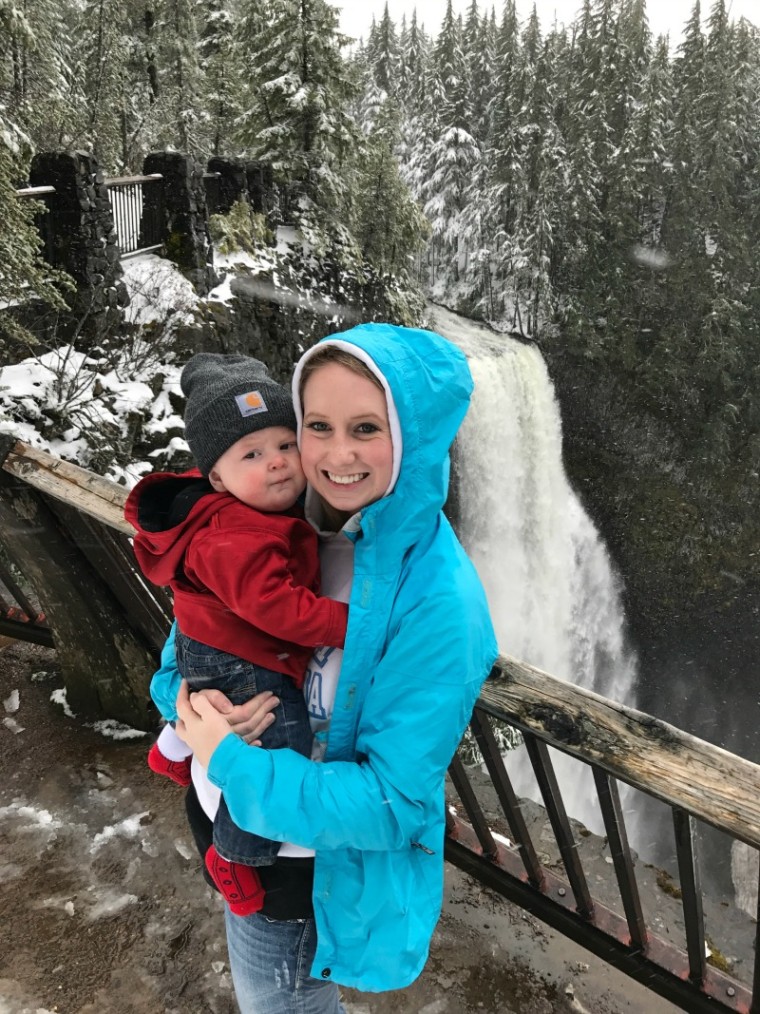 "It was something to help drive me," she said. "If I didn't make that goal, I would have just sat at home in my own misery. It gave me an incentive to get out of the house with Rowdy."
The pair hiked about once a week, when Binder would rise at 6 a.m. and map out the route, drive to the trail and begin their journey once Rowdy was fed, changed and strapped into his carrier. She tried to add a second nearby waterfall on each trip.
Their hikes, covered recently in The Register-Guard newspaper, have averaged about 3 miles round-trip, though one was close to 9 miles. Binder sometimes doubted herself, but pushed ahead, even through rain and snowy conditions.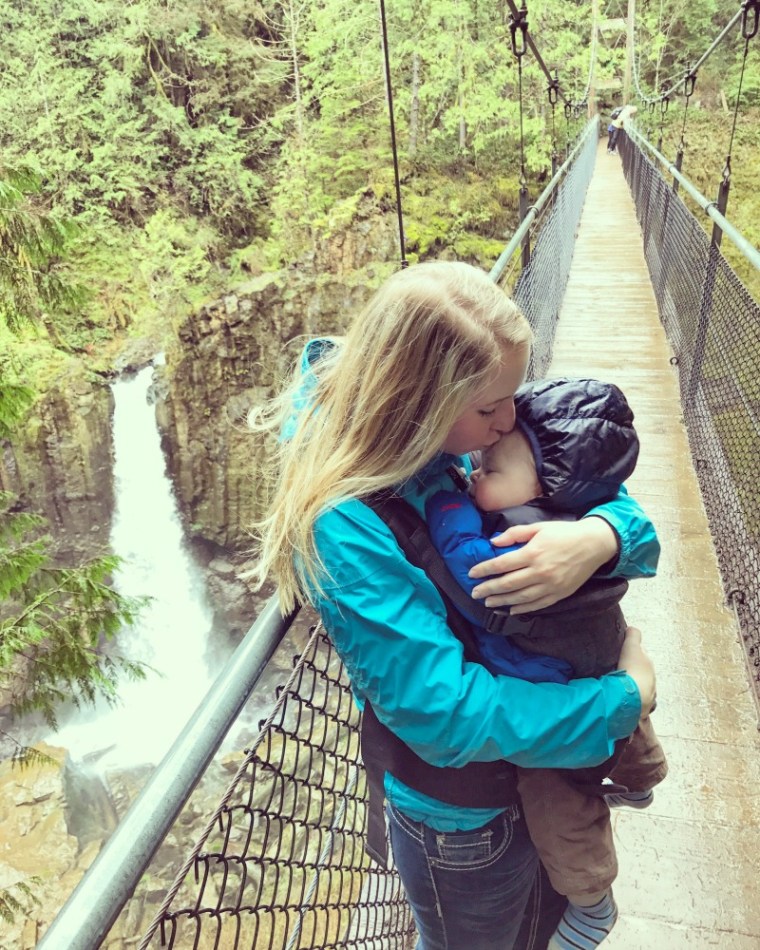 "It's hard because halfway through it, I'm thinking, this is so hard, why did I decide to do this?" she said. "Once I'm done and back in the car, I feel the overwhelming satisfaction of saying to myself, 'You just completed an 8.7-mile hike, you deserve a pat on your back.'"
Never miss a parenting story with TODAY's newsletters! Sign up here
Binder's 50th waterfall hike is a six-hour drive from their home two hours south of Portland, and she's waiting for a weekend off from her full-time job managing a resale store to make the trip. After that, she may extend the goal to 100 hikes.
Binder has received loads of supportive words online, and out on the trails.
"Every hike I go on, people walk past us saying, 'You go Mom,' and 'That's a tough load,'" she said.
The encouragement helped keep her going, along with seeing her son so happy.
"When Rowdy is out hiking with me, you can tell he's in his element," she added. "He smiles the whole time, he's looking around, babbling and talking to me. He'll touch my face and my hair. You can just tell he's happy and he's where he belongs."
And so too, is she.
"I chased the waterfall to free myself of pain," Binder said. "I feel amazing."
TODAY.com contributor Lisa A. Flam is a news and lifestyles reporter in New York. Follow her on Twitter and Facebook.