/ Source: TODAY Contributor
It's easy to get into the Christmas spirit when your home is filled with small kids who believe in the magic of Santa and are genuinely interested in the whereabouts of that Elf on the Shelf. But once kids cease to believe in Santa Claus, it can be a bittersweet transition for parents as they try to throw some believable Christmas magic into their family celebrations.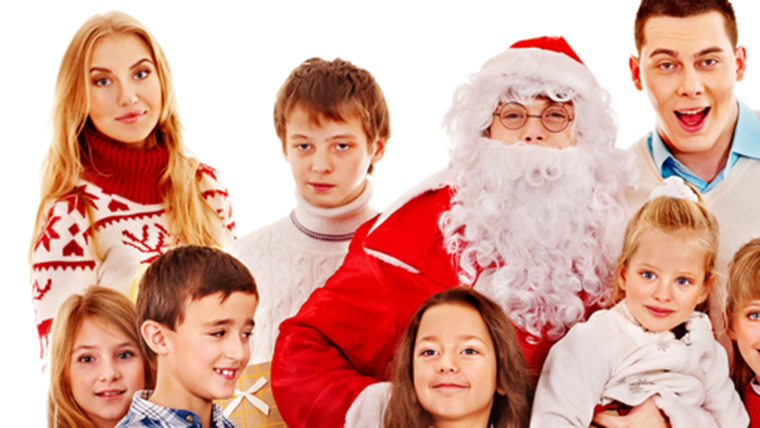 One member of the Facebook community for the blog 'How Does She' shared her family's need for some holiday inspiration this week in a "Reader's Question" post featured on the site.
Erika Angelo wrote about her children —10-year-old Cathering and 9-year-old Matthew — who found out this spring that Santa and their Elf on the Shelf weren't real.
"So this is our first Christmas with them knowing the truth and I would like some ideas to keep the Christmas magic alive. We have talked about starting traditions with the real meaning of Christmas, but I think it has been harder for my husband and I cause we miss doing the elf and the Christmas magic and seeing the innocence of our children," Angelo wrote in her post.
Angelo told TODAY Parents that her kids were devastated when they discovered Santa was really mom and dad. "My daughter was very upset because she said we lied to her, but I believe they have forgiven us," Angelo says. "So far this Christmas their spirits I think have been ok. It has been more of me and my husband feeling down and feeling like it's not the same...we miss the glow in their eyes every morning when they woke up and looked for the elf and believed that he was magical."
Nearly three hundred users commented on Angelo's post, sharing the special ways they keep their older children in the Christmas spirit.
"Our family does 'December Daily' which acts as a sort of Advent, only each day they open an envelope that has an activity we do as a family. Many are super simple (5-10 minutes) others are an entire evening. Activities might include making paper snowflakes, taking photos by the tree, having a red and green meal, or skating. This happens daily in December and the kids have told me that these daily together times are their favorite part of Christmas," wrote Bobbi-Jo Grunewald.
Other readers listed holding a Christmas Eve scavenger hunt, volunteering in pediatric hospitals, checking out holiday light displays together, or adopting a family in need for the holidays as ways they keep their kids engaged in the spirit of the season.
"We do the 12-days of Service. Together we make a list of service opportunities we would like to do and plug them into the calendar. Our favorite is singing Christmas carols at the hospital, room to room. Some of them are more simple than that but it is an awesome way to keep the true spirit of Christmas while making memories/traditions," commented Mashell Pitcher Lungren.
Melanie Starr is in charge of the How Does She Facebook page, and says this reader question stood out to her because of her own family's experience.
"I have two older kids who know about Santa, and two younger who don't," said Starr. "I have told my two older kids that I need them to be Santa's ears and that they need to listen and pay attention to what the little kids want. Then they get to help me wrap the gifts and they help my hide the elf. They actually really love being able to be on the 'magician's' side now."
"We also read the books, we drive around looking at lights, help out other families who are struggling. It's such an emotional and spiritual holiday that I want to make sure my kids see and feel the happiness it brings," said Starr. "This particular question, I thought, was a good one. It was a question that I knew a lot of people could relate to."