/ Source: TODAY Contributor
"I don't know of a more uttered or whispered phrase from a mother of any age, about her child of any age, than 'It's going by too fast,'" contemporary Christian singer and songwriter Nichole Nordeman wrote on her Facebook page when she introduced the video for her new song, "Slow Down."
The post has been shared more than 410,000 times since she published it in 2016, the video has over 25 million views, and it's inspiring parents all over the internet to burst into tears.
Nordeman, 44, a single mother to Charlie, 12, and Pepper, 7, wrote the song the night before Charlie's fifth grade graduation. "I was planning on singing something familiar that I'd sung many times before, but I realized, after he went to bed, that I was feeling more emotional about his graduation that I'd expected to," Nordeman told TODAY Parents. "I dug out a few pictures of him as little boy. Kindergarten. Karate lessons. Drumming. Throwing a Frisbee. I felt such a wave of sadness that those moments were gone. And as proud as I was of him as a fifth grader, my main emotion in that moment was a deep desire to hit the brakes on this whole growing-up business."
There is no Instagram filter for real life or real joy or real mess.
Nordeman sat down at the piano and wrote "Slow Down" in about an hour, though she says she could hardly see the keys through her tears. She sang the song at her son's graduation the next morning.
The song is clearly resonating with other parents who are also desperate to slow down how fast their children are growing up before their eyes. "I think any time a song connects at this level, it's pointing to some universally true thing that a lot of us experience," said Nordeman. "So many of us are trying to slow down this breakneck speed at which we live our lives and be in the now. I think that might be why people have responded so emotionally."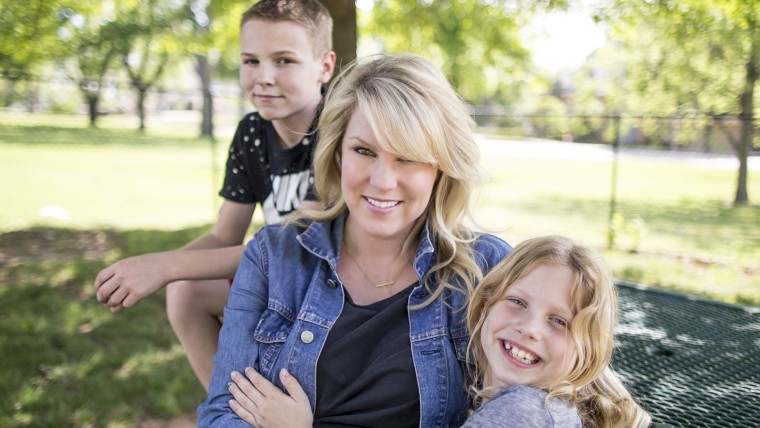 One particular story that has come from the song's viral reach has touched Nordeman's heart in particular: "I heard from a mom who lost her teenage son to a car accident five years ago because he was driving too fast. His friends all made bracelets that said 'slow down' in his memory," said Nordeman. "I was so humbled. I can't imagine this song meaning more to anyone than her. Literally and metaphorically, we all need to slow down."
Nordeman herself says she works hard to stay in the moment in her life and with her children, but it hasn't always been easy. "I've wasted so much time and missed so many moments because I was trying to make my life or my house, or my children, or my career look a certain way," she said. "Part of slowing down for me, as a parent, means embracing the fact that there is no Instagram filter for real life or real joy or real mess. If I'm allowing myself to experience a moment fully without hyperventilating about the inch of dust on my furniture or the outfit my little girl has decided to wow the world with — never matches, never fits — I can slow down enough to feel it."
"Slow Down" may be purchased on iTunes.
Editor's note: This story was first published on May 3, 2016. We updated it in 2018 and 2019 because we felt like everyone could use a good cry.