Kathy DiVincenzo was venting to a good friend about the picture-perfect lives that all the other mothers appeared to have on social media.
"I'm scrolling through my Facebook feed and everybody has it together," she said. But she admitted she was guilty of it, too.
"The only photos I'm posting are of my new baby smiling, and his sister kissing him. All these amazing moments are real, of course," the Cleveland, Ohio, mother told TODAY. "But there's that flip side, this other side of reality that I wasn't comfortable showing."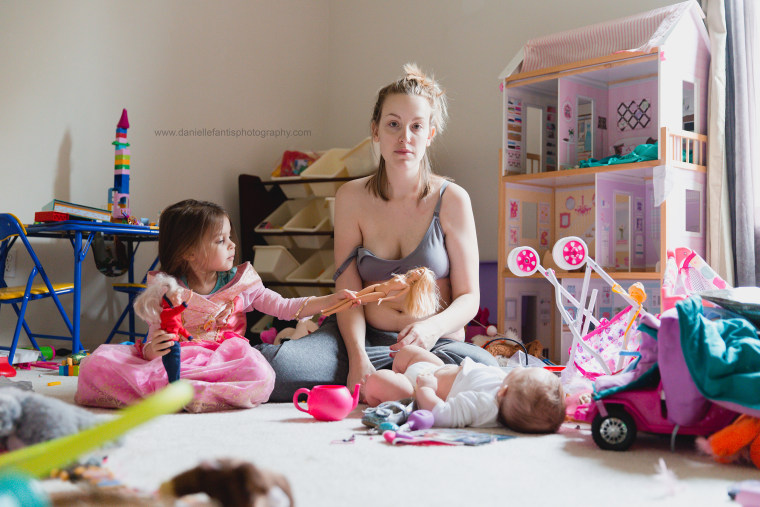 But with help from her friend, Cleveland-based photographer Danielle Fantis, DiVincenzo decided to show that other side, the one struggling with postpartum depression.
DiVincenzo and Fantis, who battled the condition after having her second child, used photos to help illustrate the disorderly, overwhelming feelings of postpartum.
DiVincenzo, 27, took two photos shot by Fantis and posted them side by side on her Facebook page to demonstrate the two parts of her life — the messy and apprehensive chaos that fills her mind, and the happy, polished version most people see.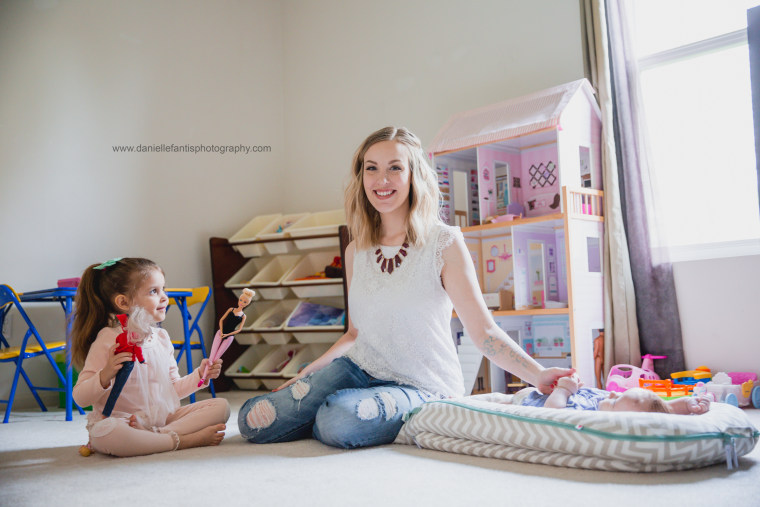 "The truth is, both of these pictures represent my life depending on the day," she wrote on Facebook. "I would only ever comfortably share one of these realities though and that's the problem. The only thing more exhausting than having these conditions is pretending daily that I don't."
DiVincenzo posted the photos on May 1, the start of Postpartum Depression Awareness Month.
"I work twice as hard to hide this reality from you because I'm afraid to make you uncomfortable," she wrote on Facebook. "I'm afraid you'll think I'm weak, crazy, a terrible mother, or the other million things my mind convinces me of and I know I'm not alone in those thoughts."
DiVincenzo had postpartum anxiety after the birth of her daughter, now 3. She didn't know she had the disorder until experiencing similar symptoms following the birth of her son three months ago. By then, she was working as a doula and had learned about the various ways postpartum illnesses can present themselves beyond clinical depression. For DiVincenzo, it took the form of anxiety and obsessive-compulsive disorder.
Fantis had a similar experience with her second child.
"It hit me out of nowhere," she told TODAY of the "intrusive thoughts" that consumed her. She imagined every possible scenario in which her daughter might get injured — from accidentally losing control of a car she was driving to tripping down the house stairs while carrying her.
"I know that sounds crazy, but to a woman going through that, those are very real thoughts that they can completely see happening," said Fantis.
"I remember thinking: I have no reason to be sad. I have this good life, this beautiful healthy baby, everything is great. But that's the thing with postpartum depression and mental illness. It doesn't discriminate. No one is safe."
Fantis kept quiet about her condition even after getting medical help. She didn't experience any postpartum illness symptoms after having her third child 14 months ago, but she felt ready to go public with her previous experience to help others.
"That was definitely terrifying to share with the world. Nobody wants to admit they've struggled with mental illness," she said. "But (Kathy) and I said from the very beginning, if it can help one woman, it's totally worth it."
The two initially thought they were just sharing the post with their Facebook friends. But once the photos began going viral they opened them to the public with hopes of educating more people.
"As postpartum mental illness sufferers, we often don't speak out because of the stigma of people saying, 'Suck it up. Motherhood is hard.' And it is," DiVincenzo said. "But for a mother with a mental illness, there's a deeper layer to the exhaustion, to the anguish."
She and Fantis said they purposely used the words "postpartum mental illness," rather than depression, so people understand the different facets of the condition. They've received more than 13,000 comments on the photos so far, mostly positive and many from women who said they didn't realize they had the condition, too.
"So many mothers have said, 'Oh, I didn't know this had a name. This is describing my life,'" DiVincenzo said. "The main point of all this is to tell people you're not alone in what you're experiencing."
RELATED: