/ Source: TODAY Contributor
Jessica McClard thinks a lot about those in her community who need help feeding their families. That inspired her to create Little Free Pantries, small boxes set in neighborhoods where people can either take what they need or leave something for others who might be having a hard week, a hard month, or a hard year.
Now a mom of two teenage daughters, Grier and Charly, McClard grew up in the small, rural farming community of Winger, Arkansas. "It was a food desert," she told TODAY Parents. "The nearest grocery store was 30 miles away."
Though she always had enough to eat, McClard grew up with the awareness that her neighbors might not. So when she started seeing Little Free Libraries pop up around her Fayetteville, Arkansas, neighborhood encouraging community members to share books, it gave her an idea to create a similar system that could help feed others.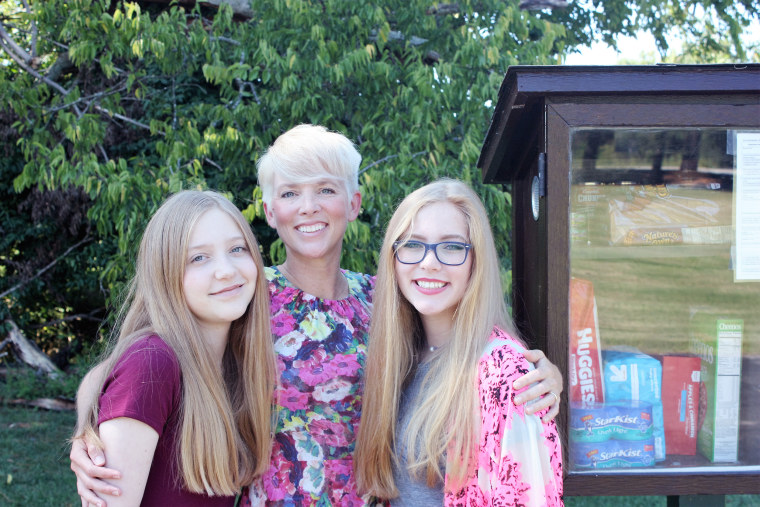 "Even though the mission of the little libraries was to promote literacy and access in neighborhoods where access to books was an issue, they were going in middle-class neighborhoods," McClard noted. "I began to think about how those libraries were intentionally creating space for people to be neighbors, and how the idea could be used in other ways."
Never miss a parenting story with the TODAY Parents newsletter! Sign up here.
McClard built the first pantry in May of 2016, but her first attempt to place it at a multi-family, mid-size apartment complex didn't work out. "I didn't get anywhere," she said, noting that property managers were worried about non-resident traffic.
Her next idea was to put the pantry on the grounds of her own church, in a neighborhood with some retail and middle-class housing. It's "not really a place where people would say there is a lot of food insecurity," she notes, but it ended up being a smart place for her to start her project.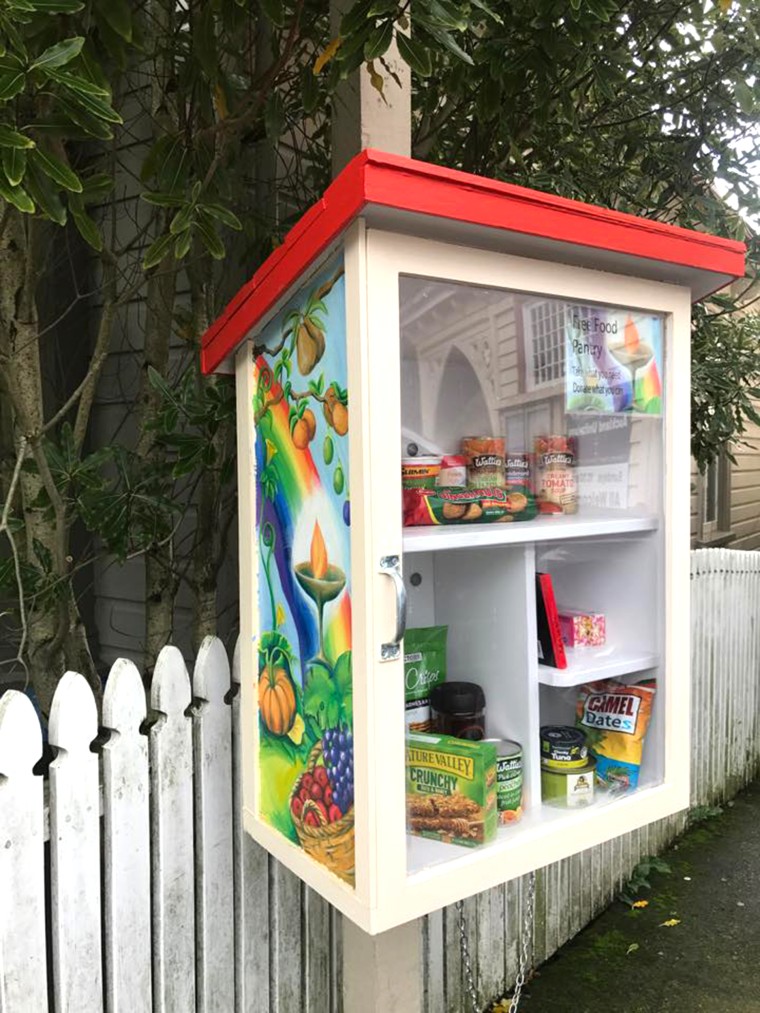 Even though the church neighborhood wasn't one with high need, having the Little Free Pantry there made it easy for people to participate in stocking it, which McClard learned was critical to the project's success. "If it is stocked, people will find a way to get to it," she said.
McClard also saw that how quickly food turned over at a particular pantry would determine what could be stored there. "If food turns over in under an hour, things like bananas and bread are fine," she said. "But if traffic is lighter, you have to monitor that a little."
At the end of the school year last May, McClard and her daughters placed a special Little Free Pantry across the street from a local elementary school and filled it with both food and special treats for the children, like bubbles, candy necklaces, and little toys. Then they made sure the school's parents knew it would be there.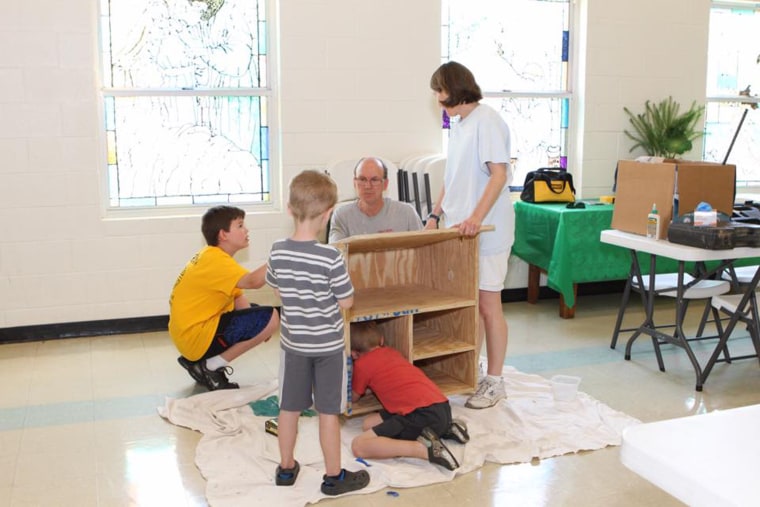 "My girls had so much fun picking out all of the supplies with me," said McClard. "Then we sat at a distance and watched the kids as they went up to the box. It was really great." For the beginning of the school year, McClard and her daughters tried to include school and art supplies in the pantries as well.
Now there are Little Free Pantries all over the country, many with their own Facebook pages and groups. McClard hasn't been able to track all of them, because some are set up under different names. Tyson Foods named McClard one of their Meals That Matter Heroes and awarded her $40,000 to develop an interactive map of the pantries for her website this fall. This made it easier for her to advise and communicate with other Little Free Pantry stewards. Tyson also pledged $10,000 of shelf stable products for the Little Free Pantries in Northwest Arkansas.
McClard said the Little Free Pantry movement has worked because it has created space for people to be neighbors.
"As much as we need food, we need connection," she said. "Many of us need to give. A lot of times, that need gets marginalized, but we all need one another."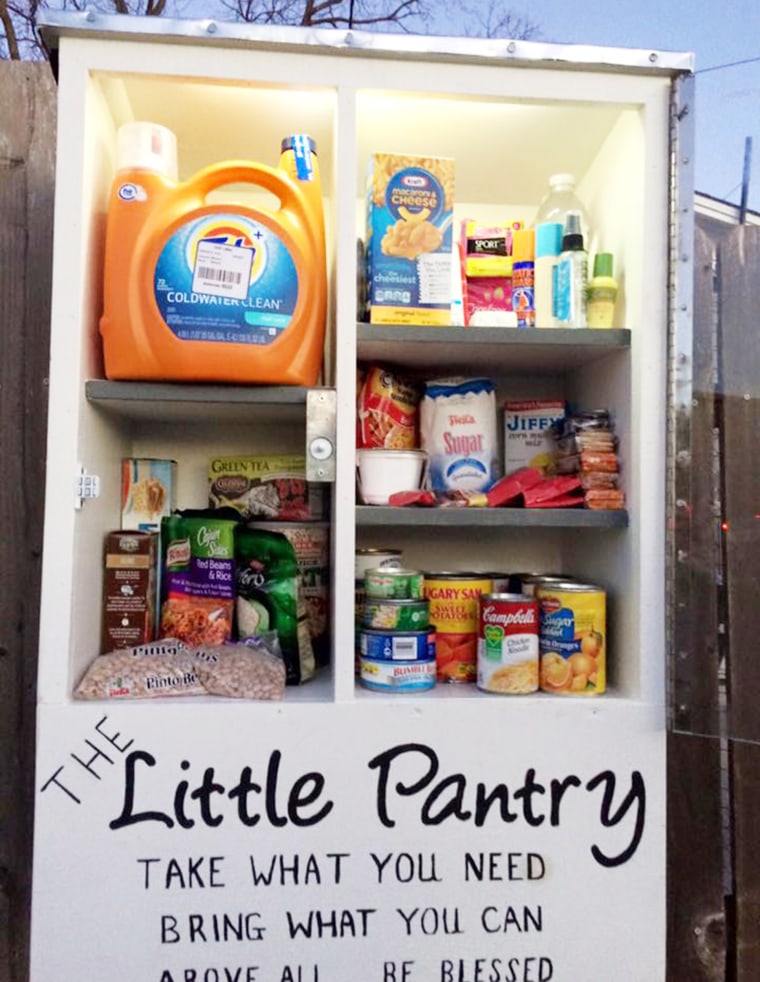 Helping with Little Free Pantries has also encouraged many to dive deeper into community engagement.
"Just one small, empty box is often a jumping-off point for other service, which is not what I would have anticipated," said McClard. "Folks are collecting for brick-and-mortar pantries because they got started through this, or engaging in some other form of community service after being connected through the pantry."
But McClard is quick to point out that these pantries are not meant to take the place of larger, traditional shelters or food banks. "Little Free Pantries are different in that there is a reciprocity component; they fulfill a need to connect or give back," McClard said.
Food banks have employees that need to go home, she noted, but Little Free Pantries can make food available for those who need it 24 hours a day, seven days a week.
"This is a gap filler," she said. "All kinds of folks are struggling. We provide just one way to help."