Thirteen years ago, the bond between Gabrielle Yowell and her mother was perfectly captured in a joyful photo of Gabrielle leaping into her mom's arms after her first day of kindergarten.
All these years later, that bond is stronger than ever, especially since Lizzette Yowell, 45, survived breast cancer to see her oldest daughter graduate from high school.
To honor the moment, the two re-created the same photo, with Gabrielle, 18, jumping into Lizzette's arms after her graduation from New Albany High School in Indiana.
Gabrielle then tweeted out the two photos side by side, melting hearts on the internet from those witnessing the love between a daughter and a mother who is "still as proud as ever."
"My mom had breast cancer 23 months ago, so there was a chance that she couldn't have been here for my graduation,'' Gabrielle told TODAY. "That's what made this extra special. She's always been there for me."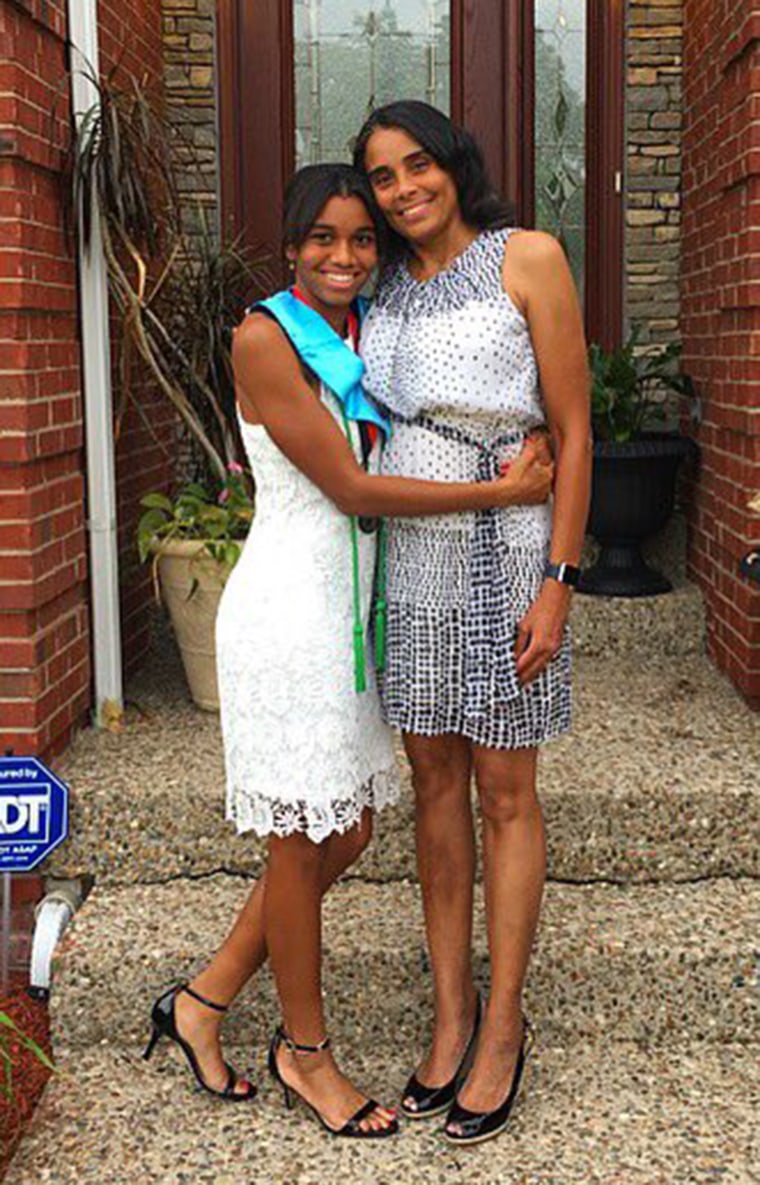 The original picture was taken by a photographer with the local News and Tribune following Gabrielle's first day of kindergarten at Maple Elementary School in Jeffersonville.
"I love that picture,'' Gabrielle said. "At my (high school) graduation, I just wanted to have something that could tie together those two milestones of my life."
Gabrielle is the oldest of four girls, so she has been the first in her family to reach each big graduation. She will continue her education this fall at Indiana State University, where she'll major in biology in hopes of becoming a dentist.
Her dad, William, took the updated shot of his wife and daughter, which required a few tries to get just right.
"My mom was like, 'Oh, my goodness,''' Gabrielle recalled of the moment when Lizzette saw the photo. "She teared up like, 'My baby is all grown up now!'''
The side-by-side photos are reminiscent of heartwarming ones shared last month by a Texas teen of her dad walking her to her first day of kindergarten and her last day of high school.
Lizzette is not on social media but has sent the photo to all her friends and family.
"She can't stop talking about it,'' Gabrielle said.
Many replies to the tweet have noted how Lizzette, who is a physical therapist, has hardly seemed to have aged in the last 13 years. She was still able to grab her teen daughter in the same embrace as when she was a 5-year-old, even with heels on.
"People think the (kindergarten) one is Photoshop,'' Gabrielle said. "They keep saying, 'That has to be your little sister,' and that we just took the picture yesterday. It's amazing because my mom really hasn't aged. She's the best."
Follow TODAY.com writer Scott Stump on Twitter.