Cheryl Kilodavis talked to TODAY this morning about her new book, "My Princess Boy," inspired by her 5-year-old son Dyson's love of pink, sparkly dresses.
What do you think? Have your say in the comments.
In case you're wondering, Dyson's dad is cool with this, too. Generally, fathers seem to be a bit stricter than moms when it comes to boys and gender-specific play -- pushing trucks, not tutus. But Dean Kilodavis stands behind his son 100 percent, telling TODAY: "It's not contagious, he's just like any other kid. He plays checkers, he plays in the trees. He just likes to do it in a dress -- big deal."
Dyson seemed a little sleepy, or perhaps camera-shy, but in the taped segment he summed up his personal style: "I'm a princess boy and I love wearing dresses and I love the colors of pink and red."
It took some work for Cheryl to accept Dyson's love of pink dresses -- at first, she told him that boys couldn't be princesses. In a Q&A (below), she explains how a comment from her older son led her to change her mind. She wrote the book because, she told Meredith, "I needed a tool to hand to people to say, I don't want you to crush my son's spirit ... I didn't want that to happen. None of us do, as moms."
For Cheryl, a long road of acceptance led to celebration and finally, advocacy. Kilodavis answers questions here about how she came to love her son for who he is -- even if other parents don't understand.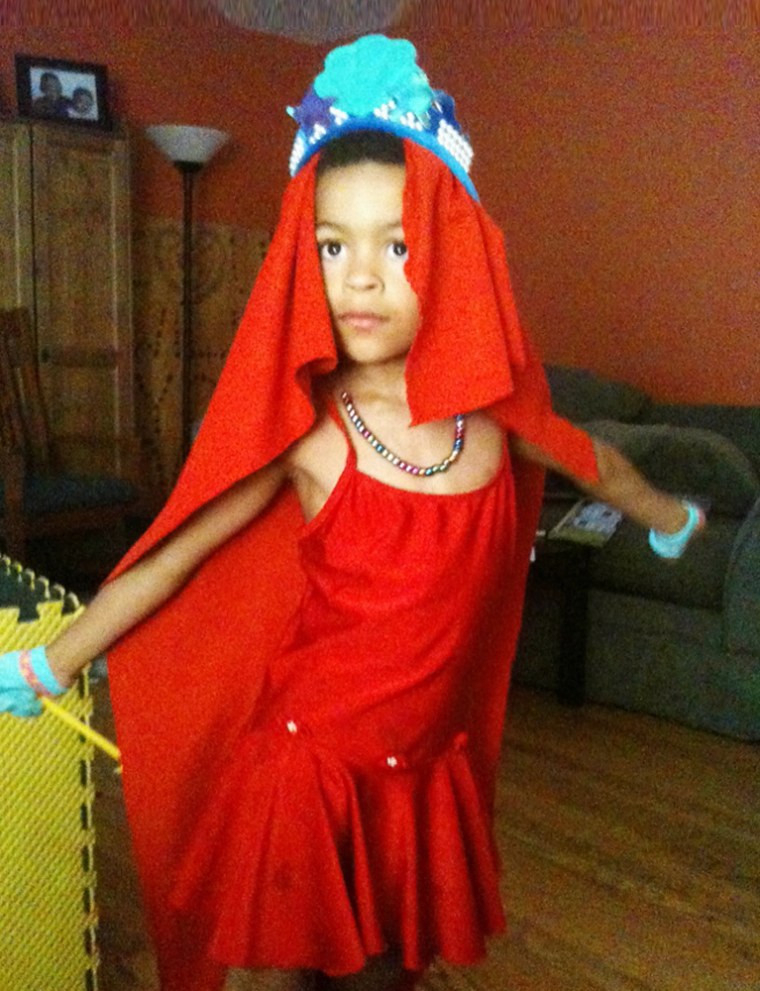 Cheryl Kilodavis answers questions about her children's book, "My Princess Boy":
What prompted you to tell your family's story in the first place?
Two things. 1) I wanted to get the dialogue started about embracing uniqueness and 2) Simply, I wanted to create a space in our world where my son would be accepted for who he is.  My turning point was when [8-year-old son] Dkobe said to me, "Why can't you just let him be happy, Mom?"  I realized at that moment that this was my issue, not his, and not Dyson's nor [husband] Dean's.  After taking a second to do some self-searching, I realized I had years of preconceived notions from my childhood, spiritually and culturally.  After journaling, I printed a prototype of my book at a local copy center and used it as a tool to share my feelings. It explained how exclusion hurts, and how even a basic level of acceptance can really change lives.  I showed it to a few people, and it was as if they got it -- instantly. This was about a child's happiness... and if it worked for me, I thought it might work for other parents too.
Did you ever fear you'd be criticized or misunderstood?
We spent a year discussing how this would be received. We knew there would be negative responses because we experienced them too... and honestly, I thought we were really alone in this, which was very hard.  We needed more than our family unit. We needed him to be happy outside the home, as much as he was inside it.   I expected disagreement and I expected an intense dialogue because boys in female attire are less accepted than girls in boys attire.  But why was that? Why is that so wrong? Where does that feeling of discomfort come from?  My hope was that the book would help people evolve, and accept others that might not fit into traditional categories or follow the mainstream.
Have a number of families reached out to you offering solidarity or asking for advice?
Yes.  I am overwhelmed at the amount of grown-up Princess Boys in our nation and parents who had or have a Princess Boy or tomboy themselves.  It feels wonderful to know we are not alone.  I remember when I first heard about Angelina Jolie's daughter Shiloh wanting to wear boy's clothes.  I felt like I connected with her, like we shared something  I knew we could both understand, even as women who lead such different lives.  I wanted to talk with her, mom to mom.  I had questions to ask her since she was going through something like me.  I knew then that if other parents were going through the same thing, we could all support each other.
What do you say to parents who argue that it's important to have boys and girls dress traditionally, for the sake of minimizing bullying at school?
I understand that we all want life to be easy for our children.  I want that too.  But I don't think bullying will stop if my son wears traditional boy clothes.  We need a wakeup call. America needs one.  The world needs one.  We need to start asking ourselves why we are condemning people and things just because they are different and make us feel uncomfortable.  Bullying is taking lives. It is unacceptable. Period.  We must stop standing by while others are being harmed for expressing themselves. Our children are teaching us how to accept them every day.  We all want our children to live in a world where they can express themselves without harming anyone else or being harmed.
At any point has the response you received caused you or your husband to second-guess your decision to support Dyson's preferences?
No.  As Dean puts it - we can't lose.   If we support him now and he changes his mind and stops dressing up later, he can look back and say I can't believe I did that, but I am so glad my parents and brother loved me and supported me.  Or if he continues, he can say I am so glad my parents and brother loved me and supported me even when I was young.  Either way, we love and support Dyson.  It's a win-win.